La Tasca, Leeds – Restaurant Review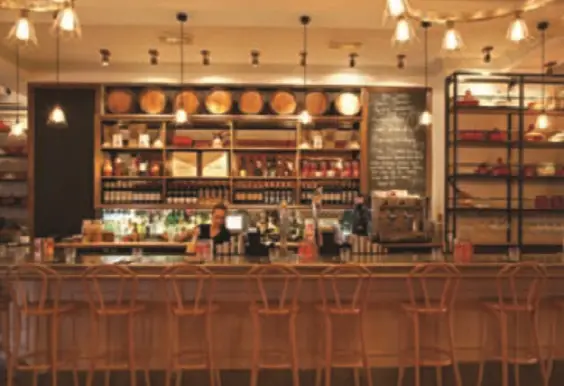 La Tasca, Leeds
Restaurant Review
by Matt Callard
La Tasca is a bit of a Leeds institution; its dark-panelled, candlelit interior has played host to many tapas first-timers over the years and picked up a decent following of regular disciples as a result.
But times have changed. The restaurant scene is more competitive than ever. There are now some impressive rivals in town – and that double-dip recession still looms like the heaviest Spanish thundercloud. So, La Tasca's powers-that-be have gone for a re-brand.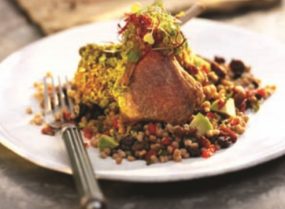 Out goes the gloomy wood, in comes white paint panels and creamy walls. Out go the candles, in come bright red ceiling lights and plenty of natural light. And out goes the once overwhelming whiff of garlic. In its place is a nondescript nearly-new smell that's actually a little odd for a restaurant.
More of a concern, however, is the atmosphere. At least a garlic-drenched, candlelit den of busy finger food transported you somewhere after a couple of sangrias. Now, it might seem more apt to order egg and chips than see what wild conversation pieces Spanish cuisine can present up to us eager Brits.
"What should never be transient is the food"
Worse, it seems the brand has adopted a 'pause and we pounce' policy on unsuspecting potential customers browsing the outside menu. Sure, Greek Street is a busy thoroughfare with plenty of passing trade assessing the eating options. But there has to be a better way of enticing diners than hawking for business in this manner. It's vulgar, distracting to diners and, frankly, reeks of desperation. La Tasca need to reassess this immediately.
All of this, admittedly, might be transient. A re-brand often takes time to settle and we were pretty quick off the mark following La Tasca's re-opening. What should never be transient, of course, is the food.
So, there's now a big push on paella and a concerted effort to try and recommend the right wine with your order. Nothing wrong with that and, although the staff overlapped with their suggestions, their keenness was exemplary.
We order a good selection of tapas (naturally) and request our 'Paella La Tasca' (£9.95) to be delivered alongside them. Immediately, we are told this can't be done. A paella is a main course and not a tapas dish, apparently. We could argue – instead, we shrug and go along with the show. Curious, I ask management why a paella can't be served at the same time as the tapas. We are told it could have been. Confusion? Chaos? Or just a re-brand finding its feet?
All of the above, probably.
"It's fair to expect many more hits than misses"
Anyway, the tapas arrives paella-less and, as is tapas's wont, is a mixed bag. The chicken breast in smoked paprika in a creamy sauce (£4.85) is perfect. Tender, gently smoked and well-balanced – I would happily eat it as a main course with some tear-y bread. The deep fried whitefish (£4.75) has a lovely crisp batter and an ideal garlic mayonnaise and the sautéed chorizo (£4.35) is flavoursome and of the high standard you'd expect in a Spanish restaurant.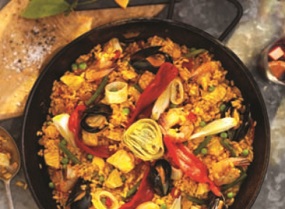 However, a slow-cooked pork belly (£4.95) isn't. Grey and greasy inside an inappropriate tagine-like pot, the fat is under-rendered and the meat utterly without taste. The prawns on sticks (£4.90) come still dressed in their shells, necessitating a needless and slippery undress when, ideally, you'd be plunging them hot and fresh into the paprika sauce. Tapas is, by its nature, hit and miss. But it's fair to expect many more hits than misses.
So, we then had the needless wait for our paella, which was not made any easier by a couple of nearby voucher brigade regulars shouting about incompatibility issues with their voucher to the confused staff. Still, if you dance with the devil…
"The rice is without taste"
And then it arrives. Big black bowl, steaming, saffron-yellow, authentic looking – here, surely, is the La Tasca re-brand experience in a single dish: the ultimate comfort food. Except they've forgotten to season it. And the prawns look and taste as if they've been cooked from frozen (surely they have not?). And – quite unbelievably – the rice is without taste. It's a mistake to believe that paella rice is a squidgy substitute to the dish's other ingredients. The rice alone, when cooked well, is the dish. All other ingredients are just foils to the overall flavour of the grain, infusing the all-important stock with subtle improvements.
Needless to say, we don't finish it – and I promise you food waste is one of my biggest bugbears. 'What's wrong with the rest of it?' enquires service, charmingly.
Well, quite. We may ask the same in return. If La Tasca is to survive in this climate, then I'm sorry, the powers-that-be need to come up with something a whole lot better than this.
Editor's Update: Since this review, La Tasca Leeds has closed down. The brand still has restaurants in other locations, including Manchester and Durham