CAU Harrogate – Restaurant Review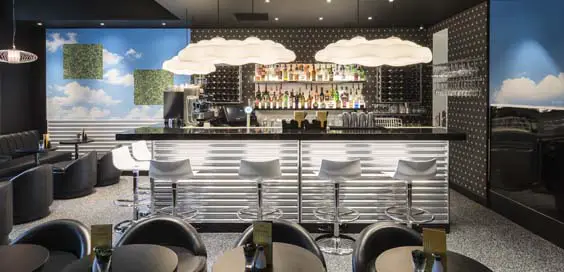 CAU Harrogate
Restaurant Review
by Roger Crow
Harrogate on a Sunday, summer's afternoon, or indeed on any afternoon is usually a treat, though today I feel like I've wandered onto the set of 'Fast and Furious: Yorkshire Drift' as a convoy of supercars queue at traffic lights, revving their engines.
It's a lifestyle that's way beyond my pay packet, but thankfully decent dining isn't, even in one of the most moneyed regions of the UK.
My idea of a perfect eatery is usually a short walk from a good car park, great shops and a decent movie house, so I'm in my element when my partner Rachel and I arrive at CAU. It's an elegant restaurant around the corner from the Everyman Cinema and not far from the Odeon car park.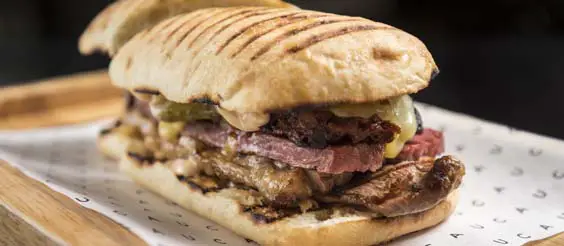 "Talking points"
The staff at CAU can't do enough to make our stay memorable, and give us plenty of space as we settle in for a couple of hours. Thankfully there's none of that hovering that can be unnerving in some restaurants.
Isla, our waitress, does a fine job of talking us through the impressive menu while general manager Ed dazzles us with his wine knowledge as we sample three of their fine array of tipples. The Piche Malbec 2016 is out of this world, and rather smartly it's exclusive to the restaurant. I love a good glass of vino but it's rare for me that wine becomes a restaurant's USP.
In 2002 I spent a few days in Argentina, and have fond memories of the local cuisine so I wonder how Harrogate's taste of Buenos Aires will compare.
The eclectic, spotless interior is bright and airy with a fragmented ceiling of mirrors and blue sky panels reminiscent of Heston Blumenthal's revamped Little Chefs from a few years ago. Blue sky thinking indeed. The stunning wall lights are a definite talking point, as is a grass-style wall panel.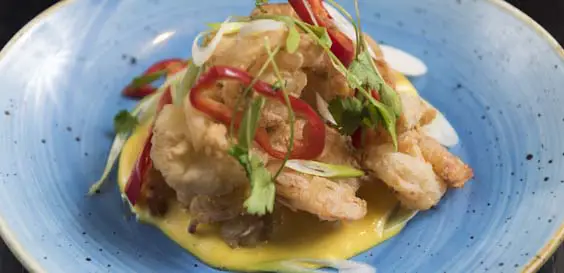 "Tastes pretty heroic"
The eclectic music choices are more eighties and nineties mainstream US than Argentinian, but I have no complaints as I tuck into a delicious starter: shrimp chicharron (above). At £6.95 it's a mouth watering introduction to the chef's considerable skills, and is beautifully cooked. It's one of the restaurant's recommended Hero dishes, and it does not disappoint.
The wine is going down a little too well as Rachel and I soak up the sights of milling shoppers or a couple dining outside with their dogs.
Argentina may be synonymous with steak, but after a cheeky Cuban meat-centric brunch a few hours earlier at the other end of town, I opt for fish instead. The coal baked bream at £15.95 is worth every penny. It might not be a 'Hero' dish, but it tastes pretty heroic to me. Melt in the mouth flakes ensure I'm not bulging at the seams. The root veg crisps are a nice touch along with a delicious salad. I also enjoy a side of crispy mushrooms with a squirt of lime. I like to think it's good for my pre-holiday diet, but truth is I'm saving myself for dessert.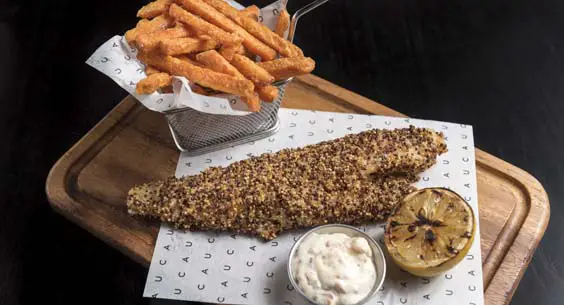 "Impressive veggie choices"
Choco Blondie (£4.95) is a slab of baked white chocolate sweetness with peanut butter frosting which makes a welcome change from the usual choc brownie puds I opt for.
Rachel's veggie choices are pretty impressive too, though the portions are too generous. Halloumi tacos, and roasted squash cannelloni (too rich and creamy for my palate) ensure that dessert – Dulce Volcano with amaretto cream (another Hero dish) proves too much.
We have such a good time it's a shame to head off, but after a terrific cappuccino we bid 'adios' to our new favourite Harrogate eatery. The atmosphere, food and service is a credit to the CAU chain, though given the calibre of the wine alone we'd be back in a heartbeat.
Gracias CAU. You've done us proud.
Editor's Update: The entire chain of CAU restaurants closed down in summer 2018. More info here.
CAU Harrogate, Westgate House, Station Parade, Harrogate, HG1 1HQ
Opening Hours:
Mon–Fri 9am–11pm
Sat 9am–11pm 
Sun 9am–10:30pm
01423 202169