Stuzzi, Harrogate – Restaurant Review
By Kirsty Reid
When it comes to dining out in Harrogate, you'll be spoilt for choice. But if it's authentic Italian cuisine you're after, then Stuzzi is the place to be.
The brainchild of four flavour-obsessed friends – Jimbob, Harvey, Brett and Tom – Stuzzi (pronounced stut-zee) has gained a reputation for its traditional-meets-modern tapas since opening its doors in 2014.
With four consecutive years in the Michelin Guide, the opening of a Leeds branch in 2018, and the launch of a new gin this month, the Stuzzi team seem to be going from strength to strength and, after my recent visit, it's easy to see why…
Walking along King's Road, Harrogate, my partner and I passed a hub of eateries, all packed with bank holiday revellers – but none more so than Stuzzi. I took this as a good sign.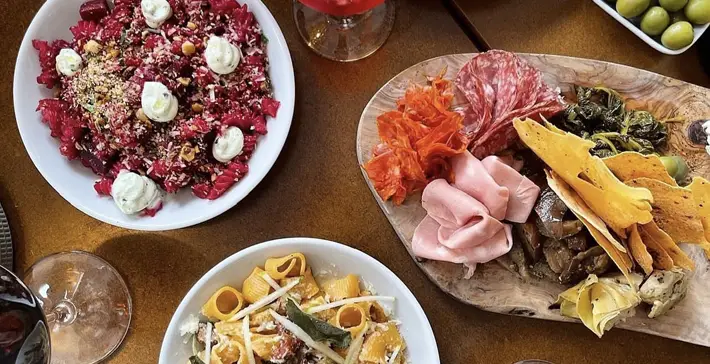 "Transported into holiday mode"
Despite the bank holiday traffic, we'd made the journey to the restaurant in good time, arriving 20 minutes early. Fortunately, our table was ready and we were soon shown to our seats, under a canopy outside the main entrance – a great spot for people-watching.
With limited indoor seating, most of the action takes place outside where fellow customers surrounded us for a spot of al fresco dining. The decor is simple and contemporary, hip if you will, with fibreboard tables and old-school-style chairs. Real and faux plants are dotted around tables and hang from above. A small display of products to purchase, including Stuzzi's own hot sauce (more on that later) and a chilli jam, greets you at the entrance.
I don't know if it was the buzz of the bank holiday, the cosy indoor-outdoor setting or the warming welcome, but we found ourselves transported into holiday mode – relaxed, care-free and ready to enjoy the food on offer.
After bringing over a bottle of ice-cold table water, our server kindly talked us through the daily-changing menu. Dining on 'pizza party' day, we were advised to share two or three dishes from the stuzzichini (small plates) menu, and a pizza.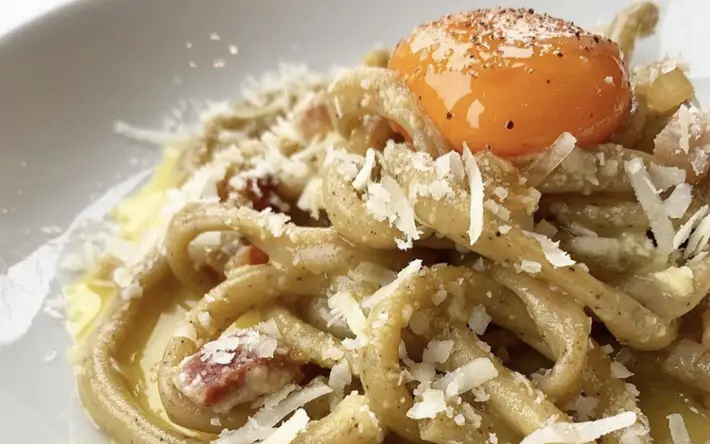 "Light and crispy"
Ordering Nocerella olives (£5), imported from Sicily, for our starter – or should that be 'aperitivo'. We also opted for two stuzzichini dishes – the zucchini e pisello (£9) and tagliatelle (£13), along with a picante Calabrese (£11.50) from the pizza menu.
Expectations were high for the small Italian plates after which Stuzzi is named, and they didn't disappoint.
Beautifully presented, the delicate and refreshing zucchini salad was a delight for senses. Ribbons of fresh courgette were layered between slices of fried summer squash, marinated with chilli, lemon and garlic. Served with a garden pea purée and topped with flaked almonds and shaved parmesan. It's flavoursome enough to be enjoyed as a main.
The tagliatelle, made with slow-cooked ragu of beef mince and mixed salami, was equally as delicious and a decent portion size, too – certainly filling enough for a light meal.
After our stuzzichini came the pizza – fresh from the oven to enjoy warm. The light and crispy base was coated in a San Marzano tomato sauce, topped with salami picante and fior di latte (cheese), and drizzled with Stuzzi X Thicc Sauce – a fiery relish that really packs a punch! We savoured every delicious bite.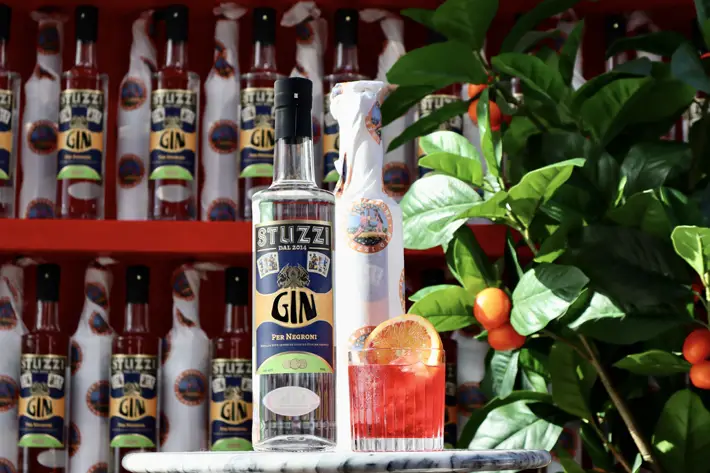 "As refreshing as it sounds"
Of course, I couldn't visit Stuzzi without sampling their new gin. Dubbed 'the perfect gin, for the perfect Negroni', Stuzzi Per Negroni Gin (70cl, £39.50) has been created in partnership with award-winning Leeds-based distillery Hedonist to celebrate and enhance the classic cocktail.
Distilled with a medley of botanicals to create the definitive negroni, including candied Sicilian orange, bergamot, lavender and cinnamon, it tasted as refreshing as it sounds.
I enjoyed the new offering in a Portofino cocktail (£9). Refreshing notes of limoncello, basil and lemon were perfectly complemented with the soda. My other half opted for a thirst-quenching lemon soda (£3.50), followed by a double espresso (£2.40) with dessert.
From Neapolitan-style doughnuts and homemade choux buns, to Italian cheese and gelato, Stuzzi's dessert menu is mouth-wateringly tempting.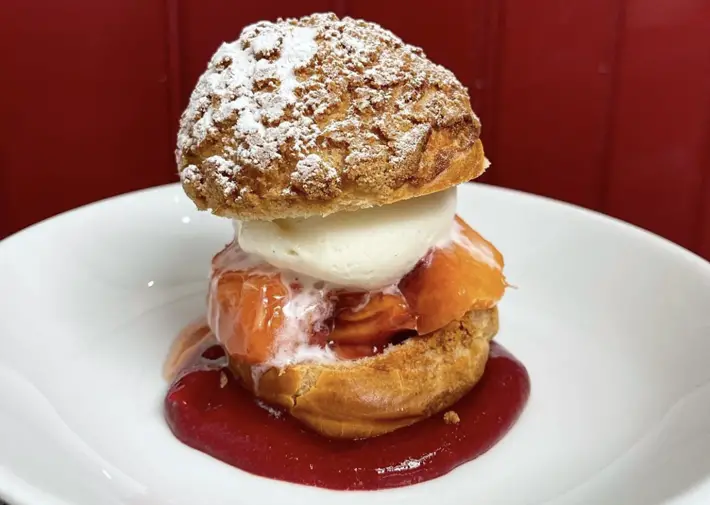 "Smooth and creamy classic"
Though pretty full from the savoury offerings, we were enticed by the dessert menu, with my partner quick to settle on the semifreddo (£8.50) – Italian for 'half cold' or 'half frozen'. With a mousse-like texture, the creamy Stuzzi-made, tiramisu-flavoured dish was served with a Genovese sponge and topped with a divine dark chocolate and coffee sauce. A not-too-sweet treat that hit the spot nicely.
Keeping things simple, I chose the vanilla gelato (£3.75) – a staple at every good Italian. The smooth and creamy classic was the perfect way to end our Italian dining experience.
If you want a taste of Italy without the hassle of airport chaos – Stuzzi is where it's at.
Stuzzi, 46B Kings Road, Harrogate, HG1 5JW
Opening Hours:
Wed-Thurs 12pm–10pm
Fri-Sat 9am–10pm
Sunday 10am–6pm
Mon & Tue – Closed
01423 705852
stuzzi.co.uk/harrogate