An Evening With Boycott and Aggers – Review – Hull City Hall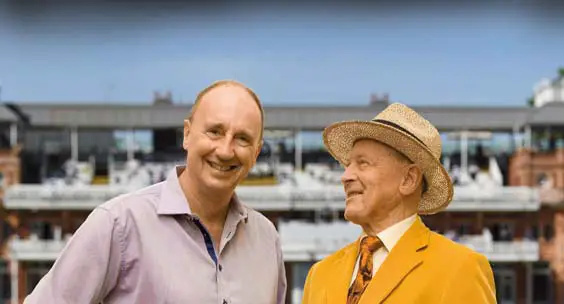 By Karl Hornsey, February 2018
Anyone familiar with listening to Jonathan Agnew and Geoffrey Boycott on Test Match Special will know what to expect from this short tour of theatre dates, and this evening at Hull City Hall didn't disappoint.
Aggers is no stranger to such occasions, having also taken to the stage with the likes of Phil Tufnell and David Lloyd, and he plays his part as mein host and the straight man with aplomb, allowing, in this case, Boycott to be the star of the show.
There can be few sportsmen of the last 50 years who have divided opinion as much as 'Sir Geoffrey', as he's widely known in Yorkshire, but even those who don't like the opinionated former England and Yorkshire opener, cannot fail to be entertained by his storytelling and anecdotes of years gone by.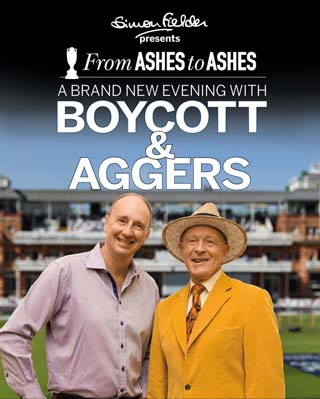 "Brutal honesty"
Aggers gently coaxes Boycott, not that he needs prompting to bring his opinions to the table, into subjects ranging from the recent Ashes series, his thoughts on coaching, Boycott's own career and achievements for England and, perhaps most fascinatingly, his time in the Yorkshire dressing room of the 1960s and 70s.
Boycott is on fine form discussing the divisions in a squad that is up there with the finest ever to be assembled in the sport, and openly accepting of the mistakes he made, including taking on the captaincy of a side on the wane. With characters such as Brian Close and Fred Trueman to draw from, the evening provides plenty of near-the-knuckle tales, told with brutal honesty by Boycott, intermingled with clips on the big screen of the man's outstanding career.
The first half follows this format, with Aggers largely there to tease Boycott, deliver him a few half volleys to smash to the boundary, and then softening him up with some bouncers on the subject of his recent TMS wind-up, when he managed to convince Boycott that his cherished 100th 100, scored at Headingley, was in fact only the 99th of his career.
"Two of the finest broadcasters"
The second half of the show is made up of questions and tweets from the audience, which allows Aggers to contribute more to the general discussion about the current state of the sport, some of the greatest players to have played the game, and there's also the chance to hear more classic pieces of commentary, including his 'legover' moment with Brian Johnston and a more recent one involving Tuffers and the wonderfully named Pakistan opener Fakhar Zaman.
For a fan of TMS such as I, these evenings are like sitting in your favourite armchair in front of a roaring fire with the radio on, listening to two of the finest broadcasters around chew the fat on all manner of subjects. It's cosy, familiar and thoroughly entertaining, and I would recommend it to anyone when Aggers and co are next in these parts.