Introducing: Apollo Junction
Electro-rock from Leeds, hitting their stride…
YOUR NAME: Jamie.
BAND NAME: Apollo Junction.
WHAT DO YOU DO/PLAY? I'm the singer.
HOW LONG HAVE YOU BEEN TOGETHER AS A BAND/PLAYING MUSIC? This is our 7th Year as Apollo Junction but we have been taking it more seriously for around 3 years.
GIVE US 3 REASONS WHY WE SHOULD TRACK DOWN, LISTEN AND DISCOVER YOUR MUSIC?
We've been described as the best band around that most people haven't heard of…
Steve Lamacq called us 'Swaggering, Electro Rock'.
We love what we do and love meeting new people.
WHERE DO YOU SOUND BEST – FESTIVAL, CLUB, BEDROOM – OR SOMEWHERE ELSE?
We are obsessed with catchy, hook filled songs. Everything we write is aimed at the radio or stages – no matter the size.
WHAT WAS YOUR FIRST…
RECORD? I am just getting into vinyl records so the first one I bought was actually an old copy Springsteen album, Born in the USA.
CD? That Babylon Zoo single 'Spaceman'… remember that?
DOWNLOAD? The Charlatans album You Cross My Path was one of the first albums I bought only as a download.
SO, WHEN IT ALL GOES RIGHT AND YOU'VE GOT A HUGE QUEUE OF HANGERS-ON AND A RIDICULOUS MANSION, WHAT WILL BE YOUR BIGGEST INDULGENCE, MUSICAL OR OTHERWISE?
I quite like it when you read about these celebrity neighbour fall outs that happen. I remember reading about Robbie Williams going to court against one of his rich neighbours over some ridiculous thing like the size of a swimming pool he was building… something totally alien to most people with real problems. So the plan is, I think – I will buy a big mansion and just build a wall across Robbie Williams' front door.
SO, WHEN IT ALL GOES WRONG AND YOU'VE ACRIMONIOUSLY BROKEN UP CITING HUGE MUSICAL DIFFERENCES, WHAT DO YOU FALL BACK ON?
Probably a private dancer. A dancer for money.
CITE SOME INTER-BAND MUSICAL DIFFERENCES…
We all collectively think that we have the best music taste in the band and therefore it makes choosing songs in the tour van very difficult. Most other differences we have never sussed out. Never let Jonny, our drummer, choose the snacks for backstage. Who wants watercress sandwiches?! Never believe anything Ben says about anything. Never let Sam write the lyrics. Never let Matt pour the drink measures and as I'm doing the interview, I'll just say I'm the best member of the band.
WHO ARE YORKSHIRE'S FINEST IN CULTURE, SPORT AND MUSIC?
Shed Seven, The Pigeon Detectives, Yard Act, Kaiser Chiefs, Leeds United. Leeds Rhinos. YCC. Leeds is a buzzing place to be right now. Bielsa (Leeds manager) and the team have totally changed the feeling of the city and – we are ready to be the soundtrack to it!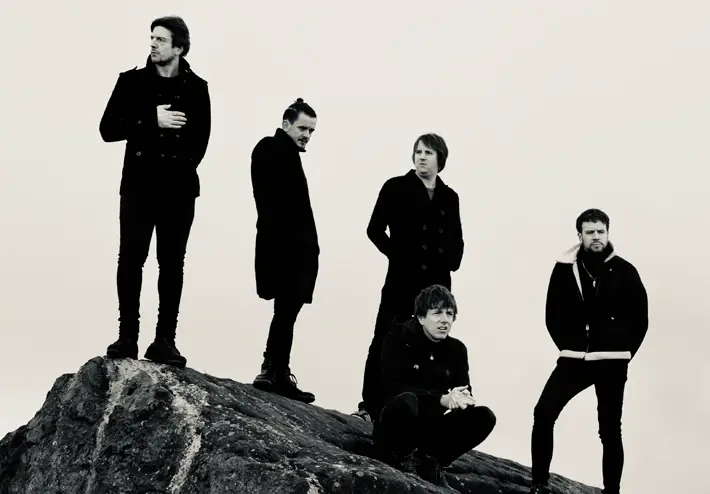 NAME YOUR SUPERGROUP – WHO'S PLAYING WHAT, WHO'S ON VOCALS AND WHO'S YOUR BEZ?
Vocals – Me (Ashcroft).
Guitar – Matt (Marr).
Bass – Ben (Hook).
Drums – Jonny (Ringo).
Keys – Sam (Elton John).
Bez – Bez (Bez).
GO SEE THIS FILM: Rocky.
GO READ THIS BOOK: Alan McGee – Creation Stories.
GREAT LOST BAND/ARTIST: Buddy Holly.
LONDON, L.A OR LEEDS?: Leeds Leeds Leeds!
AND FINALLY… AS YOU LEAVE THE STAGE, WHAT ARE YOUR PARTING WORDS?
Good night and God bless. We were Apollo Junction, you were beautiful.
For more info visit: facebook.com/ApolloJunction