Sophie Ellis-Bextor – Live Review – Leeds Town Hall
By @Steve Crabtree, November 2019
It's becoming quite the cool thing to do. Grab your hits, grab an orchestra, fuse the two and make something utterly amazing.
Sophie Ellis-Bextor did that with her last album The Song Diaries, where she trawled through her back catalogue and hand picked tunes that she thought would work in that orchestra format. And that went so well, she's taken it to the stage. When it came to Leeds Town Hall on a Sunday evening, promising something different with a lot of disco, I couldn't wait to get myself there.
"A new euphoria"
It was a packed Leeds Town Hall too. A beautiful, Victorian venue certainly fitting of an orchestra. And when a disco ball hangs from the air, you know something good is about to happen.
It was the orchestra who came on stage first, and got in to things by sprinkling a few teasers of Sophie Ellis-Bextor tunes out, before the star herself joined them. She got a great reception, and we stayed in our seats as she began the night with a beautiful rendition of 'Groovejet'.
'Wild Forever' and 'Young Blood' were just as stunning, and this thing of mashing songs with an orchestra really takes hold of you when you're there. There's a new euphoria about things, and we certainly got that.
"Took us to the disco"
After 'Bittersweet' she exited the stage as her band came on to pick up the night, and took us to the disco.  And what a disco we were given.
'Take Me Home' kicked things off, and every single person were now up on their feet. She promised us Studio 54, and she didn't let us down.  A more recognisable version of 'Groovejet' also came in to the show, and a brilliant cover of 'Young Hearts Run Free' meant we were having a (disco) ball.
It dawned on me that Sophie Ellis-Bextor doesn't need to change her vocal style. It slots in so nicely with dance, disco and classical – and this format of gig really suits her.  She's brilliant with the audience when she talks, and gets them moving in unison really easily. She's likeable, and that's nearly as important as the songs she's giving us.
The inevitable track closes the evening. 'Murder On The Dancefloor' is her biggest hit, 23 weeks on the charts. As wild as you can get when dancing in your seat, we went there. The aisles began to fill, and the disco ball came in to its own. Never did I think I'd have this much enjoyment in a Town Hall!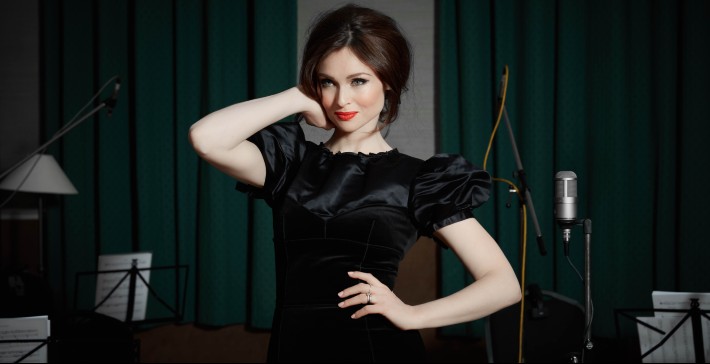 "Wow moment"
And with that, Sophie Ellis-Bextor was gone. Only to re-appear in one of the first-floor boxes to the amazement of the people occupying it. We were shushed in to complete silence, and using only her voice, she enthralled us with 'A Pessimist is Never Disappointed'. It was honestly a "wow" moment.
Sophie Ellis-Bextor's talents are something else. She's underated, as her recorded tracks have stood the test of time and still get airplay. People still sing and dance to them. But she's a great live act too. It's the second time I've been lucky enough to see her, and I know it won't be the last.