A Fistful of Dynamite (1971) – Film Review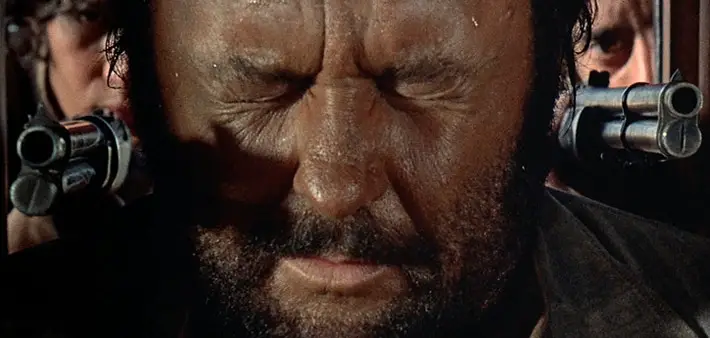 Director: Sergio Leone
Cast: Rod Steiger, James Coburn, Romolo Valli
Certificate: 15
by Sarah Morgan
It's being released on Blu-ray as A Fistful of Dynamite, but you may know Sergio Leone's seventh film as a director as Once Upon a Time… the Revolution or even under his own favoured title, Duck, You Sucker!.
Thankfully the film itself is not suffering from an identity crisis – it's one of the most assured directorial works you're likely to see, made by a man at the peak of his game. It's such a shame, then, that his stars let him down.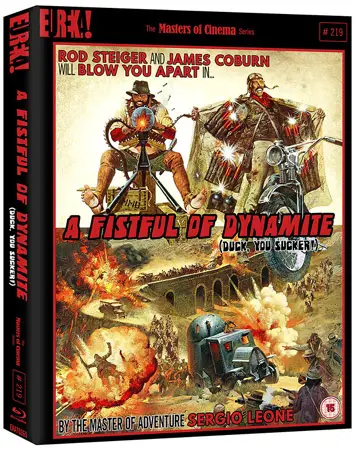 In 1971, when the movie received its cinema release, both Rod Steiger and James Coburn were well-established names; Steiger even had an Oscar for his performance in In The Heat of the Night. But they were very American stars, so why Leone felt they were ideal to play a Mexican and an Irishman is anybody's guess – maybe, he being Italian, he couldn't tell how awful their accents are.
"Outstanding camera work"
Steiger sounds as if he's picked his up by watching Speedy Gonzalez cartoons, while Coburn… well, who knows, but it's far from convincing. And that's a shame, because it detracts from the director's outstanding camera work, set-ups and shots.
Coburn is Shaun O'Malley, an Irish Republican who's in Mexico after fleeing from the British authorities in the early 19th century when his path crosses that with local bandit Juan Miranda (Steiger).
The country's revolution is in full swing, and O'Malley makes his explosives expertise useful to the rebels. Miranda, however, has no interest in politics – money is his main motive – but that changes after tragedy strikes his family.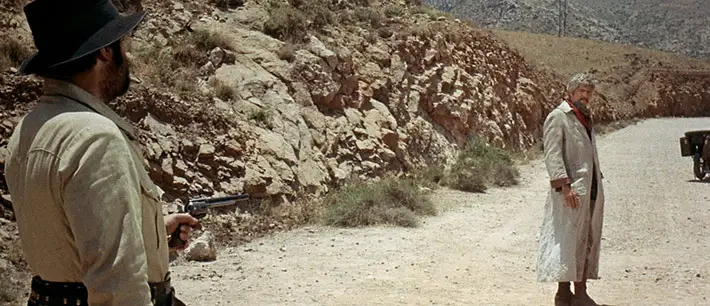 "Many special features"
Malcolm McDowell and Eli Wallach were among the original choices for the lead roles, and frankly they would have been far more interesting – their absence is something of a missed opportunity.
Nevertheless, fans of Leone's Dollar trilogy and Once Upon a Time in the West will still be impressed by his work here, while his friend Ennio Morricone's score is outstanding.
There are many special features offering insights into the political nature of the movie that might be missed by those unfamiliar with certain aspects of 20th century history.
Of particular interest are a documentary and an audio commentary by Spaghetti Westerns and Leone expert Sir Christopher Frayling, as well as a video essay from critic Kim Newman.
BLU-RAY SPECIAL FEATURES
Hardbound Slipcase
PLUS: A LIMITED EDITION 60-PAGE Perfect Bound Collector's book featuring new and archival writing on the film
Two versions of the film presented in 1080p across two Blu-ray discs, including a transfer from the 2K restoration completed by Cineteca di Bologna in 2009.
Optional English subtitles for the deaf and hard-of-hearing
Original Mono Audio available on both versions
Audio Commentary by filmmaker Alex Cox
Audio Commentary by film historian Sir. Christopher Frayling
A brand new and exclusive interview with film critic and writer Kim Newman
A brand new and exclusive interview with Austin Fisher, author of Radical Frontiers in the Spaghetti Western: Politics, Violence and Popular Italian Cinema
The Myth of Revolution [22 mins] – Sir Christopher Frayling on Duck, You Sucker!
Sergio Donati Remembers Duck, You Sucker! [7 mins]
Sorting Out The Versions: An Analysis of Duck, You Sucker! [12 mins]
Once Upon A Time… in Italy [6 mins] – featurette
Restoration, Italian Style [6 mins]
Location Comparisons [9 mins]
Radio Spots
Trailer
A Fistful of Dynamite is released on Blu-ray by Eureka, £29.99