The Kindred (1987) – Film Review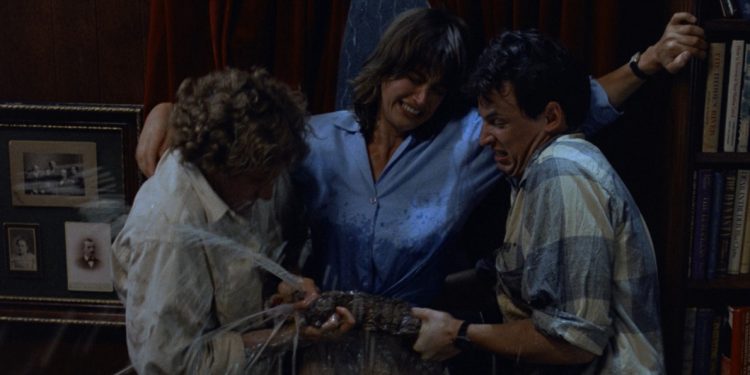 Directors: Stephen Carpenter, Jeffrey Obrow
Cast: Rod Steiger, Kim Hunter, David Allen Brooks
Certificate: 18
By Sarah Morgan
Just when you thought every 1980s horror movie had now received a Blu-ray release, along comes Synapse Films with another pair of chillers.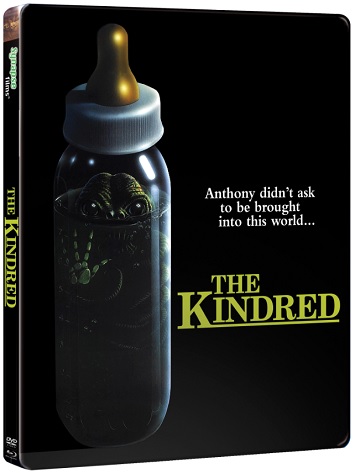 Satan's Little Helper is already on the loose, with The Kindred heading our way too. The latter was originally released in 1987 and, even if the plot doesn't appeal, it's something of a curiosity piece because it features performances from two genuine Hollywood stars – Oscar-winners Kim Hunter and Rod Steiger.
"Remote home"
At the time the latter was suffering from heart problems and depression, which made it difficult for him to find work. As a result, he agreed to appear in a number of low-budget movies. None of them were in the same league as the films he made in his heyday, including On the Waterfront, The Pawnbroker and In the Heat of the Night, but all credit to him – Steiger still delivers a powerful performance here, rather than phoning it in.
Hunter, meanwhile, was no stranger to genre movies, having appeared in three entries in the original Planet of the Apes franchise.
In The Kindred she plays Amanda Hollins, a research scientist who was working on a top secret experiment when she suffered a heart attack. From what turns out to be her hospital deathbed, she asks her son John, who's also a scientist, to go to her remote home and destroy what she was working on – including Anthony, the brother he never knew he had.
There's little wonder she kept quiet – Anthony is not a handsome and/or charming young man, he's some sort of hideous cross between a baby, the creature that bursts out of John Hurt's chest in Alien and an octopus. What's more, he's hungry and he seems to regard human flesh as a delicacy.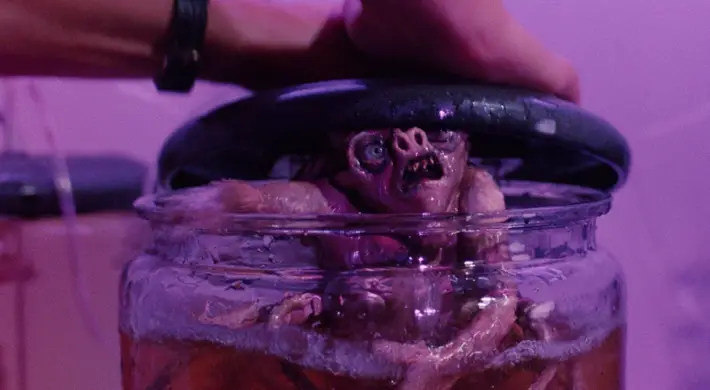 "Cheap and cheerful"
From the moment of their arrival, John and his colleagues – including mysterious Brit Melissa, who claims to be Amanda's no 1 fan – are all in terrible danger… Steiger, meanwhile, plays Dr Lloyd, a mad boffin who was once Amanda's colleague and will stop at nothing to find out what she was working on.
The Kindred was never meant to be anything more than a cheap and cheerful horror movie. It's not trying to be deep or meaningful, and that's completely fine – it's a fun piece of cinema from directorial duo and old uni buddies Jeffrey Obrow and Stephen Carpenter.
Having already scored a minor hit with The Dorm That Dripped Blood, which for a time was regarded as a video nasty in the UK, the pair scored a bigger hit with this, their follow-up. It's certainly a more accomplished work, and having experienced actors among the cast helps give it a veneer of respectability – alongside Hunter and Steiger are such familiar faces as Amanda Pays, Talia Balsam and Peter Frechette – and it would sit well in a double-bill alongside more famous horror movies from the era, such as A Nightmare on Elm Street.
Make sure you watch the 'Making Of' documentary among the special features too – it's even more entertaining than the film itself.
Bonus Materials:
● All-new 4K high-definition remaster of the unrated version of the film
● New 5.1 English stereo surround remix (Original 2.0 mono theatrical mix also included)
● Audio commentary with directors Jeffrey Obrow and Stephen Carpenter, moderated by horror journalist Steve Barton
● Inhuman Experiments – The Making of "The Kindred," an all-new documentary (52 mins.)
● A special compilation of creature effects artist Michael McCracken, Jr.'s never-before-seen on-set footage (18 mins.)
● Still gallery and original storyboards
● Original theatrical trailer
● Original video promotional trailer
● TV spots
● Optional English subtitles for the deaf and hard of hearing
The Kindred is released on Blu-ray by Synapse Films, available from MVD