Duran Duran – Live Review – The Piece Hall, Halifax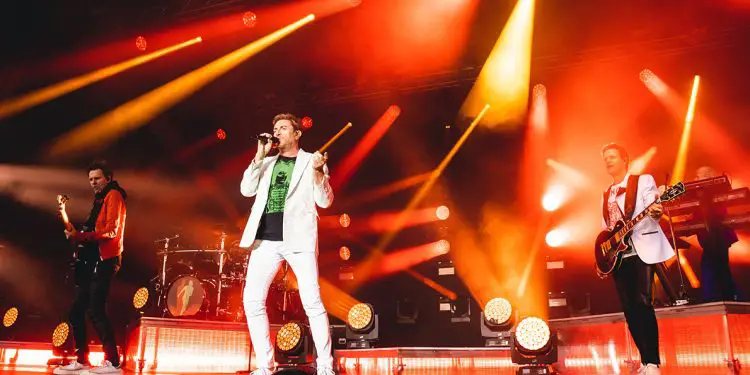 By Steve Crabtree, July 2022
"What can you do on a Tuesday night in Halifax?" I was asked. "Go to the Piece Hall and watch Duran Duran" I said. And if anyone took my advice, they'll be saying thanks. Because, as expected, this band gave the town a special show of epic proportions.
"The north has been good to us," said lead singer Simon Le Bon in his praise for us people up here.  And over the next two hours, they were about to deliver something that repaid the favour.
We'd already had a brilliant support act in EEVAH in the lead up to the Duran's 9pm start. They're an act you need to keep your eyes and ears open for.  And they got this sell-out Halifax crowd in a fine mood on this warm, sunny evening before the new-wave (and beyond) icons took to the stage.
And they didn't mess about, getting in place and getting straight into big hitter 'Wild Boys'. The track, which got to number 2 in the UK in 1984 meant that they were going down a storm from the off, and they were only going to get even better over the next 20 songs.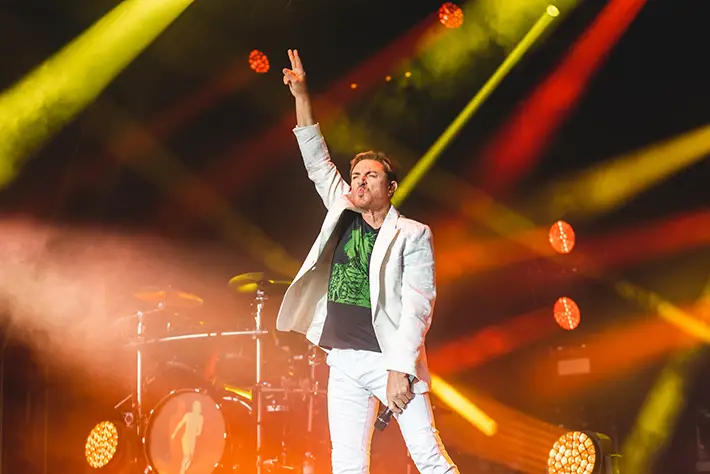 "Crescendo'd in"
We were in for a nice, balanced hit-fest and crowd-pleasing set, that also catered well for the more die-hard Duran Duran fan.
They slowed up with 'Invisible' before 'All Of You' led us straight in to what I think is the best Bond theme of all time.  I was hoping, and saving a prayer that they'd play 'A View to a Kill' for Halifax, and I wasn't disappointed.  It crescendo'd in early in the set, and I was made up. It sounded as great as the recorded version, and when it's booming out around the Piece Hall, it's even better.  The song actually got me thinking that this place would be a great backdrop to the next Bond film.
Much of the show sounded as tight, clear and in tune as their recorded stuff.  But it came with a different edge in its live state. Le Bon barely dropped a note, and he was in fine form.  He gave us lots of patter, and lapped up all the adulation that was returned to him and the rest of the band were at the top of their game as well. All this had the crowd playing more than their part too.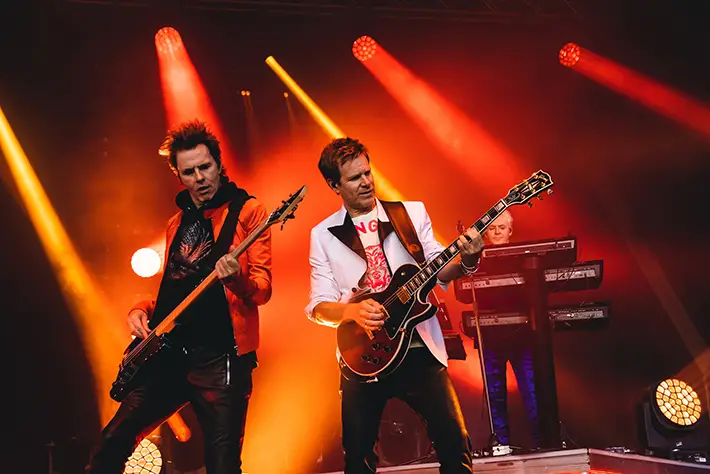 "Synth-sound"
Every single song tonight had the Piece Hall dancing, waving their arms and singing along. Top of ther lungs type stuff too. 'Union Of The Snake' sounded better than I'd ever heard it. And 'Hungry Like The Wolf' was also incredible, slap bang in the middle of the set.  'Ordinary World' slowed things down a little, and the electronic synth-sound of 'Planet Earth' really took hold on the Halifax crowd.
I'd say it was mainly over 30s who'd swarmed the Piece Hall for this one, with the odd few who were maybe a bit younger.  But Duran Duran were bringing the youth out of everyone. And once again in this summer series from Cuffe and Taylor, the atmosphere in the place was euphorically upbeat. Thousands of people in their best ever spirits, and helped, as always, by the fantastic attitude of the venues marshals, stewards, bar staff, toilet guides.
And let's not forget the part of Lizzie Wharton.  There's been a lady at the front of all these Piece Hall gigs who's been signing all the songs in BSL, bopping around and singing loudly and proudly whilst she's done it.  She's become a talking point, and everyone loves her as much as the shows we've come to see.  Alongside this important access role she's been asked to do, she's been part of everyone's memories this summer. Well played, Lizzie – you've done a fab job.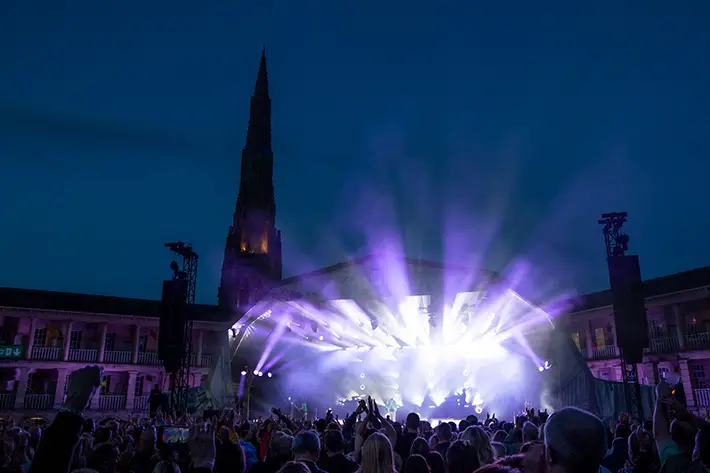 "Blasted the non-existent roof off"
When the skies darkened, the lights made their mark on the show and took things to an even higher level.  We were heading towards the end of the gig that had passed by very quickly. 'The Reflex' was insane from a band point of view, and the Piece Hall reacted wildly to it. The cover of 'White Lines' was well put out by Duran Duran too. Andto close the main set we had 'Girls On Film' merging in to a bit of Calvin Harris' 'Acceptable in the 80s', before the band quickly went off stage in prep for their encore.
And with a rapturous re-welcome, the band gave us 'Save A Prayer' first. Then we got the one they'd been holding on to all night. We'd been yearning for it, and as 'Rio' blasted the non-existent roof off the Piece Hall it had every single person inside the place dancing on the non-existent sand. It was an exhilarating end to a stunning show. Duran Duran have been around for over 40 years and there's a reason why.  They're this damn good.
In the final week of the Live At The Piece Hall series, having these guys here was a masterstroke.  I'm don't think there's ever been a better Tuesday night in the 'Fax than this one. And I'll challenge anyone who tries to tell me otherwise.
Images: Cuffe & Taylor & The Piece Hall Trust