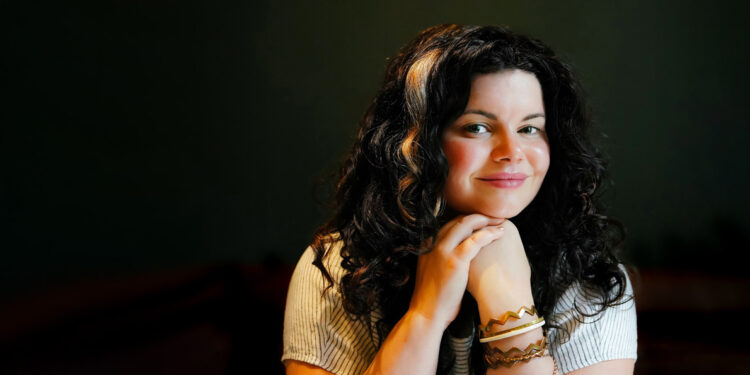 Folky earworms from Austin troubador…
What's the title of your latest release, and what does it mean to you?
My newest record is called Give Up Your Ghosts. It's full of reminders – mostly to myself – to keep going, stay strong, and be brave.
What was the hardest part about putting this release together, and why?
There were a couple of songs – 'Flying', for one – that we restarted a couple of times, experimenting with different grooves and approaches until we landed on the one that felt right. Aside from that, the sessions felt very charmed. I used the same band, producer, engineer, and studio that I had for my previous album and we really felt like a well oiled machine.
Who produced the release – what did they bring to it?
Give Up Your Ghosts was produced by my longtime collaborator Will Robertson. We've worked together on a number of albums and played dozens if not hundreds of shows together since 2004. We graduated from the same audio engineering program and I actually worked at his recording studio as an assistant engineer back in the mid 00s to barter for time on one of my first albums! We have a really deep trust and understanding, which allows me to get really vulnerable with my vocal performances. Also – gotta shout this out – Will did such a good job on this record that the president of my label hired him to mix a live album by Austin blues legend Ruthie Foster and it got nominated for a Grammy! I'm so proud of him.
What do you want the listener to take away from listening to your music?
My hope is that my music becomes part of the soundtrack of people's lives, elevating joyful moments, and providing comfort in difficult times. With this album in particular, I hope people feel encouraged to just keep going and believe in their own power.
How does a track normally come together? Can you tell us something about the process?
Great question! My songs usually start with a lightning bolt of inspiration. I grab my phone and mumble-sing a few words of lyric and melody into my phone, recording as long as the idea keeps growing. Then I listen back and try to figure out what it means and write a song around it. 99% of the time, that initial line is either the first line of the song or the first line of the chorus. Before recording, I send demos of all the songs to the band. We have a full day of rehearsal before going into the studio, and I always like to hear their initial ideas before sharing what I had in mind. We compare notes and play through it until we have a general plan of how we want to proceed. Will usually records those rehearsals so that the next day, in the studio, he can play it back to the band so we all know where we left off. With a band, we'll lay down acoustic guitar, vocals, drums, and bass. Acoustic guitar and vocals are recorded in separate booths so they don't have too much bleed from the other tracks and can be used in the final mix. Sometimes we keep the live guitar and vocal performances and sometimes we re-record them. Then we overdub keys, electric guitar, harmony vocals, and/or whatever else we want to hear on the track. I just realized this is probably way more information that you were looking for, so sorry, I'm kind of a studio nerd!!
What band/artists have influenced you the most since you started this project, and why?
Hmmm great question. I really like songwriters who pair thoughtful, clever lyrics with catchy melodies. Folks that come to mind are Jason Isbell, Kacey Musgraves, Lake Street Dive, Devon Sproule, Kathleen Edwards, Sean McConnell, Brandi Carlile, Lori McKenna. I could go on and on and on…
What countries would you like to tour? Are there any standout venues you'd like to play in?
Ooh this is a dangerous question for me – I want to go EVERYWHERE! As a kid, I looked at the globe in school as a big to-do list. I only recently realised that not everyone did that as a kid. I'm a sucker for a fancy theatre, so I guess my dream UK show would be a night at the Royal Albert Hall in London.
If you could pick one track for our readers to listen to in order to get a taste of your music, what would you pick, and why?
I'd suggest 'Ghosts', which is a song that I wrote for myself as a bit of encouragement when I was struggling with a spell of writer's block. The chorus of the song "relax, let it go, roll with the flow" has really come in handy over the past couple of years!
What ambitions do you have for the band/your career?
Career-wise, my goal is pretty simple: I want to keep playing music for rooms full of people who enjoy what I do. As long as I'm able to do that, I'll be happy.
Finally, as you leave the stage, what are your parting words?
I'm pretty sure the last words I ever say onstage are "thank you," because I'm just so grateful that there are people out there who, like me, value the experience of sharing music and connection and art and energy live together in a room.
Tour dates:
18 May | Catwick Village Hall | Beverley
21 May | Black Dyke Mills Centre | Bradford
For more info visit: rebeccaloebe.com