An Interview with Craig Revel Horwood
BBC1's Strictly Come Dancing star, Craig Revel Horwood, is taking to the road this Spring with his debut solo tour.
In 'All Balls And Glitter' Craig will talk about his life from Australia to the West End to Strictly, while revealing a wealth of backstage gossip with his trademark wit and candour. Plus, he will give a very special performance of some of the music which has been the soundtrack to his career.
Here, Craig talks about the show, his Strictly persona and career highlights, as well as beating lockdown…
What can audiences expect from the show?
It's my one-man show and it's based on my life. Act One is very much the stories of me growing up in Australia in my home town of Ballarat, my time in Melbourne and my career in musical theatre. I was in West Side Story, Cats, Miss Saigon, La Cage Aux Folles, all of those shows, and I'll be singing songs from some of them. Then in Act Two it's very much about where my Strictly story began and what's happened since then, so I'll be telling anecdotes about Strictly and backstage stuff. It's an autobiographical romp through my life through song and dance. It's one thing reading an autobiography but it's another thing when you see the person actually on stage talking about it themselves. And people don't necessarily know me from singing so I think that will be interesting. It's a show I've always wanted to do and this seems like the perfect time to do it, to bring a bit of joy into people's lives. I'm not just doing it for my own satisfaction but also to show people what I used to do before Strictly.
"I treat it seriously"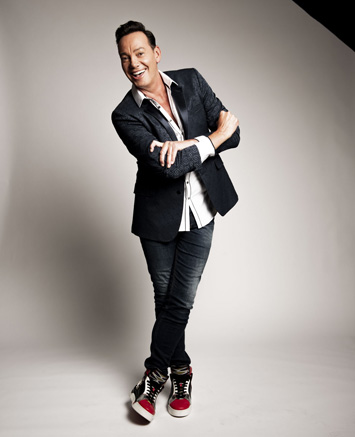 Will it just be you on stage?
Yes apart from a pianist. My good friend Ben Goddard will be playing all the music for me because I don't want to be singing a cappella, darling! We have a bit of banter as well so I've got a friend up there with me, plus the audience will get to ask a few questions and I'll answer them truthfully, like I always do. It's going to be all-encompassing.
This is your first time flying solo. Is that a nerve-wracking prospect?
It's quite scary, I have to say. I'm quite nervous about the whole thing because I've never gone out by myself like this. Obviously I've played parts like Miss Hannigan in Annie but you're part of a company and certainly in panto you're constantly breaking the fourth wall, talking to the audience and going in and out of character. This will be totally different. When you're talking about yourself in real life it can be emotionally difficult as well, although I'm looking forward to baring all in that respect.
How much is the Craig Revel Horwood we see on Strictly the real you?
That is me at work, which is totally different to me at play. I think we're all very different when we're not at work, aren't we? When I'm on Strictly I put my judge's hat on and I treat it seriously. That's who people see but it's not the real me no, of course not. That's just a part of me. It's my critical side. You wouldn't expect a judge in a murder trial to be the same person as he is at home. That's my work character and I'm like that when I'm choreographing and directing too. I think it's important to be honest with people, especially since you want them to be really good and better. For me that honesty is absolutely essential and on the tour I want to be honest and tell everyone the truth about how I started. It might help other kids coming up who might be thinking about a life in the theatre or on stage.
Does being labelled 'mean' or 'nasty' ever get to you?
No, I don't care. It's part and parcel of the job and it's the same as playing the villain in panto. I'm always cast as the villain and I'm pleased about that because the villains have the better parts. Who wants to be the love interest? No-one! I think it got to me originally but I've learned to live with it. People know that it's tongue-in-cheek and that there's a twinkle in my eye. I don't ever go too far and I don't insult people. [Laughs] Well, I try not to anyway. I'm just trying to make their dancing better and I think any way you can do that is a good thing.
The tour had to be postponed because of Covid. That must have been really frustrating?
It was postponed twice and that was a nightmare, not so much for me but for the audiences who were looking forward to it. Now I just want to provide some joy and escapism. When we went on the road recently with the Strictly Come Dancing live arena tour it was amazing seeing 10,000 people smiling, happy, applauding, booing, hissing, doing all of that stuff. It was just brilliant and it reminded me of what we'd been missing. You end taking things like that for granted until they don't exist anymore, then you think 'Wow, this is amazing and I should never take it for granted ever again'.
"Would life be anything without a bit of juicy gossip?"
Did you master any new skills in all that downtime?
I wrote a novel [Dances And Dreams On Diamond Street] so that was new. I did a Christmas single ['It's Christmas, Merry Christmas!' with Rietta Austin] and I've done a duets album that we're going to release at some stage. I filled up the time and I learned a bit more about the garden.
Are you any good at sitting around doing nothing?
No, I'm terrible. When we first went into lockdown the weather was absolutely beautiful and I did nothing except lie by the pool and read books. It was so nice but as it started to drag on I thought 'This is turning into a nightmare not only for me but for the world'. I'm not usually one to sit around. My mind is constantly active, so I worked on the one-man show to try and develop it a little bit more and now it's finally come to fruition. I'm delighted to finally be getting it up and running.
Is it mostly scripted or will there be ad-libbing? And presumably there'll be some juicy gossip?
There'll be lots of ad-libbing. Act One is more scripted than Act Two, which is more off-the-cuff. And juicy gossip? Of course, darling! Would life be anything without a bit of juicy gossip? But I'm not telling you anything about that now because I want it to be a surprise. Trust me, it's going to be full of surprises. It's going to be fun and I'll be giving people a good time.
What did you think about Rose Ayling-Ellis's Strictly win last year?
I thought she did an amazing job and taught everyone that having a disability is not a problem, which I think is fantastic. It was just wonderful to see a glimpse into her world during that brief moment where they danced in the silence. I've seen lots of deaf ballet companies so for me it's nothing new but it was nice for the audience at home who weren't aware to witness that. It showed that you can have a full and fantastic life and you shouldn't let anything stop you from doing what you want to do. I think Rose learned that she could do anything she wanted. It was a brilliant year for the deaf community, for same-sex couples and for all sorts of people. I'm so pleased that the Beeb went to the lengths they did to make that happen.
If you could get any celebs on the show this year who would you choose and why?
Simon Cowell. It would be nice for people to see that real side to him. I'd also love to have Sharon Osbourne on the show because she's quite mouthy and she'd be answering me back all the time.
"I'll have to look after myself"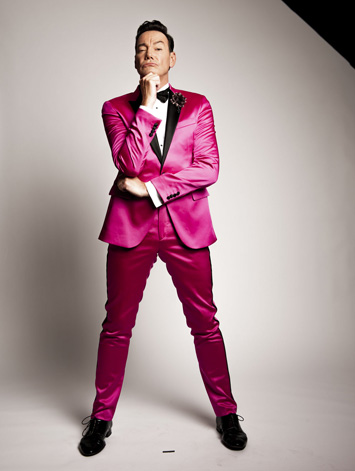 What have been your non-Strictly career highlights?
Doing my first film Nativity Rocks! was a great experience and I've loved directing and choreographing shows. Sunset Boulevard was one of my favourite ones to do. Doing Sister Act with Alexandra Burke was another highlight, because I loved the show and I loved her in it. Earlier I did Spend, Spend, Spend which changed my life forever as a choreographer and it was wonderful to work with the fabulous Barbara Dickson on that. Releasing a Christmas single is also up there, especially when it was up against Elton John and Ed Sheeran, Adele and Abba. That's definitely a highlight.
What do you most enjoy about being on the road?
I like seeing different audiences, because the further north you go the louder they get, and going to different cities every day will be really good fun. There are a lot of stops on the tour and when I saw the schedule I thought 'Am I gonna be able to do this?' It's going to be a challenge and definitely physically so, so I'll have to look after myself. But it's going to be a fun challenge and Ben and I get on like a house on fire, plus there's a whole team involved. There's stage management, lighting and sound, so it's not just me rocking up by myself. You become a family on tour and you look out for each other. It's nice having that camaraderie.
Is there anything you couldn't be on tour without?
Berocca and my Nespresso machine. I can't live without that in the dressing room because I do like my coffee. So that is definitely coming with me and of course make-up, darling!
Craig Revel Horwood's 'All Balls And Glitter' tour visits Leeds City Varieties 7th May & Hull City Hall 16th May
For full tour details visit: socomedy.co.uk/artist/craig-revel-horwood