Shattered (2022) – Film Review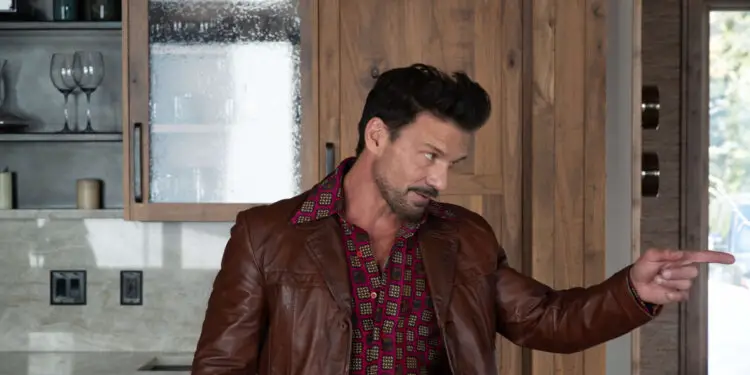 Director: Luis Prieto
Cast: Cameron Monaghan, Frank Grillo, Lilly Krug
Certificate: 18
By Roger Crow
There are no new ideas under the sun, which is one of the reasons this slick, sexy, bonkers thriller feels like a patchwork quilt of a movie.
Imagine if you stitched together Misery, Basic Instinct, Hard Candy, Panic Room, Wild Things, and 2015 thriller Knock Knock. (Don't worry if you have no knowledge of it; I wished the same thing after leaving the cinema).
Just for reference, this is not a remake of the namesake 1991 Tom Berenger thriller, but instead a tongue-in-cheek, occasionally steamy yarn from writer David Loughery, one of the guys behind Star Trek V (aka the worst Trek movie not called Nemesis).
One of the many producers is John Malkovich, who also plays a seedy, voyeuristic landlord because Malkovich probably had a play he wanted to stage and needed financing. Or he just needed the cash. Either way, like one of the femme fatale's skirts, he's sold short by the material.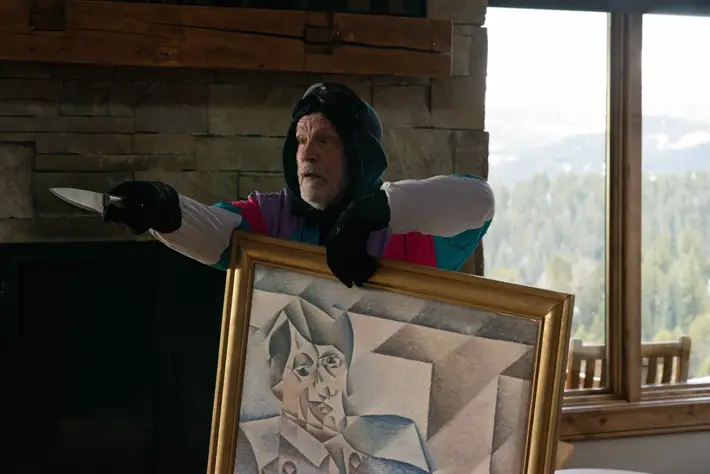 "Getting on famously"
It helps that the two key players have very little baggage, unless you're a fan of TV hit Gotham. (Even as a hardcore Batfan, I got bored after a couple of eps).
The premise involves a separated tycoon computer wiz (Cameron Monaghan), who lives in a wintry paradise house. It's the sort of home which Grand Designs fans would drool over. During a trip to a mostly empty supermarket the size of a town, our 'super smart' hero is bemused when a beautiful blonde (Lilly Krug) asks for his advice on wine. This meet-cute would set normal tycoons on high alert because everything about it screams 'Set up!'. But she's stunningly attractive and he knows a lot about vino. Trouble is, she doesn't want to go back to her motel because crazy stuff is going on, so he invites her back to his, because at no point does she look at him like "I AM OUT TO FLEECE YOU".
Before long, they're getting on famously in his des res, and any mental red flags have vanished before he ran them up the flagpole. A shame, because when he eventually realises it's all a trap, he's been attacked by a dodgy car thief and can barely walk.
What unfolds is a mix of torture porn as the nutcase blonde executes her plan. Power tool alert. Yes, she's a dab hand with a drill, and she's not putting up shelves.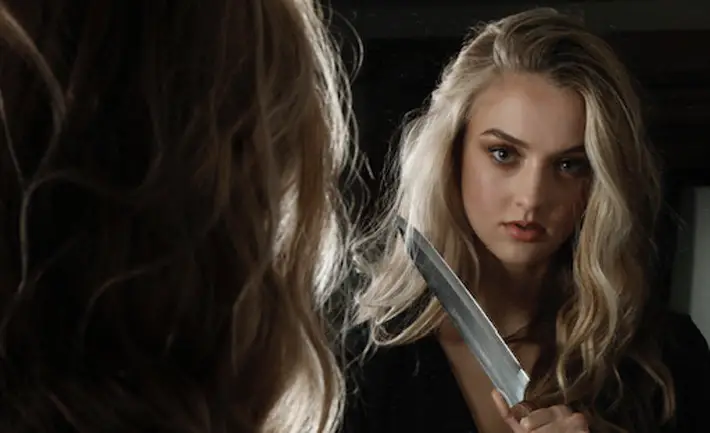 "Likeable"
There's a suggestion of how serious cast and crew were taking things when a key character is dispatched and the hero tries to make his escape on a snow bike, before inevitably crashing and being rescued by a Tony Stark clone (MCU veteran Frank Grillo). Of course as many of us have seen this sort of thing countless times before, it's not long before the hero, and his family, are in harm's way, and things ramp up for that insane finale. (There's an air vent and a kid small enough to fit through – cliche alert no 103).
As hackneyed and silly as it all is, Shattered is worth at least one watch. The cast are mostly likeable, and though the twists are signposted sometimes 30 minutes in advance, I've seen a lot worse, though Basic Attraction would have been a better title.
And full marks to scenery-chewing newcomer Lilly Krug for her star-making turn as the glue that holds the movie together. Without her, it would have been a complete waste of time.
Signature Entertainment present Shattered on Digital Platforms 16th May