Pulse (1988) – Film Review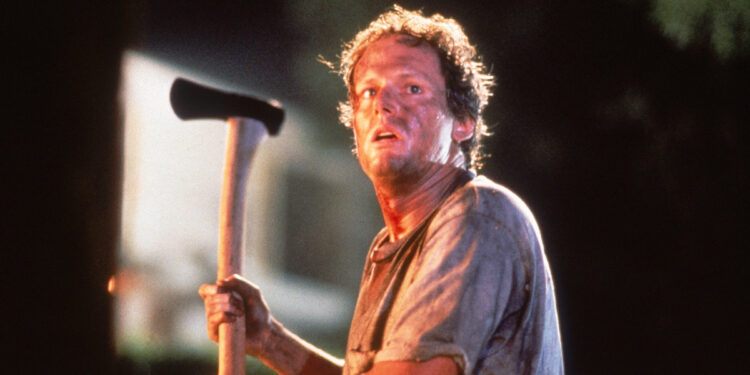 Director: Paul Golding
Cast: Cliff De Young, Roxanne Hart, Joey Lawrence
Certificate: 18
by Sarah Morgan
Modern technology – is it a blessing or a curse? While the vast majority of us would probably suggest the former, horror movie-makers have mined a rich seam of ideas from the latter.
The likes of Videodrome and Murder By Phone have used the idea that technological inventions could be working against us to great effect; Pulse can be added to the list.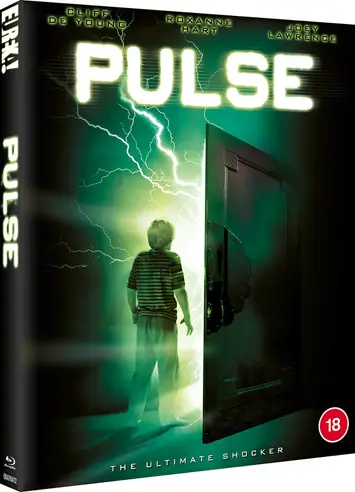 It's very much a 1980s movie, featuring an electronic soundtrack (which, actually, is rather fitting, given the subject matter) and depicting a yuppie couple living in a home with all mod cons.
"Something is amiss"
Bill and Ellen Rockland seem to be living the dream in suburban Los Angeles. Bill can't wait to show off their aspirational lifestyle to David, his son from a previous relationship. Unfortunately, David's summer visit won't go as planned.
Shortly before his arrival, one of the neighbours appears to have some sort of breakdown, smashing up his property in the middle of the night. It seems like an isolated incident brought on by the mysterious death of the man's wife, until bizarre incidents occur in the Rockland home.
David realises early on that something is amiss. At first his fears are explained away by the adults, but being trapped in the house when the TV goes weird, and then being locked in the garage during a gas leak convince the youngster that staying with his mother in Denver would have been a far safer way to spend his school holiday.
As more terrifying events take place, stepmom Ellen wonders if David might be right – then falls for the horror itself when the boiler decides a shower can never be too warm…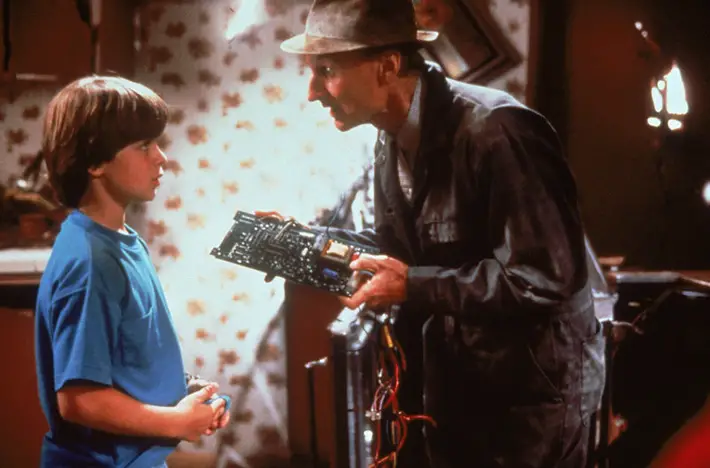 "Eye-catching"
Joey Lawrence, the cute-as-a-button child actor who went on to become a teen heart-throb during his years in US sitcom Blossom, delivers a suitably wide-eyed performance as David, while his real-life brother Matthew (later to play Robin Williams' son in Mrs Doubtfire) also pops up in a supporting role.
Cliff De Young and Roxanne Hart, familiar faces from a range of projects from the same era, play Bill and Ellen; both work well with Lawrence, particularly De Young, who shares a shocking – literally – finale with the young star.
Also of note is veteran actor Charles Tyner, who has an eye-catching cameo as a local who's already sussed that the electricity supply is working against the locals rather than for them.
All-in-all, Pulse is a decent horror. Lacking in the originality of other productions made in the same decade, such as Poltergeist, it's nevertheless worth a look for genre fans.
SPECIAL BLU-RAY EDITION CONTAINS:
Limited-Edition O-card Slipcase (First Print Run of 2000 Copies Only)
1080p presentation on Blu-ray
LPCM 2.0 audio
Optional English SDH
Brand new audio commentary by author and film historian Amanda Reyes
Tuning in to Tech Horror – video essay by writer and film historian Lee Gambin
PLUS: A Limited-Edition Collector's Booklet featuring a new essay by film scholar and author Craig Ian Mann (First Print Run of 2000 Copies Only)
Pulse is released on Blu-ray by Eureka, £20.99