Introducing: Venus Grrrls
From Leeds; fortitude, activism – hard hitting rock…
YOUR NAME: GK.
BAND NAME: VENUS GRRRLS.
WHAT DO YOU DO/PLAY? Vocals & Rhythm Guitar.
HOW LONG HAVE YOU BEEN TOGETHER AS A BAND/PLAYING MUSIC? We met about 3 years ago, but we've been releasing music for 2 years!
GIVE US 3 REASONS WHY WE SHOULD TRACK DOWN, LISTEN AND DISCOVER YOUR MUSIC?
I think the main reason is that we're wanting to use our privilege and platform to become better allies to the voices which need to be heard. I think in today's climate, this reason is more important than ever. Another reason is that we're combining quite a few genres together and trying to present them in a fresh, modern light. Of course, Riot Grrrl is one of the key genres that define VENUS GRRRLS, but we combine it with a lot of influences from synth pop, grunge, and soul. The last being that, by supporting us, you're contributing to the imbalance of women in the music industry, which is important so we can contribute to the elimination of sexism in the music industry all together!
WHERE DO YOU SOUND BEST – FESTIVAL, CLUB, BEDROOM – OR SOMEWHERE ELSE?
I'd have to say a festival; we love playing festivals and really vibe off of the atmosphere of them! As cool as it would be to play in someone's bedroom, we'd be scared of cracking their windows.
WHAT WAS YOUR FIRST…
RECORD? I think my first record was a Best of Blondie compilation – I still love it and listen to it all the time.
CD? I think it was Whitesnake's self-titled album! I used to run around the house listening to it when I was little. It's a really fond memory of mine.
DOWNLOAD? The first download was actually Oasis' Definitely Maybe. I remember the day I bought it; I loved them at the time. 'Slide Away' was always a favourite. I don't like Oasis so much anymore but 'Slide Away' will always be important to me!
SO, WHEN IT ALL GOES RIGHT AND YOU'VE GOT A MANSION AND A SUPERMODEL GIRL/BOYFRIEND, WHAT WILL BE YOUR BIGGEST MUSICAL INDULGENCE?
Being completely honest, I don't think those things are what drives us to do what we do. Big money or a relationship are not things in which we'd use to measure our success, we're just more focused on building a sustainable life for ourselves as opposed to a luxury one. Our happiness and passion for music is the most exciting thing about being in a band.
SO, WHEN IT ALL GOES WRONG AND YOU'VE ACRIMONIOUSLY BROKEN UP CITING HUGE MUSICAL DIFFERENCES, WHAT DO YOU FALL BACK ON?
We're all confident in our bond as friends and ability as musicians that this won't happen; I can't imagine a break-up for this reason. There are always varying musical opinions present in every band. Being in a band is about communication and compromise, as well as hearing each other out and finding strengths in alternative viewpoints and approaches. I think our music would be so boring if we all thought the same way all the time. There are always different opinions in the mix, it's all about how you deal with them and what you learn about each other from them. The only reason for us in which a break-up would happen is if we were all miserable being in the band. That's when you know something isn't right. We all have our own lives too which I think is incredibly important. It's good to build ourselves up in different ways outside of the band too as it allows breathing room and prevents cabin fever.
CITE SOME INTER-BAND MUSICAL DIFFERENCES…
There's not really a particular thing I can reference – I guess it would boil down to a general situation of not all agreeing which chord to play at a certain point for example, haha. But we just keep trying things until something sits well with all five of us. We always figure it out.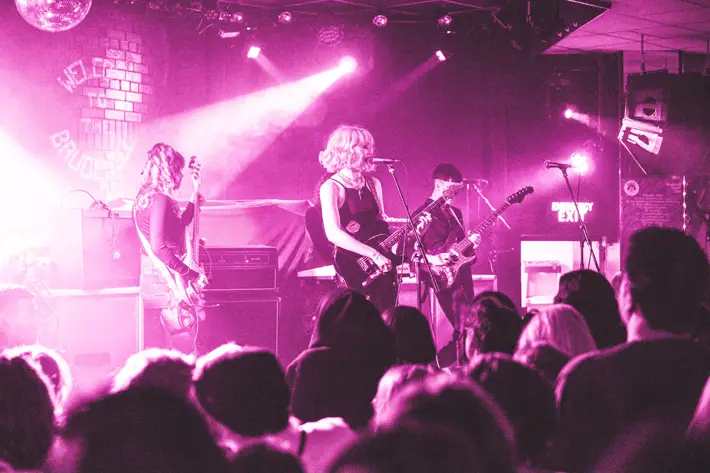 WHO ARE YORKSHIRE'S FINEST IN CULTURE, SPORT AND MUSIC?
I can't lie and say that I'm involved with sport, but we're huge fans of English Teacher, who are a Leeds based quartet. We love their songwriting, the tunes are super vibey and we love the messages and symbolism behind them all. Other Yorkshire bands we're big fans of include Artio, Conflare and Blue Kubricks.
NAME YOUR SUPERGROUP – WHO'S PLAYING WHAT, WHO'S ON VOCALS AND WHO'S YOUR BEZ?
Our supergroup would have to be Poly Styrene on Vocals, Kim Gordon on Bass, Nandi Bushell on Drums, Grimes on Synth, and Lita Ford on Guitar.
GO SEE THIS FILM: The Punk Singer.
GO READ THIS BOOK: Girl, Woman, Other by Bernardine Evaristo.
GREAT LOST BAND/ARTIST: Peggy Jones, who was also Bo Diddley's rhythm guitarist in the 50s. She's not spoken about enough.
WOULDN'T BE CAUGHT DEAD SUPPORTING: Boris Johnson.
LONDON, L.A OR LEEDS?: Leeds <3.
AND FINALLY… AS YOU LEAVE THE STAGE, WHAT ARE YOUR PARTING WORDS?
Please go stream us on Spotify/your chosen streaming service and help us get our word out there!
'Goth Girl', the brand-new single from VENUS GRRRLS is now available on all major streaming platforms
For more info visit: facebook.com/VENUSGRRRLS