Not Now, Comrade (1976) – Film Review
Directors: Ray Cooney, Harold Snoad
Cast: Leslie Phillips, Carol Hawkins, Roy Kinnear
Certificate: 12
by Sarah Morgan
Ray Cooney was the king of farce, whose plays, which often featured some of the biggest names of their day, had incredibly long runs in the West End.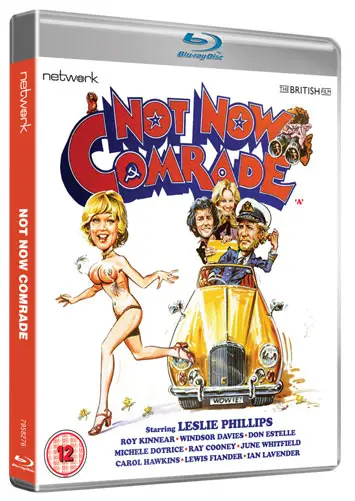 Not Now, Comrade, a follow-up to 1973's Not Now, Darling, was my introduction to his work. It may also be the last time I subject myself to it.
Based on Cooney's 1964 play Chase Me, Comrade, which was inspired by Rudolf Nureyev's defection from the USSR, it's woefully dated. The 'gags' are telegraphed in advance, the situations obvious and the performances over the top.
"Painful"
And that's a shame because there's some genuine talent on view here – some of 1970s British comedy's most familiar faces are on display here, including Leslie Phillips, Ian Lavender, Michele Dotrice, June Whitfield, Roy Kinnear and Cooney himself; Don Estelle and Windsor Davies, who were at the height of their fame in It Ain't Half Hot Mum, also pop up in minor roles.
There were times when I was cringing at how painful some of the lines and set-ups were. There's also almost no attempt to open out the original play, with just a few brief outdoor scenes at the start of the film. Without those, it would simply have been a film version of the stage show.
It all begins at the Royal Albert Hall, where ballet star Rudi Petrovyan defects with help from his stripper girlfriend Barbara (no prizes for guessing how she distracts the crowds outside).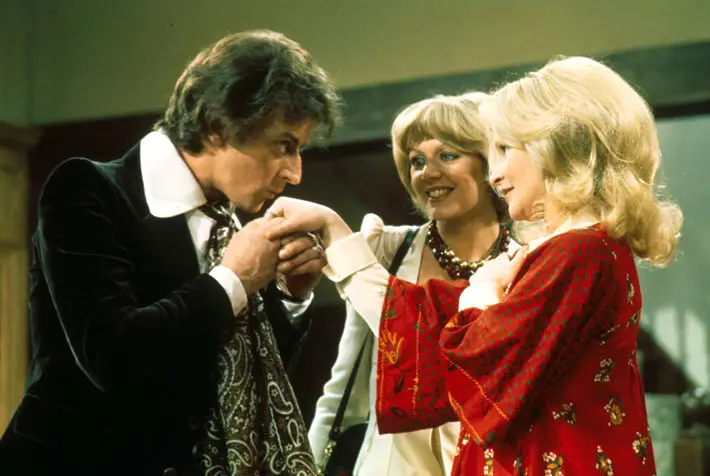 "Chaotic"
Rudi is supposed to hide in the boot of Barbara's car, but mistakenly gets into the car of Commander Rimmington, setting in motion a chaotic series of event in which, for no particularly good reason, characters pretend to be other people. Despite the lame nature of their cover stories and/or disguises, the people they're trying to fool fall for their actions hook, line and sinker.
Chaos, as you have probably guessed, ensues. Thankfully the film last for only 89 minutes, so at least it's short if not sweet.
The play ran for more than two years at London's Whitehall Theatre. I'm afraid I'm slightly baffled by its success and wholeheartedly agree with the Radio Times reviewer who described the film version as 'a horrid comedy of errors'.
Not Now, Comrade is released on Blu-ray by Network, £17.99