It Ain't Half Hot Mum: Complete Collection – Review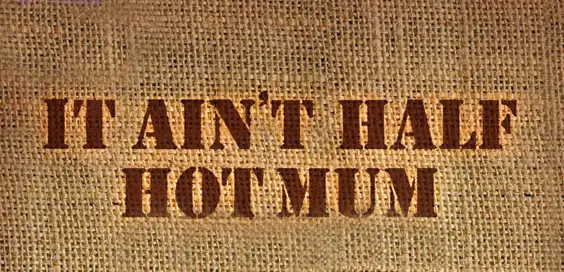 By Sarah Morgan
"Meet the gang cos the boys are here, the boys to entertain you!" If you're over a certain age, you're sure to recognise that line. It's the opening phrase from the theme of one of the most popular sitcoms of the 1970s and early 1980s, and yet we don't hear it these days.
T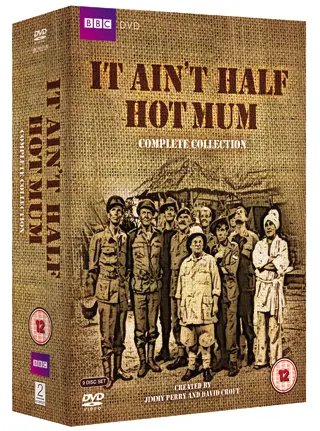 hat's because It Ain't Half Hot Mum is rarely seen on TV due to its use of un-PC terms and the presence of an English actor playing an Indian. However, it's heading our way on DVD, so you can make up your own mind about whether it's offensive or not.
For the uninitiated, the sitcom focuses on a concert party stationed in India and later Burma during the last months of the Second World War. Written by David Croft and Jimmy Perry, it bears some of the hallmarks of their earlier war-set series Dad's Army, including a selection of well-drawn characters, a smattering of catchphrases and some wonderful lines.
"Gentle humour"
It was a favourite of mine as a child and getting the chance to revisit it was a treat rather than a chore. Like Dad's Army, it's a product of its time with gentle humour that didn't set out to offend – it was unashamedly designed not to push boundaries but to appeal to a mass audience.
Its most controversial figure is the character played by Michael Bates, whose skin was darkened to play a local servant to the troops. Bates was cast supposedly due to a lack of suitable Indian actors, but he was born in the country, spoke fluent Urdu and had served as a Major with the Gurkhas, so was the next best thing. It should also be pointed out that his alter ego is an awful lot smarter than the British soldiers he was assisting!
"Deserves to be better regarded"
When Bates died, a previously secondary Indian character became more prominent, and his farewell to the soldiers in the penultimate episode is a genuinely poignant moment.
The rest of the cast is outstanding. Who can forget Don Estelle as the diminutive Lofty, whose lack of size is more than made up for by an angelic singing voice, Melvyn Hayes as female impersonator Bombadier 'Gloria' Beaumont and, of course, Windsor Davies as the permanently angry Sgt Major?
It Ain't Half Mum deserves to be better regarded; perhaps those not put off by its lack of political correctness will allow it to shine again thanks to this outstanding collection, which also includes episodes previously thought to be missing from the BBC archives.
'It Ain't Half Hot Mum: Complete Collection' from the BBC is out now from Amazon and major supermarkets