Your Go to Guide for Choosing Seasonal Flowers
by Wendy Rea, Fellow of the Institute of Professional Florists
There is no doubt we are living in tricky times; uncertainty, compounded by months of social restrictions is definitely not what we had in mind for 2020. Right now we need to be close to our friends and family, and yet we are being told that we must keep our distance. Never has the adage 'say it with flowers' been so important as it has been in recent times, and will be for a while to come.
Receiving a beautiful bunch of seasonal blooms from a loved one has always been a special treat but now that we have to celebrate most special occasions at arm's length, flowers have become even more poignant, symbolising that all important connection between us. A floral display produces smiles, lifts spirits and reminds the recipient that they are cared about; flowers have even been shown to boost your mood, improve your sense of emotional well-being, and lower your blood pressure; they can literally work wonders!
With social restrictions set to be in place for some time, we wanted to bring you a go to guide for choosing seasonal flowers, whether you want to send them on a special occasion such as a birthday, christening, or graduation, or whether you just want to let someone know you care.
Introduction
Britain is a veritable garden of floral delights for most of the year, and even winter holds its own when it comes to flowers. But if you get confused about what to buy and when, our introduction to seasonal flowers will help. Don't forget to choose an online company that outsources to local florists, and buy seasonally from the UK if you can. British grown flowers will stay fresher and smell stronger for longer and you'll be supporting your local economy too!
Autumn
As the seasons turn to autumn, colours become warmer and deeper and we have an incredible autumnal colour palette to choose from. Accessorising bouquets with berries and rustic foliage adds to the richness of the display and brings texture and definition. From the traditional Carnation to the trendy Anthurium, autumn is a delight when it comes to flower arranging.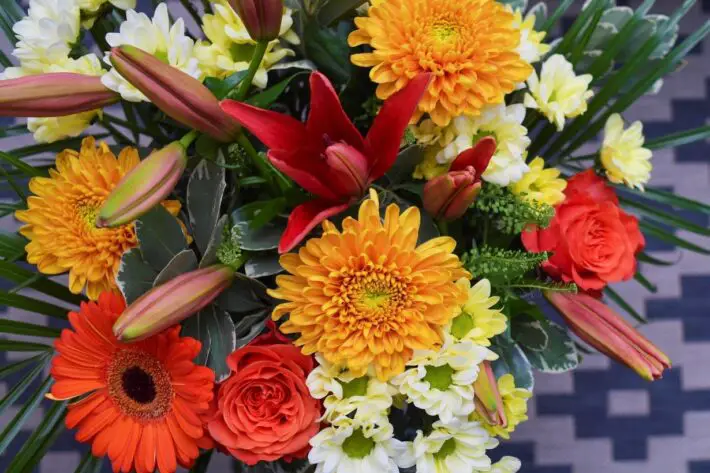 Choose seasonal Chrysanthemums for a traditional spray or go for Asters for breezier fragrances and bolder colours. Antique Roses work well at this time of year, as do deep red dahlias and Trailing Amaranthus. If you are looking for a flower with no scent, the beautiful Lisianthus, in its delicate soft colours, is the one to go for.
Top Tips
An autumn bouquet is a great one to accessorise, so when choosing your display, it is fun to get creative and consider looking for bunches of autumnal blooms that are accessorised with twigs, pinecones, feathers or even seasonal fruit and vegetables; you will be surprised at how these natural additions elevate the display to another level.
Winter
While most of your garden might be asleep in winter, rest assured that there are some hardy plants out there that are just waiting to burst into bloom. From antique whites and ivory hues to bright reds and soft purples, the colours available in winter vary greatly. Manzanitas are a classic at this time of year and accessorising with soft Astilbe or Gypsophila gives any posy of flowers a touch of something special at this time of year. Holly berries make a festive accessory to bouquets in winter and Amaryllis, with their velvety petals and vivid rouge colour, look incredible when they are perfectly opened.
Camellias are available in a variety of colours, as are the chic French Tulip and the dainty Anemone. If you want to make a statement with your bouquet, why not include the glorious Oriental Lily or the traditional Christmas Rose; both are naturals when it comes to the centre stage in winter displays.
Top Tips
For a truly special seasonal display, add pine leaves and pine cones or a touch of Hellebores. Throw in a couple of sprays of Rosemary for a deeper fragrance or some Jasmine for a more exotic scent.
This Christmas, why not send a bouquet or two to those friends and family you may not be able to celebrate with? Or go for a timeless classic and send a beautiful Poinsettia instead.
Spring
Winters can be long and dark and there is nothing that quite marks the coming of spring than the first bunches of Tulips or Daffodils. As the days lengthen and the skies brighten, the citrusy scent of Freesias and Lilacs fill the air, while a rainbow of colours line the vibrant hedgerows.
When buying flowers in spring, there is an abundant choice. Tulips, with their bold shape and striking range of hues make a stunning centrepiece, as do the vivid Ranunculus. For a pretty pastel arrangement, the muted tones of Muscari complement the eye-catching shape of the traditional Hyacinth perfectly. The latter has the added bonus of a gorgeous sweet fragrance too.
Top Tips
Flowers, such as the Gerbera and the Spray Chrysanthemum exude a simple daisy-like beauty that won't be remiss on any occasion, but they are particularly appropriate at this time of year. Symbolising a new beginning, purity and loyalty, this delightful flower is perfect to mark the reawakening of nature after the winter sleep. Happiness, joy and prosperity are the accompanying sentiments to a daisy filled bouquet.
If big family gatherings next year at Easter are still a no go, you can let your family know you are thinking of them by sending them a bunch of Tulips. They are a classic flower for this time of year.
The Iris takes its name from the Greek word for rainbow, which makes it a really thoughtful flower to send someone in these unprecedented times.
Summer
Summertime, with its long hazy days and light clear skies is a season made for flowers. Outdoors, the foliage feels like it is bathing in the summer rays and it is little wonder that the summer blooms are bright and cheery, matching the general mood. It is, under normal circumstances, wedding season too, so why not send flowers to mark the day even if you aren't allowed to be there in person?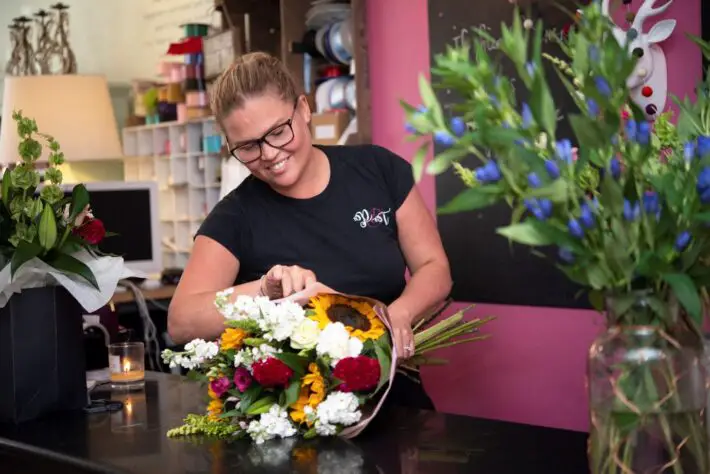 Roses are an exquisite choice for summer. Not only do they have excellent longevity but the variety of colours leaves you spoilt for choice. Sunflowers are other resilient flowers, perfect for that summer display. Add Lilies for a guaranteed floral perfume and Alstroemeria for a touch of elegance.
Top Tips
If you are planning to send a colourful display to cheer someone or help them celebrate something important, think about what different flowers mean. You are then sending a floral message that makes it extra special. Stocks, for example, symbolise lasting beauty, a happy life and the bonds of affection; what a lovely gesture!
Sunflowers, with their association with happiness are perfect for a thoughtful arrangement.
Bring a little joy into your life and choose flowers. The act of sending a bouquet not only makes the recipient smile, but it will make you feel good too. Buying seasonally means that you know you are buying your blooms in the most sustainable way, which will only make you feel even better – and with our 'Go To' guide, you now know exactly how to do that!
Author: Wendy Rea is a Fellow of the Institute of Professional Florists, and Business Development Manager of Direct2Florist, an online platform where you can find your local florist and order from their range of bouquets and floral arrangements. From same day international delivery to superlative service and the freshest local flowers, Direct2Florist is your one-stop source for the best gift for all occasions.