Maniac Cop 3: Badge of Silence (1993) – Film Review
Director: Alan Smithee
Cast: Robert Davi, Caitlin Dulany, Robert Z'Dar
Certificate: 18
By @Roger Crow
A headless corpse lies in a street, a smiley outline where his head used to be.
"At least he died with a smile on his face," remarks Robert Davi's dogged detective Lt McKinney.
Yes, we're back in the world of Maniac Cop, which is remarkable for the fact Davi plays the whole thing straight despite the fact Larry Cohen must have written it as a spoof.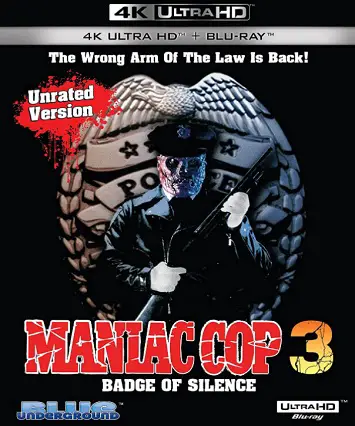 The ever reliable Jackie Earle Haley pops up as a store robber. This was before his stunning turn as Rorschach in Watchmen. There's also a familiar guy keen to use voodoo to add a sense of mysticism to the proceedings, a lot like Predator 2.
"Problematic"
It seems he resurrected the eponymous law enforcer, and as with this series we always need someone to pull the strings of the gun-toting zombie copper as he says nothing. Less really is more when it comes to iconic villains with a face like a Cabbage Patch doll.
For fans of James Bond, the role of 'voodoo accomplice' is played by Julius Harris, best known as steel-clawed villain Tee Hee in Live and Let Die. This was one of his last films.
Back to the action, and more of that ripe dialogue.
"You can't touch me," yells Jackie, his psycho villain performance turned up to 11.
However, when beautiful cop Kate Sullivan (Gretchen Becker) literally drops into a pharmacy, it's almost curtains for Jackie. Which leads to a shock turn of events.
As many folks know, any film directed by Alan Smithee is usually a problematic one. The pseudonym used by directors for years when they didn't want their name associated with a project, this one endured a few behind-the-scenes headaches so helmer William Lustig apparently gave it a wide berth.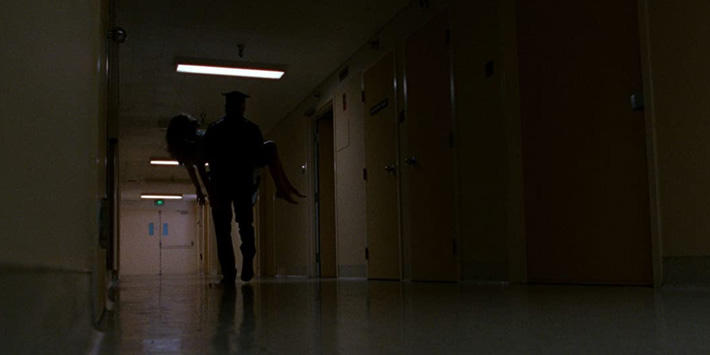 "Stunts are great"
Paul Gleason, best known for his work in The Breakfast Club and Die Hard, also pops up. Times were clearly hard for a lot of good actors in 1993. And if you needed further proof, the brilliant Robert Forster also puts in an appearance alongside Gleason. This was a few years before Quentin Tarantino rescued his career from the dust bin with Jackie Brown. (If you're a fan, check out Leonard Maltin's brilliant in-depth interview with Forster on his 2016 podcast 'Maltin on Movies').
A shootout in a hospital is a reminder of how cool Davi is under pressure. And his showdown with Jackie in a toilet is bizarre, not least because of a woman who seems to vanish into thin air in a cubicle.
Though it's a bad film, it's well shot. Some of the stunts are great, especially a finale involving a cop car driven by the burning antagonist and an ambulance driven by a deadpan Davi.
The UHD version looks pretty good, and as mentioned, a lot of great character actors add weight to the threadbare stalk-and-slash plot.
It was never going to win an award for Best Original Screenplay, but for the few great thesps paying the mortgage inbetween better movies, it's worth a look for them.
Oh, and the final gag involving Davi lighting his umpteenth cigarette with the burning arm of the villain is wonderfully grim.
Bonus Features:
• Disc 1 (4K UHD Blu-ray) Feature Film + Extras
• NEW! Audio Commentary with Director Alan Smithee
• Theatrical Trailer
Disc 2 (Blu-ray) Feature Film + Extras:
• NEW! Audio Commentary with Director Alan Smithee
• Wrong Arm Of The Law - The Making Of MANIAC COP 3
• Deleted and Extended Scenes
• Theatrical Trailer
• Poster & Still Gallery
• Original Synopsis
Maniac Cop 3
is released on 4K UDH Blu-ray by MVD