Cyrano de Bergerac (1990) – Film Review
Director: Jean-Paul Rappeneau
Cast: Gérard Depardieu, Anne Brochet, Vincent Perez
Certificate: U
by Sarah Morgan
In 1990, the only things I knew about Edmond Rostand's 1897 play was gleaned from watching Roxanne, Steve Martin's updated romantic comedy version.
And then a French language version of the story, in its original period setting, was released. I didn't get to see it until I was a student (French language movies simply didn't make it to my local cinema) and was blown away. It also made me appreciate Martin's take on the tale more too – it's quite surprising how much he retained of Rostand's ideas.
Gérard Depardieu takes the title role in director Jean-Paul Rappeneau's sumptuous movie. It's so beautifully shot by him and cinematographer Pierre Lhomme that every scene, every moment looks like a work of art, a watercolour cross between Turner and Courbet.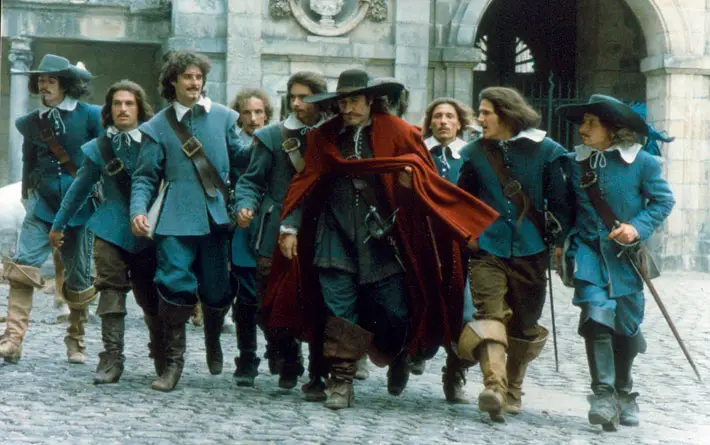 "Epic proportions"
Intriguingly, the latter's self-portrait, aka 'The Desperate Man', from 1845, bears a striking resemblance to Vincent Perez, who plays Cyrano's handsome love rival, Christian.
Cyrano is most famous, of course, for having a supersize hooter, a nose of epic proportions. In a recent stage version, James McAvoy went sans appendage, attempting to persuade the audience he had a massive conk via his acting rather than through a falsie.
Depardieu does opt to wear an 'enhancement', although it doesn't seem big enough to inspire the ridicule of his peers, perhaps because the actor already has a pretty impressive nasal area.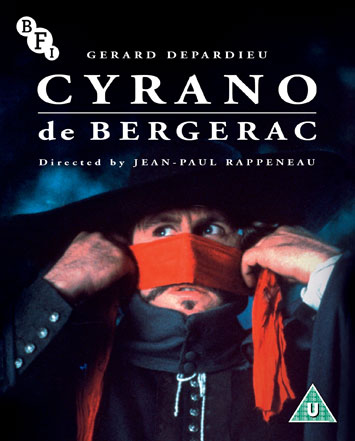 His Cyrano is a swashbuckler, but also a man of words (and occasionally there are two many of them to follow clearly) who helps the woman he loves – his cousin Roxane – get together with Christian, an attractive but shallow individual. Theirs is purely a physical attraction and it will be many years before she learns the truth.
"Compelling and moving"
Ultimately, the story is a tragedy of mistakes and missed opportunities. In Rappeneau's hands, it's also a thing of beauty, utterly compelling and moving. Some of the credit should also go to Anthony Burgess. The author of A Clockwork Orange provided the translation used in the English subtitles.
Depardieu is well cast, a charismatic performer – just a shame about the nose. That's certainly something Martin did a whole lot better.
Special features include an interview with the star from around the time the film was released, as well as an archive interview between Burgess and Sheffield-born writer AS Byatt.
· Full-length feature commentary by Ginette Vincendeau: the King's College London professor on the film and its art-historical context
· Interview with Gérard Depardieu (12 mins): the actor recalls making Cyrano de Bergerac
· Interview with Jean-Paul Rappeneau (8 mins): the director discusses the influence of the 1923 version
· Anthony Burgess with AS Byatt (1987, 58 mins): Burgess discusses his views on language and the arts with author and critic AS Byatt
· Gérard Depardieu in Conversation (1987, 76 mins, audio only): the Cyrano de Bergerac star discusses his life and work, recorded on stage at the NFT · Image gallery
· Illustrated booklet (***first pressing only***) containing an essay on the film by Dr. Martin Hall, biographical essays by Ellen Cheshire and an essay on other Cyranos by Corinna Reicher; notes on the special feature and a biography of Stanley Kramer by historian Jennifer Frost, a message from and film credits
Cyrano de Bergerac is released on Blu-ray by BFI, £19.99