Jeep Wrangler Rubicon – Review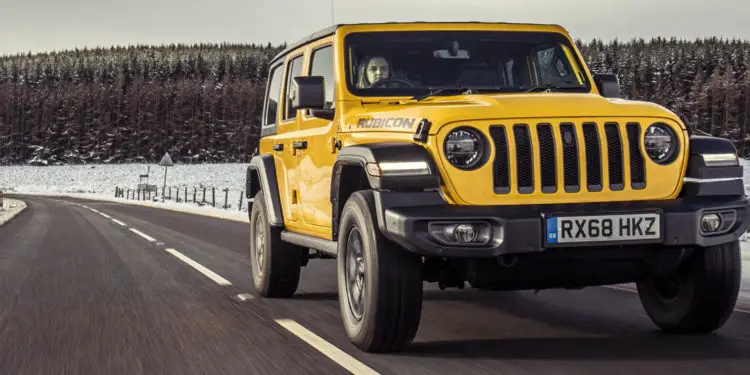 By Liam Bird
You might not believe me, but honestly what you see before you is a brand new Jeep. The chassis is new, the engine is new, the gearbox is new, the interior is new, and so too despite its instant familiarity, is the bodywork. But then again, who's going to want to buy a Jeep that doesn't look like a Jeep?
Exactly. Think Jeep and you instantly think of any number of World War Two films. A Bridge too Far, Where Eagles Dare, The Dirty Dozen, Saving Private Ryan… Many a Jeep had a supporting role in them all. And then there's the roles in which it didn't appear in uniform, the opening credits of The A-Team and Airfwolf, and in Mork and Mindy. And who could forget that Daisy drove a white one called Dixie in The Dukes of Hazard? Can you tell I'm a child of the seventies?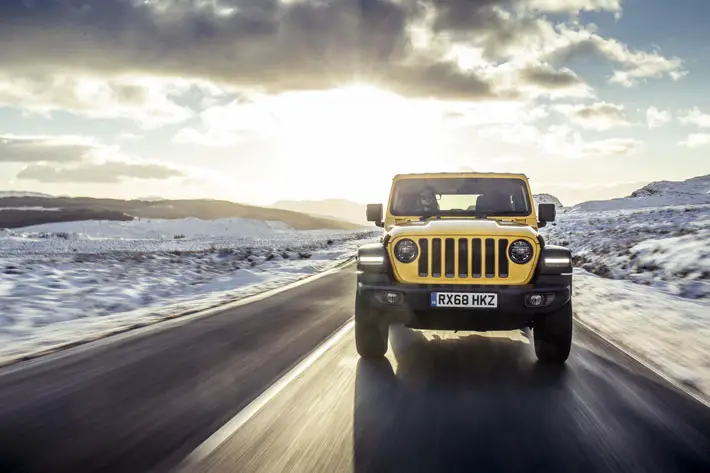 The Jeep can trace its roots back far-further than I can – to 1941 to be exact. And as a result of which it's now as much a part of post-war culture as Coca-Cola's curvy bottle and 'Rock Around the Clock'. No wonder its makers (these days Fiat Chrysler Automobiles) chose not to change those iconic looks. Brand awareness is everything these days, so-much-so that there are little details that hark back to Jeeps of old dotted all over the new ones.
The name Jeep, incidentally, comes from the acronym G-P. That's military speak for General Purpose, as in general purpose vehicle. Enough history. What I really should be doing is telling you what this new Jeep is all about.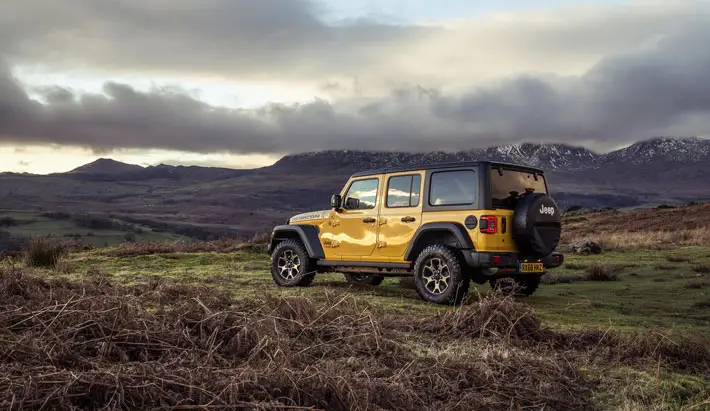 "Will go absolutely anywhere"
If you like your car to be able "Go anywhere" and "Do anything" then according to Jeep, their Wrangler Rubicon is very much the vehicle for you – and especially-so perhaps now Land Rover don't make the Defender anymore, (Surely, the Jeep's only real rival?). Of course, it's not actually capable of doing anything; a Jeep obviously can't fly, swim, talk, solve algebraic equations, or rustle-up dinner for two. Or thousands of other things for that matter, but after having spent a week in its company, I can confirm the Jeep Wrangler Rubicon does indeed feel as though it will go absolutely anywhere.
That's because Rubicon spec adds even more off-road prowess to what is already an almost unstoppable vehicle, thanks to the fitment of Jeep's Rock-Trac 4×4 system featuring a two-speed transfer case with 4.0:1 low-range gear ratio, even heavier duty front and rear axles, and an electronic sway-bar disconnect which allows additional wheel travel when traversing the toughest of terrain. Add to that some seriously knobbly standard-fit 32 inch tyres, a wading depth of 760mm and the ability to tow 2.5 tonnes, and should you need to tow a trailer about as far away from the beaten track as it's possible to get then the Rubicon makes a very sturdy case for itself.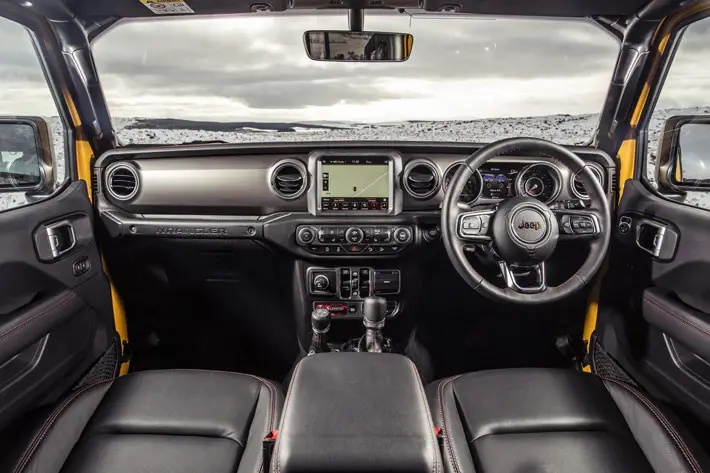 That's not to say its only trick is tackling the really rufty-tufty stuff. Jeep have paid a lot of attention to how the new Wrangler Rubicon behaves on the road and in everyday life.
Once you've climbed up over the Wrangler Rubicon's high sills and through its surprisingly – for a car of such stature and size – small door apertures, you're greeted by a cabin that's far better appointed than you might have imagined. The Wrangler Rubicon is still very much a working vehicle at heart, and some of the switchgear and plastics can't help to reflect such things, nevertheless these days even the most iconic of off-roaders gets leather seats, Bluetooth, sat-nav, air-con, DAB and everything else you'd expect in a near-50k SUV.
What most near 50k SUVs don't come with though is the ability to remove all of their doors and the entirety of their roofs. Oh, and the ability to fold their windscreens flat too.
With little more than the application of the small tool-kit Jeep supply in the boot, a little time, and the help of a friend to two, you can transfer your Rubicon from warm and weatherproof to fully alfresco. There's even a rack to store all the bolts that hold the roof and doors on under the boot floor. Quite where you're meant to store the actual doors and roof panels however is anyone's guess.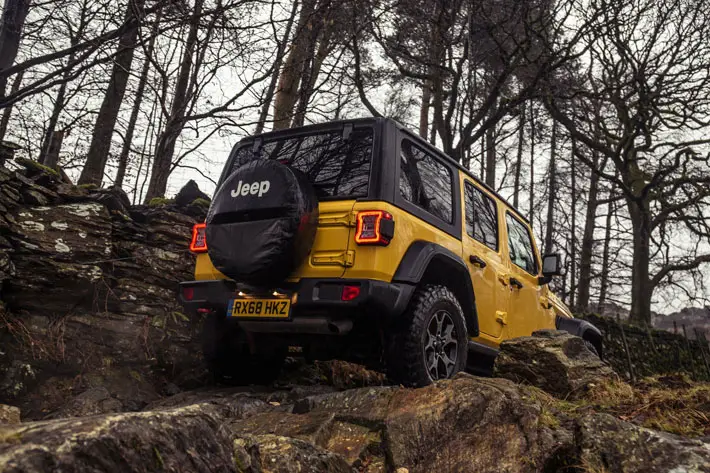 "Ride is bumpy"
Open or closed, the driving experience is best described as unique. The Wrangler Rubicon is an off-roader first, and an on-roader a distant second. It rolls in corners, the steering is very light and quite vague, the ride is bumpy – especially-so on b-roads – and the engine rattles like that of a well-used trawler when faced with heavy swell. Those mechanical bits may be all-new but their talents lie in their ability to haul you out of ditches rather than suburban streets. Those chunky tyres make a hell of a din when rolling at anywhere motorway cruising speeds too – but at least you'll get over 30 mpg whilst doing so.
And there lies the compromise. The Wrangler Rubicon, despite its recent overhaul, is still very-much a niche vehicle, albeit now one with significantly more creature comforts than ever before. It's flawed, but it's strangely charming. And in being-so, it's as hard not to recommend as it is not to like.
Jeep Wrangler Rubicon 4-Dr 2.2 Multijet-II (200)
Engine: 2,143 cc 4Cyl turbo-diesel
Transmission: 8 Speed Automatic, with full-time Rock-Track 4×4
Power: 200 bhp @ 3,500 rpm
Torque: 295 lbft @ 2,000 rpm
0-62MPH: 10.3 Sec
Max Speed: 99 mph
CO2: 206 g/km
MPG: 36.2 (EC combined)
Price: £48,365 (Car driven £49,640)