The Old House, York – Restaurant Review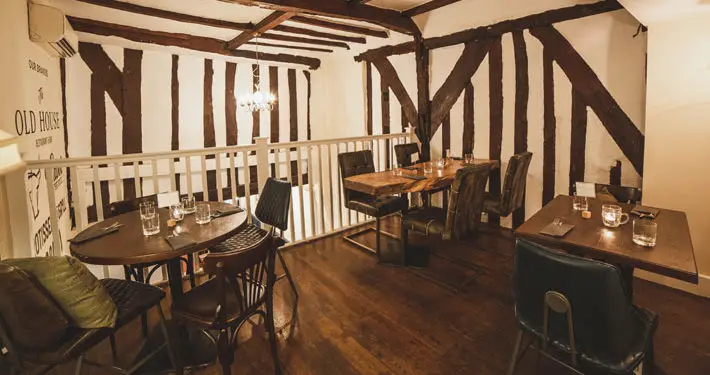 By Lisa Byrne
Forget the Michelin-starred bistros of London, Paris and Rome, in recent years York has become one of the most happening places in the culinary universe. An array of restaurant launches – including the much-lauded Skosh, Roots and Arras – have food critics clamouring to dine in this historic city. However, despite the huge footfall from tourists and residents, York cannot rest on its laurels, as sadly not a week goes by without news of yet another restaurant closure. Thankfully though, there's always a company eager to take over and try and recreate the loyal following that much-loved local restaurants (think Il Paradiso Del Cibo, Mumbai Lounge and The Blue Barbakan) continue to attract.
So respect is due to the Shoot The Bull group, who have taken over 75 Low Petergate, the location for many years of Strada before Wagyu Bar and Grill came and went in the blink of an eye. The company hope The Old House York will emulate the success of The Old House Hull, a hugely popular restaurant famed for offering fine dining at affordable prices.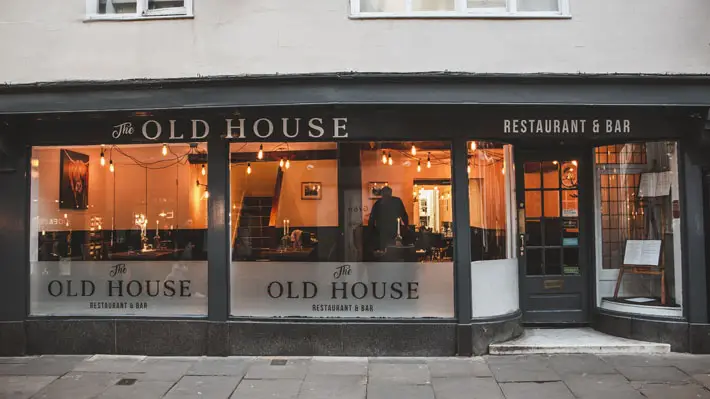 On a freezing Sunday afternoon it was a pleasure for the Byrne clan of myself, husband Davey and daughter Brontë, to escape the rain and enter the warm and welcoming environment of this stunning 16th century building. The design team behind Wagyu Bar and Grill helped kck start the transformation of this medieval house, and Shoot The Bull have continued to uncover more historic nooks and crannies to reveal unique features, including a very pretty bread oven.
The charming manager Marcus guides us up the stairs to our ornate table, carved from the wood of a nearby tree, in what appears to be a minstrels' gallery. From this elevated point we study the menu and people watch while sipping warming glasses of Tempranillo.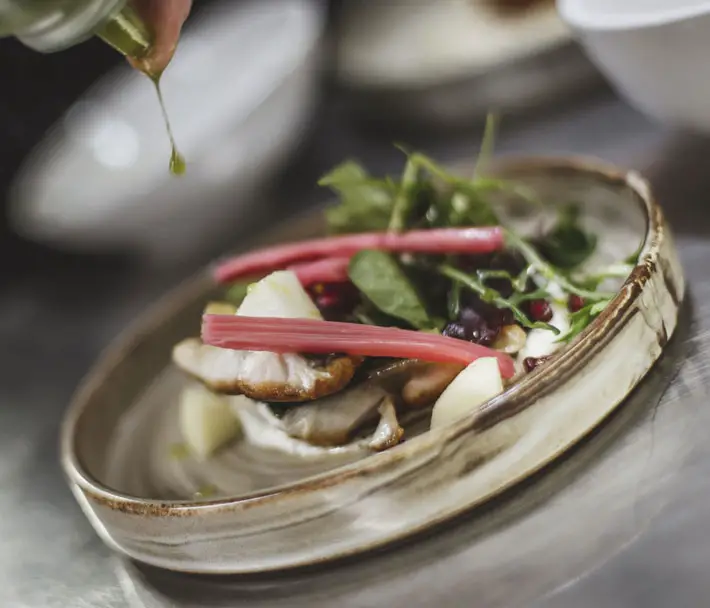 "Perfect combination"
The extensive menu caters for all, offering a light breakfast, hearty lunch or supper using local suppliers, including Warrendale Wagyu beef, outdoor reared pork and rare breed beef from Thirsk. I can't sing the praises of my starter of blow-torched mackerel highly enough. In fact, it's quite possibly one of the finest dishes I have ever tasted (and being a journalist I've been lucky enough to eat in some of the world's best restaurants). As it states on the tin, the fish is blow torched and mingled with pickled apple, rhubarb, pomegranate salad and citrus gel, to create a supremely fabulous taste explosion on the tongue. My husband and daughter both opted for the famed Wagyu Bresaola, which served with blue cheese bon bon, pickled red onion salad and sourdough crisp, was hailed as truly exquisite.
After interrogating Marcus about the history of this Grade II listed building, and whether it's haunted (apparently not), our main courses arrived. I chose the 36 hour slow cooked pork belly with cider braised fondant potato, buttered kale, hazelnut butter, bacon tulle and crackling. This proved to be the perfect combination and the divine hazelnut butter brought out the deliciously fresh taste of the pork belly. The only downside was that I nearly broke a tooth on the crackling, but then that's crackling for you.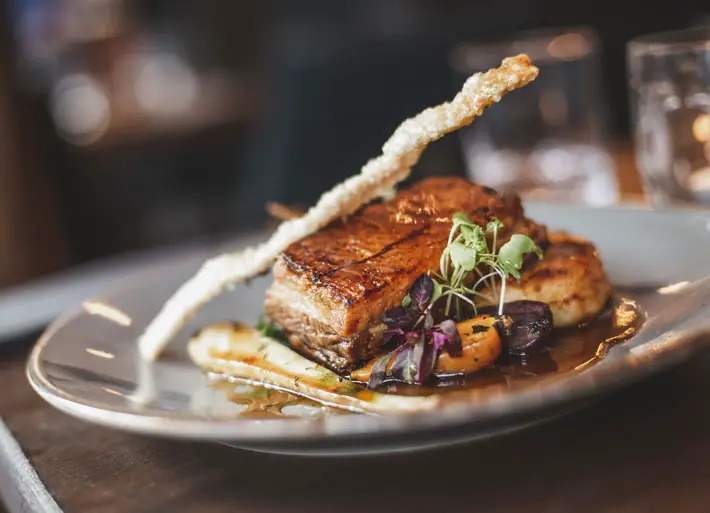 David wolfed down his braised Wagyu chuck steak, served with beetroot purée, truffled mash potato, kale and rich red wine gravy. Brontë was unusually quiet while she demolished her 8oz flat iron steak accompanied with beef dripping fries, rocket and Parmesan salad, onion strings, grilled tomato and grilled mushrooms – though she gave a sharp screech as we wrestled a slither of meat away from her grasp and dunked it in chimmichurri sauce. Oh goodness, I can never be a vegetarian, it was heavenly.
For pudding, Marcus recommended the home made beignets with spiced apple compote, ginger caramel ice cream and caramel sauce. Clueless to what beignets were, we were informed that they're sweet, square and hole-less French doughnuts. Well, we didn't need much persuading after that description and beignets are definitely my new dessert addiction. Davey branded his sticky toffee pudding with rich toffee sauce and vanilla ice cream, to be truly scrumptious.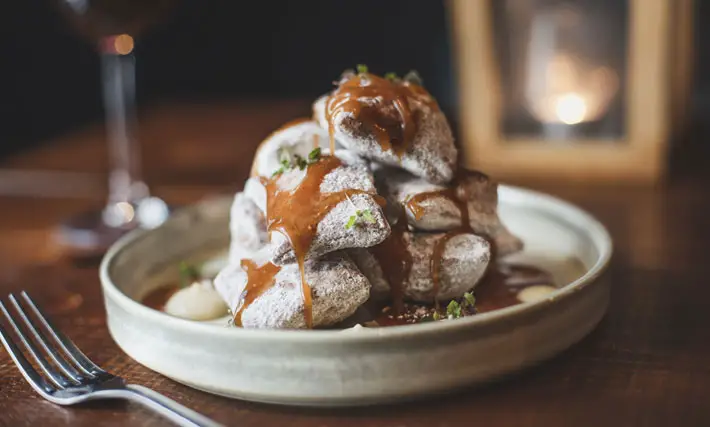 "Loyal following"
Over coffee, we managed to briefly catch up with the restaurant's co-director Chris Harrison, who spoke to On: Magazine about the plans for their latest eaterie. 'After gaining national press and multiple awards we felt confident in taking our accessible restaurant concept to another major city. The building on Low Petergate lent itself to us as the character is everything we look for in a building and is perfectly harmonises with our Old House brand.'
It's tough staying at the top of your game in the food industry, but if this new restaurant continues to offer cuisine at this supreme level and price (starters are around £8 and mains £16), then I could see The Old House York – which also boasts a cosy but glamorous bar – amassing the same loyal following as Il Paradiso and Mumbai Lounge. Just please never, ever take blowtorched mackerel off the menu!
The Old House York, 75 Low Petergate, York
Opening Hours:
Mon-Thu 10am-10pm
Fri & Sat 10am-late
Sun 12pm-7pm
01904 437278
shootthebull.co.uk/oldhouseyork