Roots, York – Restaurant Review
By @Roger Crow
One of my biggest fears in life is wasting a day off. Working the odd Sunday until late can be a pain, but the joy of knowing I can spend a lieu day trying a new restaurant or eatery makes it worthwhile. So when offered a chance to check out Roots' set lunch menu, I jump at the chance. Advance word has suggested it's one of the most popular eateries in York. Well, "The proof of the pudding…" as they say.–
So on a humdrum February Monday, myself and a mate to head off to sample said menu. For £35, you certainly get a good feast of dishes, many using locally sourced ingredients. The fact each one arrives on a separate plate is a delight; you really get a chance to savour each mouthful. And this is without doubt one of the best set menus I've had in some time.
Food aside for a minute, the staff, including Lilith, are well-informed, welcoming and very amiable, and a joy to chat to in-between courses.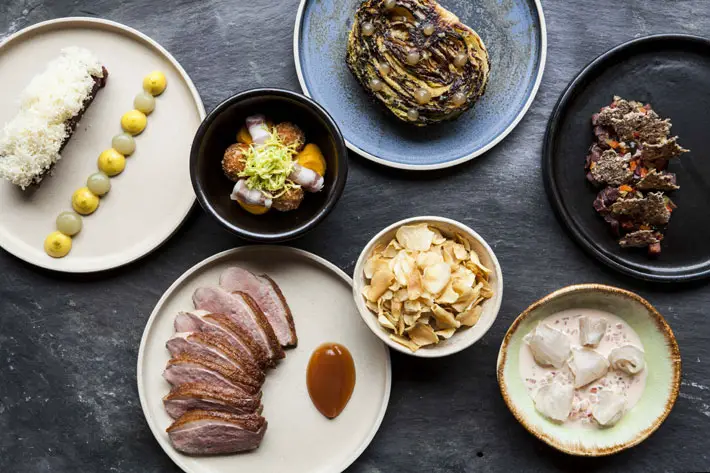 We start with a couple of Raspberry Soda mocktails. A fruity burst of raspberry with elderflower cordial makes it an instant winner, and very refreshing palate-cleanser. This is not created by some off-the-shelf cordial, but by a special process done in house. I instantly want to buy some.
Food wise we start with deliciously springy sour bread, and seed crackers which have that 'snap' and moreish quality, especially with Lincolnshire poacher custard and Crown Prince Squash Butter. It's a taste that has to be sampled to be believed. We're off and running for what turns out to be the ultimate grey Monday blues-buster of a meal.
That's followed by kale, yoghurt, pickled walnuts and cured egg yolk. I'd never have thought of combining the elements, let alone thought such a superfood green would be so moreish, but the nutty quality keeps me coming back for more.
"Treat for the senses"
A picture-perfect Pablo beetroot arrangement cooked in beef fat proves to be one of the meal's most interesting curveballs. Loved beetroot as a kid, then went off it as a teenager, and since then it's been in the 'take it or leave it' camp. Safe to say this is one of the most stunning and unusual versions I've tasted.
That's followed by cod, whey creamed leeks and smoked mussel. A delicate mix of flavours beautifully prepared and presented. Love seafood, and this is a delicious treat for the senses. The aroma starts firing off those taste buds seconds become sampling the tender selection of mouthwatering flakes.
After the surf comes the turf, and a melt-in-the-mouth portion of pork belly, with squash and fennel pollen. Savouring food is everything in life, rather than a piled-high carvery for example, where tastes get lost. Every mouthful here is a delight.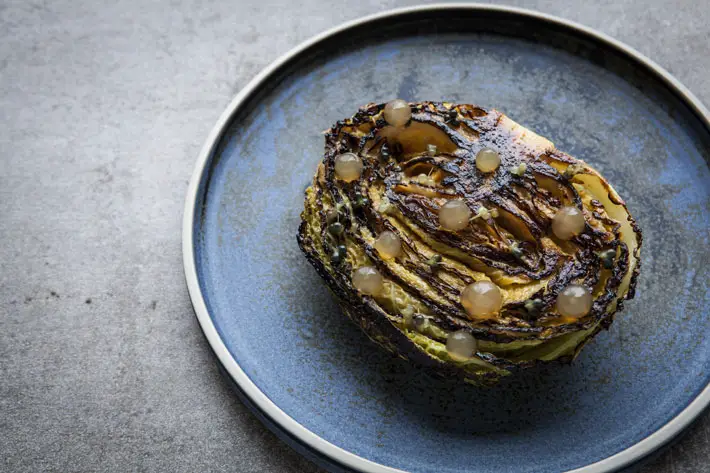 The Ox Cheek Bourguignon is equally splendid, and a separate plate of Oldstead cabbage with mustard gherkins and old Winchester transports me back decades to my grandad's home-grown cabbage. A perfectly cooked treat.
Like the sucker punch moment in Pixar's Ratatouille, when the food critic is overcome by a wave of childhood nostalgia, great food has that ability to open a gateway to the past and transport you to those happy days of youth, and beloved meals. There's not a weak link in this culinary chain, but that simplest of ingredients proves the most memorable.
We round things off with a delicious apple tart sponge cake. Comfort food at its best The consensus from both of us is a phenomenal experience from start to finish.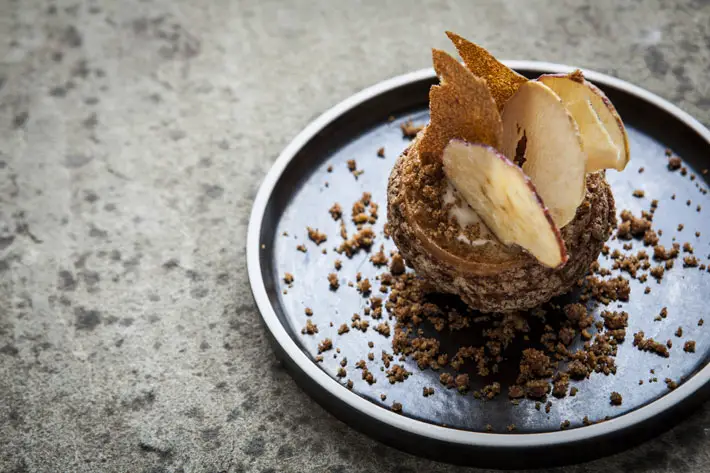 "Outstanding"
Dessert is a perfect end to an amazing meal, and the whole experience is worth every penny. Michelin-starred restaurant The Black Swan in Oldstead has been generating a lot of buzz, with Tommy Banks winning acclaim as one of Blighty's brightest chefs. He's also sprinkling liberal doses of magic here. Little wonder Roots has attracted stellar reviews from A-List critics since opening in September 2018.
The ambience is warm and welcoming, and the music playlist is as engaging as the decor. And on the subject of music, with our outstanding culinary odyssey at an end, while sat at home kicking off my boots, I wouldn't need to think twice about goin' back to my Roots.
That's if I can get a table.
Roots, 68 Marygate, York, YO30 7BH
Opening hours:
Sun 12 – 15:00, 17:30 – 20:30
Mon, Wed & Thu 12 – 14:00, 17:30 – 20:30
Fri-Sat 12 – 14:00, 17:30 – 21:00
Closed Tuesday