Land Rover Discovery Landmark Edition – Review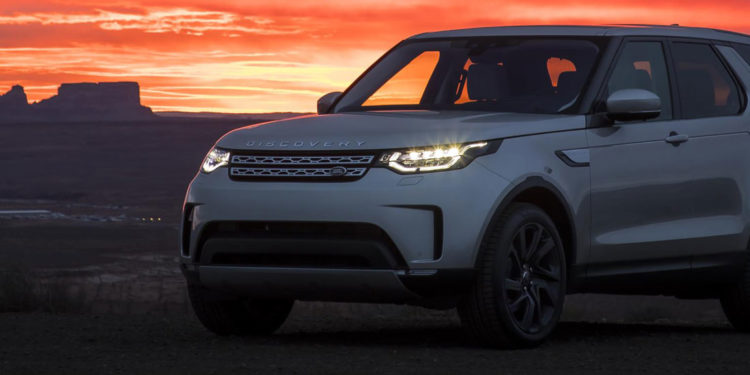 By Liam Bird
If certain recent  rumours are true – and they do come from a very reliable source – the future of the Land Rover Discovery could be in doubt. With sales of around 41,000 cars a year the Discovery is currently the least-selling model in Land Rover's line-up. And when the new Defender eventually comes along (not long to go now) those numbers are predicted to drop further.
The new Defender you see, will also be a 7-seater (possibly more) go-anywhere off-roader, that wears the identical and oh-so right green oval badge. Inevitably it will become the must-have SUV as soon as hits the showrooms. It's the styling: whereas the Defender is/was an icon, the current Discovery 5… well, y'know… That rear number-plate positioning – a nod to Discoveries of old – and those rear haunches, they've always split opinion.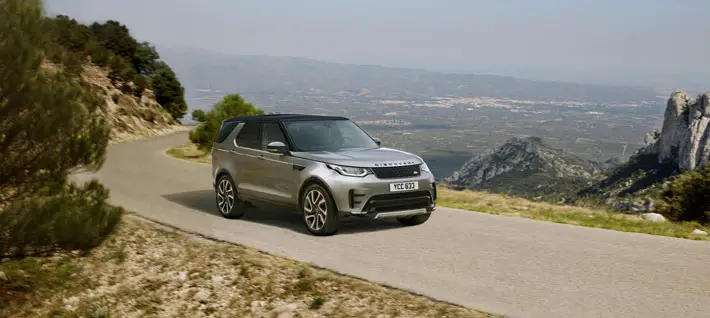 I've always thought the Discovery 4 was looker of the bunch – and that comes from someone who's driven all of the previous versions. And that, in a rather roundabout and non-too elegant way, brings me around to this. To mark the 30th anniversary of their consummate all-rounder, Land Rover have launched The Discovery Landmark Edition.
Taking the already well-appointed Discovery SE as their starting point, they've loaded the Landmark Edition with their Dynamic Exterior Pack, which includes a more purposeful front bumper design plus the addition of a Narvik black mesh grille and wing vents. The famous Discovery nameplate scripting on the bonnet and tailgate has also been given the all-black treatment, and is now accompanied by unique Landmark badging.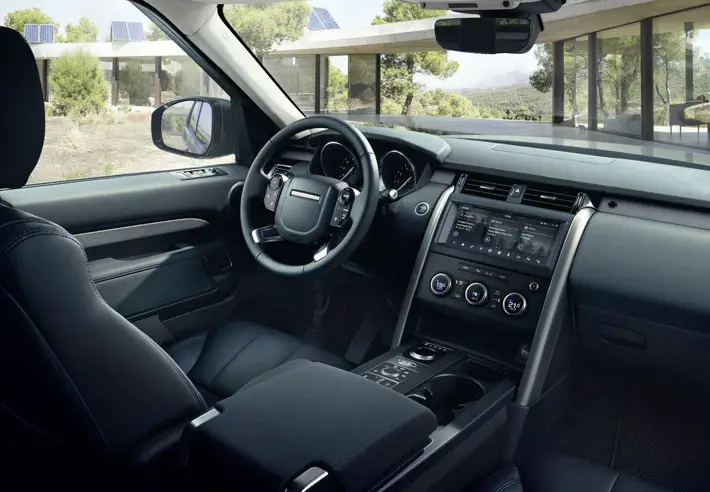 "Secret Service look"
Further identifiable features include the addition of fixed front and rear panoramic roofs, front fog lights and signature Hi-Line tail lights, while privacy glass and 20-inch gloss black wheels complete the Landmark Edition's somewhat stealthy, almost secret-service, look. Or did I simply get that impression as a result of our test car being completely black, and having also recently watched Harry (formerly Prince Harry) get out of a no-doubt bullet-proof one on the evening's news?
No doubt the interior, available with a choice of Ebony- or Acorn-grained leather, a satin brushed centre console and an aluminium mesh finisher (unique to the Landmark Editon), plus a 380W Meridian sound system, also met Royal approval too. D'you think Harry listens to Queen?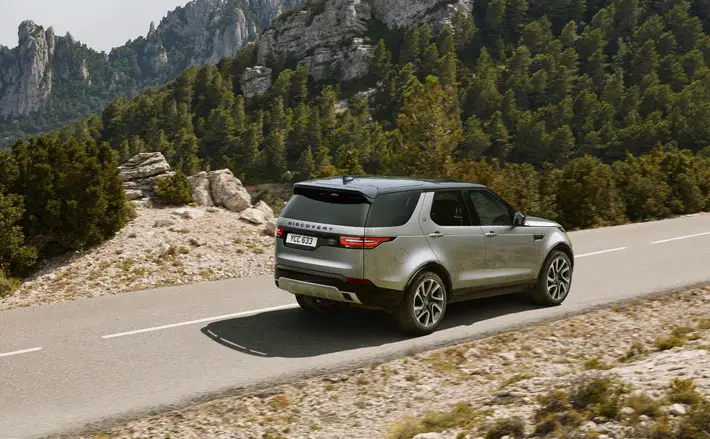 Joking aside, there in-part at least lies the Discovery's long-lasting appeal. Not only will it cross virtually any kind of desert, jungle, arctic tundra, or city centre you care to point it at – thanks in part to its Terrain Response system, All Terrain Progress Control, Hill Descent Control, and a host of other clever on road and off road driving aids, not mention it's standard air-suspension and class leading 900mm wading abilities – but whenever or wherever you pull-up in it, or indeed whomever eventually jumps out of it when you do, the Discovery never looks out of place. Kensington or Kathmandu, jungle or gymkhana, the Discovery just fits in.
And so too will you and your brood. There's storage space in abundance – there's even a cubby hidden behind the heater controls, plus 5 isofix points, more than enough USB points to keep even the most dedicated of the Twitterati recharged… The list goes on. The whole car can be used as a wi-fi hot-spot. And everyone, even those sat furthest aft, get enough legroom in their heated seats to make sure the Discovery 5 can be considered a genuine 7-seater and not just another 5+2.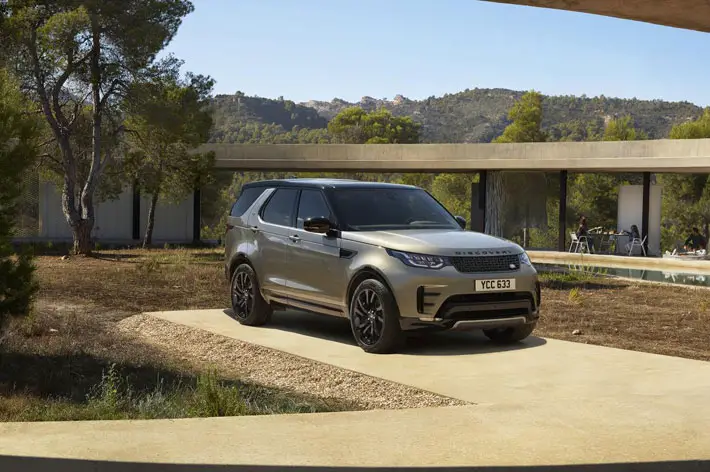 "Long-lasting appeal"
You wouldn't perhaps want to hustle a Discovery along your favourite a B-road – despite extensive use of aluminium it still feels a heavy old thing – but relax a little and you can cover ground swiftly and in comfort, the diesel V6 humming along nicely and returning the majority of its promised combined MPG as you do so. There is the odd thump from those huge wheels and road-roller sized tyres, especially so if that aforementioned B-road's surface is frost bitten, but really there's nothing that could be described as truly intrusive. The Discovery 5 seems to take it all in its all-terrain-tyred stride.
And there lies its long-lasting appeal. You may not ever use all of its features, and to be honest there are other SUVs out there that do certain things better. But none have quite the breadth of talents the Discovery has. I might not quite convinced by its current styling, but should those rumours be true, and should the Discovery come to an end, I know for sure that I'll miss it.
Land Rover Discovery SD6 306ps Landmark
Engine: 2,993cc, 6 Cyl, DOHC intercooled Turbo-diesel.
Transmission: 8 speed. Automatic Four Wheel Drive – with Terrain Response
Power: 302 bhp @ 3,750 rpm
Torque: 516 lbft @ 1,500 – 1,750 rpm
0-62mph: 7.0 sec
Max Speed: 130 mph
MPG: 31.5 – 28.3 (WLTP combined).
CO2: 198g/km (NEDCeq)
Price: £59,995 (as tested £66,605)