Judgment at Nuremberg (1961) – Film Review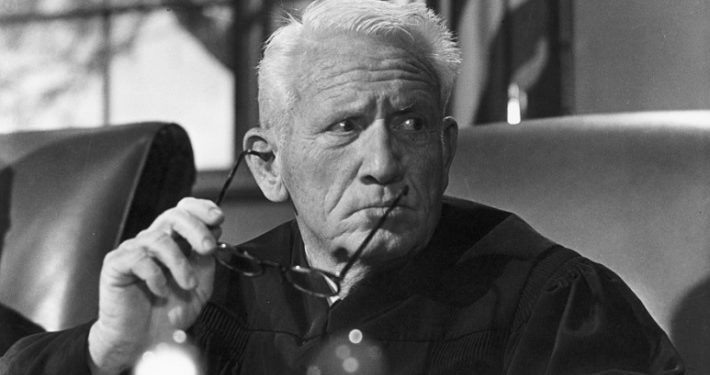 Director: Stanley Kramer
Cast: Maximilian Schell, Burt Lancaster, Marlene Dietrich, Judy Garland
Certificate: 15
by Sarah Morgan
There can surely be no more fitting a time to release a two-disc Blu-ray special edition of Judgment at Nuremberg than on Holocaust Memorial Day, which this year also commemorates the 75th anniversary of the liberation of Auschwitz.
Even all these decades later, the atrocities committed at concentration camps still have the power to shock, and Stanley Kramer's masterpiece is one of the greatest cinematic insights into their impact.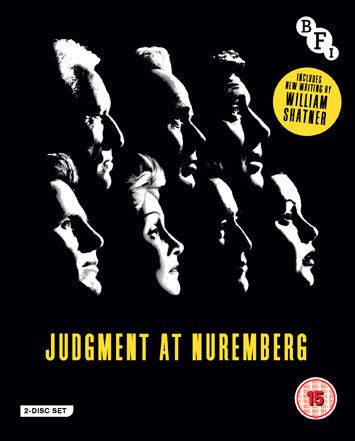 Kramer deserves much of the plaudits the film received on its cinema release in 1961, as well as those it's bound to get from anybody watching it for the first time 58 years later; it's not easy to make a three-hour movie pass in the blink of an eye while managing to keep viewers on the edge of their seats throughout.
"Frankly stunning"
He was helped along the way by some magnificent performances – nobody hits a wrong note. Anyone who is only familiar with Judy Garland's work in musicals will be astonished by her moving performance, while Montgomery Clift, his good looks long gone and struggling with addictions to pills and alcohol, is frankly stunning as a man with learning difficulties who has suffered abominably at the hands of the Nazis – incredibly his lines were virtually improvised as he struggled to learn those written for him.
But it's Spencer Tracy, by then white-haired and craggy, who holds the whole film together. He plays Judge Haywood, a retired lawman coerced into presiding over the trial of four German jurists accused of legitimising Nazi atrocities.
Maximilian Schell (who won an Oscar for his performance) is the defence lawyer for one of them and a respected law expert is played by the always reliable Burt Lancaster.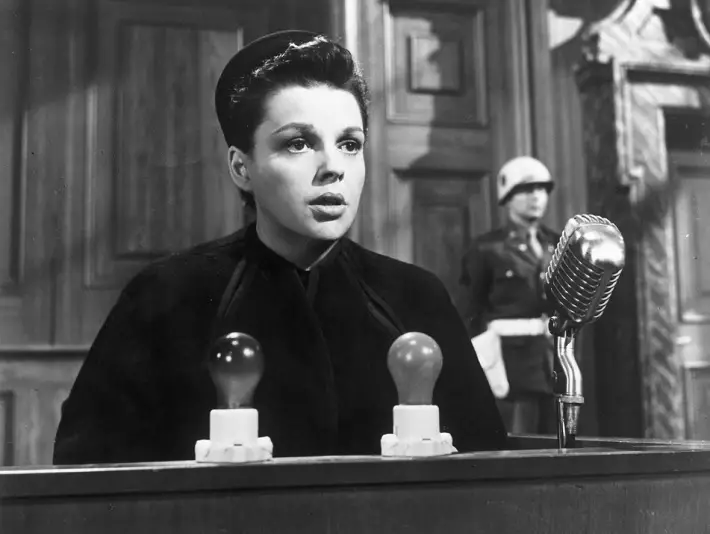 "Aware of the importance of the story"
Richard Widmark is the US army officer tasked with prosecuting the quartet; the fact he was at the liberation of Dachau adds a personal reason for his determination to see justice done.
Marlene Dietrich also pops up as the widow of an executed German officer, and there's a role for a young William Shatner too.
But this is not a mere star-spotting exercise. All these actors are at the top of their game, perhaps aware of the importance of the story they were telling. Although fictionalised, it was inspired by real events – events that should never be forgotten.
Special features include interviews with Schell and screenwriter Abby Mann (who won the film's only other Oscar, for Best Adapted Screenplay; it was based on his own hit play), and a look back at Kramer's career with his widow, Karen Sharpe.
· Presented in High Definition
· Newly recorded audio commentary by film historian Jim Hemphill
· The Guardian Interview: Maximilian Schell (1971, 86 mins, audio only): the actor in conversation
· A Tribute to Stanley Kramer (2004, 14 mins): a celebration of Stanley Kramer's life and career, featuring interviews with screenwriter Abby Mann and Karen Sharpe, Kramer's widow
· The Value of a Single Human Life (2004, 6 mins): screenwriter Abby Mann discusses his Oscar-winning screenplay
· In Conversation with Abby Mann and Maximilian Schell (2004, 20 mins): the actor and writer reminisce about Stanley Kramer and working on the film
· Resistance (2008, 13 mins): the story of a group of 'defectives' and their lives within the walls of an institution as part of the Nazi's Aktion-T4 – a programme of mass murder through involuntary euthanasia
· Heredity in Man (1937, 14 mins): a chilling insight into the brave new world of pre-Holocaust eugenics
· These Are the Men (1943, 12 mins): Ministry of Information propaganda short featuring narration written by poet Dylan Thomas
· Man – One Family (1946, 17 mins): a propaganda short made for the Ministry of Information by Ivor Montagu at Ealing Studios
· Berlin Air-Lift The Story of a Great Achievement (1949, 11 mins)
· Trailer
· Image gallery
Judgment at Nuremberg is released on Blu-ray by BFI, £22.99