The Tomb: Devil's Revenge (2019) – Film Review
Director: Jared Cohn
Cast: William Shatner, Jeri Ryan, Jason Brooks
Certificate: 15
by Roger Crow / @RogerCrow
"The Descent meets The Exorcist, with a dash of Raiders of the Lost Ark thrown in for good measure". That's the pitch for this relatively low budget fantasy adventure featuring William Shatner, Jeri Ryan and Jason Brooks.
It centres on John Brock, a down-on-his-luck archaeologist who returns from an expedition to the caves of rural Kentucky, (a bit like The Descent). He's unsuccessfully been trying to find a mysterious relic that his family has sought for generations.
Upon his return, John starts to see dream-like visions of a ferocious bird-like creature from ancient folklore. It seems the cave he came into contact with on his last expedition contains the relic, and is also a portal to Hell.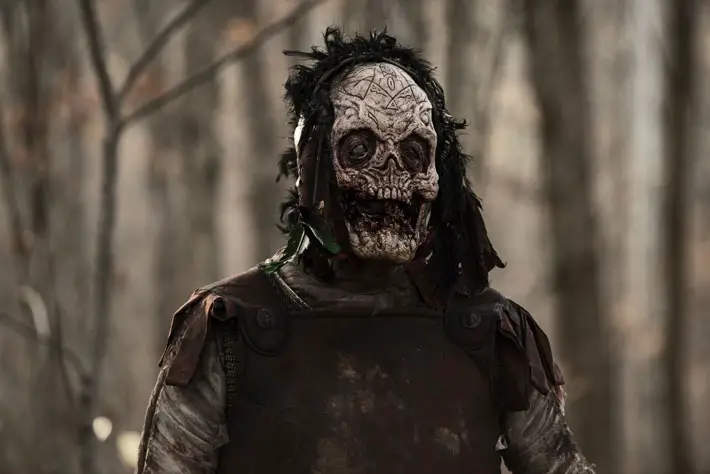 "Much to savour"
The cast acquit themselves well, and the script is okay. There's lots of drone shots of autumnal small town America which are easy on the eyes, and keen equestrian Shatner obviously wanted a scene in which he shows off what a good horseman he is, like Star Trek: Generations.
The demons are also great, even if they look like Finnish band Lordi, the 2006 Eurovision runners up.
While everyone does a good job of playing things as straight as an arrow, that's partly the problem. Everyone is so straight faced throughout it could have done with some levity.
If, like me, you're a lifelong Shatner fan, or you like cool demon prosthetics, then there's much to savour. On the Faustian-Shatner scale, it's about as good as The Devil's Rain but not as good as his Star Trek episode, 'Devil in the Dark'.
Good but no classic. If you want to see a truly terrifying thriller, watch aforementioned classic The Descent while listening to Shatner's Transformed Man LP. It's far more rewarding.
The Tomb: Devil's Revenge is out now on DVD and digital platforms