Introducing: Lyon Estates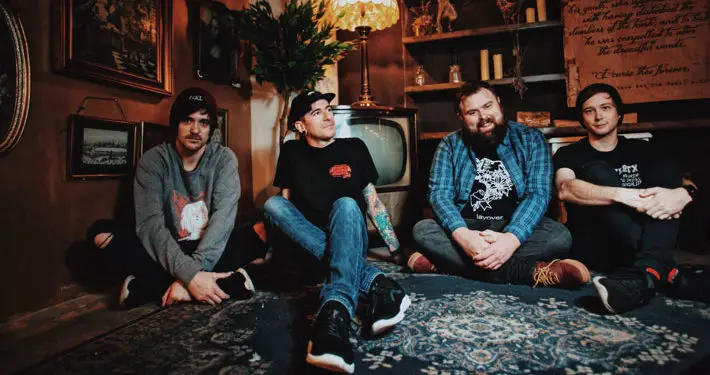 Upcoming York-based quartet playing madly infectious pop-punk…
YOUR NAME: Rich Harrison.
BAND NAME: Lyon Estates.
WHAT DO YOU DO/PLAY? I play bass in our cute little pop punk band.
HOW LONG HAVE YOU BEEN TOGETHER AS A BAND/PLAYING MUSIC? Chris Flavell(drums), John Wace (guitar/vox) and I have been together since 2011. We've had periodical line up changes, solidifying our current line up in 2018 when Jonny Gill stepped in on vocal/guitar.
GIVE US THREE REASONS WHY WE SHOULD TRACK DOWN, LISTEN AND DISCOVER YOUR MUSIC?
1. Our music is great to get pumped to, we have a few soft ones, but usually if you wanna get to the gym and get shifting, or need some adrenaline pumping, we got you.
2. We hit all the emotions, we're right their with you on YOUR life journey, sad, angry, happy, love, we have got the songs to help you live out that moment to the full.
3. We could really use the support. It's nice and it's been a rough few months.
WHERE DO YOU SOUND BEST – FESTIVAL, CLUB, BEDROOM – OR SOMEWHERE ELSE?
Probably, the Fulford Arms, Yor. We know the venue, the sound guy knows us, but beside that, probably in your car, listening to us is better than listening to Driving Anthems vol. 2. 100%.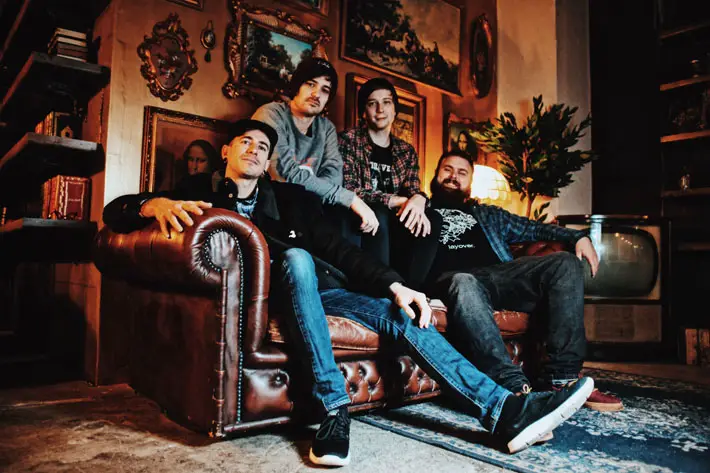 WHAT WAS YOUR FIRST…
RECORD? I was late to the record game, I think it was New Found Glory, but the first record I jammed to was my parents' 7″ 'Kung Fu Fighting' by Carl Douglas! That's a tune!
CD? 2pac. I had a real gangsta vibe going on in the early 00s.
DOWNLOAD? probably, some dodgy Blink 182 live tracks from Kazaa. RIP my mum's computer. Sorry mum.
SO, WHEN IT ALL GOES RIGHT AND YOU'VE GOT A MANSION AND A SUPERMODEL GIRL/BOYFRIEND, WHAT WILL BE YOUR BIGGEST MUSICAL INDULGENCE?
Every year I put on a local festival for us and our friends at my place. I'd actually love to be able to have a fully set up stage, get bigger acts. The whole nine yards. Or just a new guitar strap, whichever is more attainable.
SO, WHEN IT ALL GOES WRONG AND YOU'VE ACRIMONIOUSLY BROKEN UP CITING HUGE MUSICAL DIFFERENCES, WHAT DO YOU FALL BACK ON?
I'd probably fall off the grid and become a bit of a hermit, I have no transferable skills. Please come to shows, I like being part of society.
CITE SOME INTER-BAND MUSICAL DIFFERENCES…
John loves pop from MJ to Kate Perry, where Jonny is more in to his extreme death metal. And there's no bigger difference than that.
WHO ARE YORKSHIRE'S FINEST IN CULTURE, SPORT AND MUSIC?
Music wise, I love Home Wrecked and Shark Bait, those two bands are fantastic. Sport wise, I'm not really a sports guy, so I'll say Selby Town, GO Robins! For culture, I'd probably head to Sheffield, it has a great art scene, Kid Acne springs to mind, they hired him to re-do a York venue once, it was phenomenal, but the club only lasted a few years and they tore it down for flats – what a waste of amazing talent.
NAME YOUR SUPERGROUP – WHO'S PLAYING WHAT, WHO'S ON VOCALS AND WHO'S YOUR BEZ?
I'd have Matt Skiba on guitar and vocals, he has a sorrowful voice/vibe, Mark Hoppus on bass, he plays interesting chords and has a great pop sound, and Travis Barker on drums. He's a drum master! I guess I'd call them Blink 182.
GO SEE THIS FILM: Back to the Future, you'll get most of our references then.
GO READ THIS BOOK: The Outsiders by S. E. Hinton.
GREAT LOST BAND/ARTIST: Whitney Houston. We used to cover 'I Wanna Dance With Somebody'. She was fantastic.
WOULDN'T BE CAUGHT DEAD SUPPORTING: I don't think there's anyone we wouldn't support, or I wouldn't, but I love playing shows.
LONDON, L.A OR LEEDS?: Leeds, its got a thriving scene, and it's Yorkshire.
AND FINALLY… AS YOU LEAVE THE STAGE, WHAT ARE YOUR PARTING WORDS?
I usually just scream "rock and roll!" throw my guitar as far as I can and throw up the devil horns (this is not true, I usually just walk off waving, they don't let me have a microphone.)
Lyon Estates' recent EP 'Welcome to the Family' is available on all streaming platforms
For more info visit facebook.com/lyonestates