Introducing: Prints in the Snow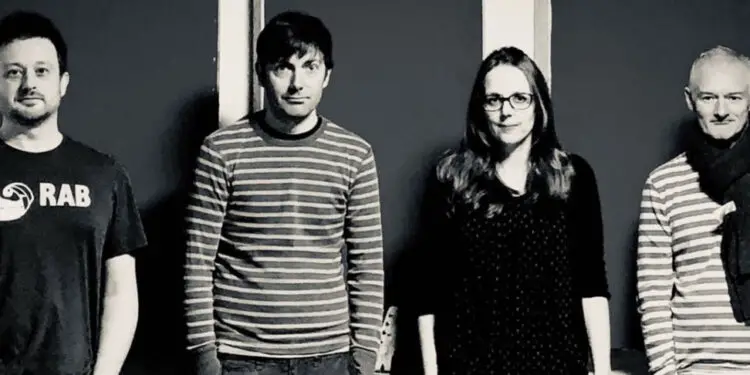 Renowned rock scribe's barnstorming new four-piece, from York & Leeds…
YOUR NAME: Dave.
BAND NAME: Prints in the Snow.
WHAT DO YOU DO/PLAY? Drums (Dave), bass/vocals (Catherine), vocals/guitar (Laurie) and guitarist (Mark) respectively.
HOW LONG HAVE YOU BEEN TOGETHER AS A BAND/PLAYING MUSIC? Laurie and Catherine formed the band some years ago in Nottingham but this line-up came together in 2019 and have radically changed the sound.
GIVE US 3 REASONS WHY WE SHOULD TRACK DOWN, LISTEN AND DISCOVER YOUR MUSIC?
Really good tunes, interesting lyrics and we don't think there's anybody else currently who sounds like a collision of Belle & Sebastian, the Jesus & Mary Chain and the Mamas and the Papas.
WHERE DO YOU SOUND BEST – FESTIVAL, CLUB, BEDROOM – OR SOMEWHERE ELSE?
At the moment – owing to lockdown – the only place we sound anything is in our home studio, but the period has enabled to really get to grips with home recording and working on the songs. This line-up only managed one gig – at the Fulford Arms, York – before lockdown meant all the ones we had lined up were cancelled, along with everybody else's.
WHAT WAS YOUR FIRST…
RECORD? Sex Pistols, Never Mind The Bollocks I think.
CD? Not sure, might have been The Stone Roses.
DOWNLOAD? Either 'Standing In The Road' by Blackfoot Sue or 'High School Confidential' by Jerry Lee Lewis. Not sure why I chose such old music on the newer format!
SO, WHEN IT ALL GOES RIGHT AND YOU'VE GOT A MANSION AND A SUPERMODEL GIRL/ BOYFRIEND, WHAT WILL BE YOUR BIGGEST MUSICAL INDULGENCE?
Some absurdly expensive Joy Division artefact or other and very top notch hi-fi.
SO, WHEN IT ALL GOES WRONG AND YOU'VE ACRIMONIOUSLY BROKEN UP CITING HUGE MUSICAL DIFFERENCES, WHAT DO YOU FALL BACK ON?
My behind, once again.
CITE SOME INTER-BAND MUSICAL DIFFERENCES…
The Jesus & Mary Chain. Low. Teenage Fanclub. Belle & Sebastian. Sonic Youth. Dinosaur Jr.
WHO ARE YORKSHIRE'S FINEST IN CULTURE, SPORT AND MUSIC?
Bands – Gang Of Four, Richard Hawley, John Barry, Pulp/Jarv Is, the Orielles. Sport – Bielsa's Leeds!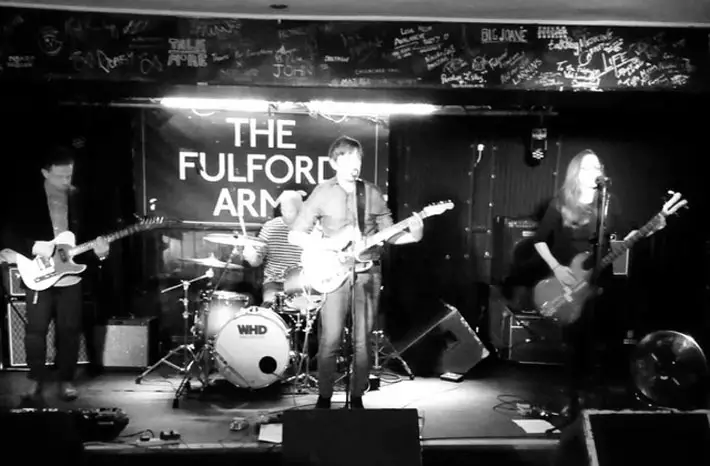 NAME YOUR SUPERGROUP – WHO'S PLAYING WHAT, WHO'S ON VOCALS AND WHO'S YOUR BEZ?
Oh blimey. Er… Tony Allen (drums), Peter Hook (bass), Johnny Marr (guitar), Marc Bolan (vocals), Sandy Denny (second vocals) and Lee Perry mixing.
GO SEE THIS FILM: Parasite.
GO READ THIS BOOK: In Real Life by Chris Killen / A Brief History of Seven Killings by Marlon James.
GREAT LOST BAND/ARTIST: The Chameleons.
WOULDN'T BE CAUGHT DEAD SUPPORTING: Man United.
LONDON, L.A OR LEEDS?: Leeds!
AND FINALLY… AS YOU LEAVE THE STAGE, WHAT ARE YOUR PARTING WORDS?
See you again soon – hopefully!
For more info visit: facebook.com/printsinthesnow