Silent Night, Deadly Night (1984) – Film Review
Director: Charles E. Sellier Jr
Cast: Lilyan Chauvin, Gilmer McCormick, Toni Nero
Certificate: 18
by Sarah Morgan
Horror stories and the festive season have been getting along like a haunted house on fire for centuries.
Charles Dickens' A Christmas Carol is perhaps the most famous example, but the BBC jumped on the bandwagon in the 1970s with A Ghost Story for Christmas, an anthology series featuring mostly adaptations of MR James tales; it's been resurrected in recent years to great acclaim.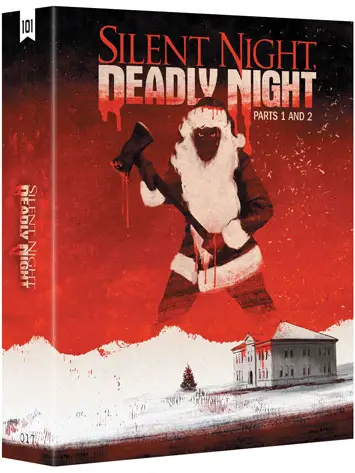 The British film studio Amicus, Hammer's main rivals during the 1960s and 70s, memorably chipped in too; its 1972 portmanteau movie Tales from the Crypt includes a segment entitled 'And All Through the House', which features Joan Collins being menaced by a killer disguised as Santa Claus.
"Rampage"
Out of all those examples, Silent Night, Deadly Night, resembles the last in that list the most.
It begins as a family travel to visit an ageing relative with dementia. After being left alone with him, little Billy's grandpa warns him about Santa and about the dangers of December 24 – and all his words come true because, on their way home, a thief dressed as St Nick, holds them up, robs them and kills mum and dad.
Billy and his baby brother Ricky then grow up in an orphanage led by a Mother Superior who clearly hasn't heard of PTSD – she thinks Billy can get over his traumatic experiences via discipline, mostly delivered by her. She couldn't be more wrong.
Nevertheless, Billy eventually leaves and lands a job at a local toy store, where he becomes a valuable and beloved employee – until he's asked to pose as Santa at Christmas. It causes him to snap and he embarks on a bloody, snow-kissed rampage…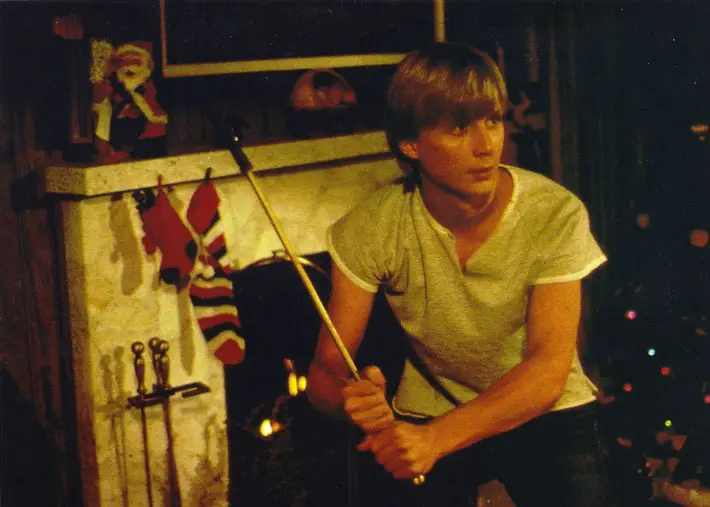 "Intriguing curiosity piece"
The film was controversial on its release, with parents staging protests against the depiction of Santa, claiming it was frightening their children. As a result, it gained a cult following. Did it deserve it? Not particularly, although it's an intriguing curiosity piece.
As is often the case, the special features are far more interesting than the film itself, including an in-depth making-of documentary.
The box set also includes an uncut version and the first sequel, which focuses on Billy's brother Ricky, who also becomes a homicidal maniac. It's not a great film and features an overblown performance from its leading man, Eric Freeman, whose rather animated eyebrows appear to be doing his acting for him.
Incidentally, there are three other sequels and a 2012 remake – none of which feature here – to look out for if the first two movies give you a taste for more festive frights.
Special Features:
• Limited edition booklet, includes 'Silent Night, Festive Fright' by Sarah Appleton and 'Santa's Watching, Santa's Creeping' - An interview with Morgan Ames'
• Rigid slipcase featuring newly-commissioned artwork by Keith Robinson
SILENT NIGHT, DEADLY NIGHTDISC ONE:
• Theatrical Version: 4K scan of the original camera negative
• R-Rated Theatrical Trailer & VHS Trailer
• TV Spots
• Radio Spot
DISC TWO:
• Extended Unrated Version: 4K scan of the original camera negative with standard definition inserts
• Slay Bells Ring: The Story of Silent Night, Deadly Night - Featuring interviews with writer Michael Hickey, co-executive producers Scott J. Schneid and Dennis Whitehead, editor/second unit director Michael Spence, composer Perry Botkin and actor Robert Brian Wilson
• Oh Deer! - An interview with Linnea Quigley
• Christmas in July - Silent Night, Deadly Night Locations - Then and Now
• Audio commentary with actor Robert Brian Wilson and co-executive producer Scott J. Schneid
• Audio commentary with Michael Hickey, Perry Botkin, Scott J. Schneid and Michael Spence
• Audio interview with director Charles E. Sellier, Jr. from Deadpit Radio (Extended Version)
• Santa's Stocking of Outrage
• Poster and Still Gallery
SILENT NIGHT, DEADLY NIGHT: PART 2
• 2K Scan of an archival theatrical print
• Audio commentary with director Lee Harry, and actors Eric Freeman and James Newman
• Slay Bells Ring Again: The Story of Silent Night, Deadly Night 2 - Featuring interviews with co-writer/director Lee Harry, Actors Eric Freeman, James Newman, Elizabeth Kaitan, Darrel Guilbeau and Kenny McCabe, and makeup effects artist Christopher Biggs
• Garbage Days Are Here Again - A Look at the Film's Locations
• Ricky Today - A short film featuring a 2018 interview with Ricky Caldwell
• I Don't Sleep - An extended interview with makeup effects artist Christopher Biggs
• Audio commentary by co-writer/director Lee Harry, co-writer Joseph H. Earle, and actor James Newman
• Theatrical Trailer
Silent Night, Deadly Night Parts 1 & 2 is released on Blu-ray by 101 Films, £24.99