The Monster (1975) – Film Review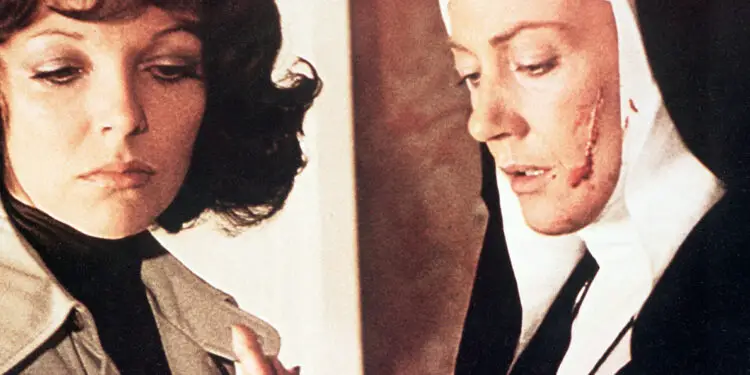 Director: Peter Sasdy
Cast: Joan Collins, Eileen Atkins, Ralph Bates
Certificate: 15
By Sarah Morgan
Also known as I Don't Want to be Born, The Devil Within Her and Sharon's Baby, this low-budget British horror movie is utterly bonkers.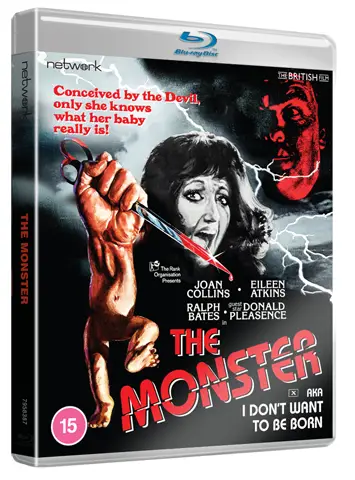 Directed by Hungarian-born Peter Sasdy, whose work veers from the sublime (TV's The Stone Tape) to the ridiculous (the Razzie-winning The Lonely Lady), the film is perhaps, alongside his Hammer projects (Hand of the Ripper, Countess Dracula and Taste the Blood of Dracula), one of his most famous works – but probably not for the right reasons.
"Nervous collapse"
Joan Collins and Ralph Bates first worked together on 1972's Fear in the Night, a taut melodrama in which they played lovers behind a convoluted plot to get rid of both their spouses. Here they're married couple Lucy and Gino, who have a newborn son, Nicholas.
The baby is large and the birth difficult. So when Lucy becomes convinced her son is a violent maniac, whose behaviour is the result of a curse placed on her by a dwarf whose advances she spurned during her days as a stripper (see, I said it was bonkers), everyone dismisses her idea as the ravings of a woman suffering some sort of post-natal nervous collapse.
However, Gino's nun sister arrives and realises something is genuinely amiss. She and the doctor who delivered the baby come up with a plan of action – but can they carry it through before Nicholas murders everyone who crosses his pram's path?
Clearly made to cash in on the success of The Exorcist and The Omen, The Monster is a cheaply made bit of hokum that lacks those hit films' inventiveness. It also doesn't make a lot of sense and isn't scary, although the cast – which features some pretty big names – deserve plaudits for trying to give Stanley Price's lacklustre script some gravitas.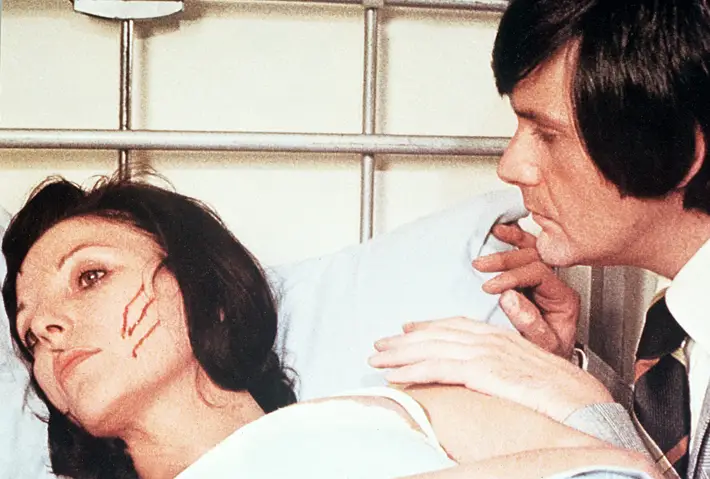 "Bizarre"
Donald Pleasence is, as always, a welcome presence, this time playing against type as a kindly medic, a warm-up for his role in Halloween, perhaps. Children's TV favourite Floella Benjamin pops up as a nurse, while Caroline Munro co-stars as Lucy's dismissive friend.
Collins is glamorous but little else as the mother under siege, but the biggest mystery of all is why Bates and Eileen Atkins, who plays Gino's sister, were cast as Italians. Their terrible accents are off-putting to say the least, and just another in a long line of bizarre aspects to a truly odd yet strangely watchable film.
SPECIAL FEATURES:
Brand-new interviews with director Peter Sasdy, editor Keith Palmer continuity supervisor Renée Glynne and wardrobe supervisor Brenda Dabbs
Brand-new audio commentary from the cult Second Features podcast team
Theatrical trailer
Alternative I Don't Want to be Born titles
Image gallery
Limited edition booklet written by Adrian Smith
The Monster is released on Blu-ray by Network, £17.99