A Foreign Affair (1948) – Film Review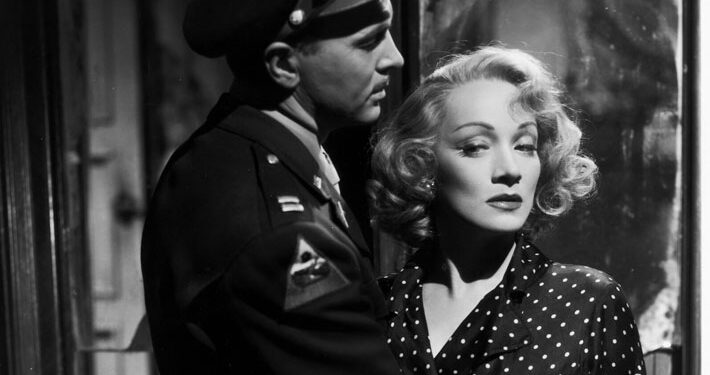 Director: Billy Wilder
Cast: Jean Arthur, Marlene Dietrich, John Lund
Certificate: U
by Sarah Morgan
Just when you think you've seen all of Billy Wilder's best movies, a previously unseen one pops up to entertain and delight in equal measure.
However, A Foreign Affair's origins were rather dark – Wilder was inspired to make it after visiting post-war Berlin to make 'Death Mills', a documentary designed to educate the German people about the atrocities committed at concentration camps by the Nazis.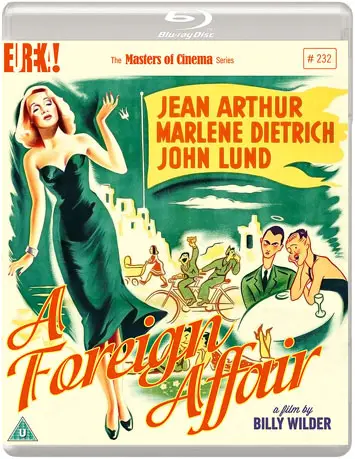 During the visit, Wilder discovered both his mother and grandmother – who had refused to leave their Austrian homeland to move with him to the US – had perished at Auschwitz.
It seems incredible that a film as amusing and charming as A Foreign Affair could have been born at such a time, but perhaps that's how Wilder coped with the trauma – amid the darkness he found some light.
"Streetwise chanteuse"
Whatever the reason, the result is delightful with two great roles for its female stars, Jean Arthur and Marlene Dietrich.
Arthur plays strait-laced Iowa politician Phoebe Frost, who believes in abiding by the rules. Dietrich is Erika von Schlutow, a streetwise chanteuse at a seedy nightclub who will use anything and everything at her disposal to improve her lot.
Erika's lover is Captain John Pringle, another schemer; he's using his position of influence within the American occupying force to keep Erika safe.
During a fact-finding mission to Berlin, Phoebe's professionalism slips a little under the full glare of Pringle's charm, although his boss, wily Colonel Plummer, would prefer him to stick to Erika so he can entice her Nazi former lover out of hiding.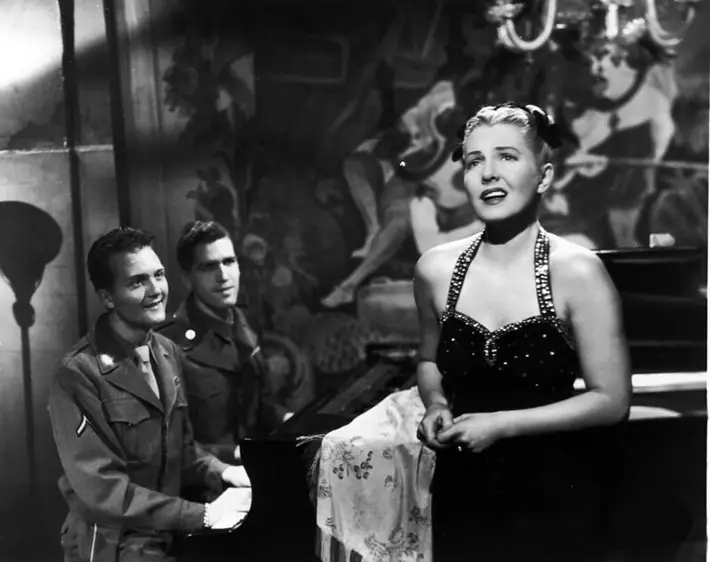 "Dialogue crackles"
It's a love triangle that looks set to end in disaster, until the Colonel reveals his romantic side…
Although largely forgotten now, Arthur was hugely popular at the time; her last great role came five years later in Shane. She's impressive here, proving herself to be a mistress of light comedy. Dietrich is typically good too, even getting to deliver a handful of songs during memorable musical moments.
Lund was, however, completely new to me. He's fine as Pringle, although you can't help feeling that someone with more obvious charm, Cary Grant or Clark Gable, perhaps, would have been better – he's a little too bland to be believable as the seducer of both Dietrich and Arthur.
As ever, Wilder's dialogue crackles, so any flaws in the plot or characterisation tend to be overlooked. A minor classic.
BLU-RAY SPECIAL FEATURES
1080p presentation on Blu-ray
Uncompressed LPCM 2.0 audio
Audio commentary by film historian Joseph McBride
New video piece on the film by critic Kat Ellinger
Archival interview with Billy Wilder
Theatrical trailer
A collector's booklet featuring new writing by film historian Alexandra Heller-Nicholas; a new essay by critic Richard Combs; and more
A Foreign Affair is released on Blu-ray by Eureka, £19.99