Criss Cross (1949) – Film Review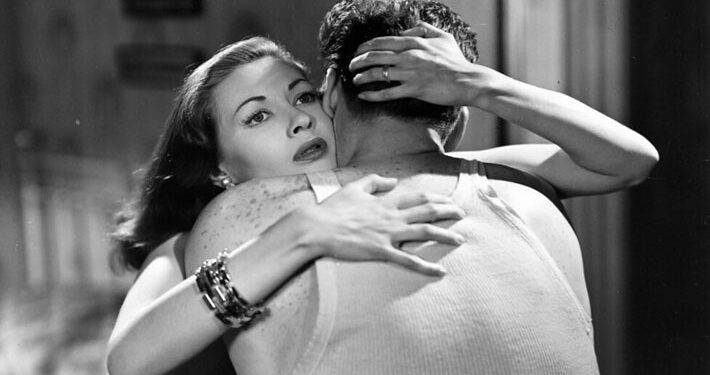 Director: Robert Siodmak
Cast: Burt Lancaster, Yvonne DeCarlo, Dan Duryea
Certificate: PG
by Sarah Morgan
Let's face it, nobody ever carried off a vest and slacks combo better than Burt Lancaster – and that includes Bruce Willis.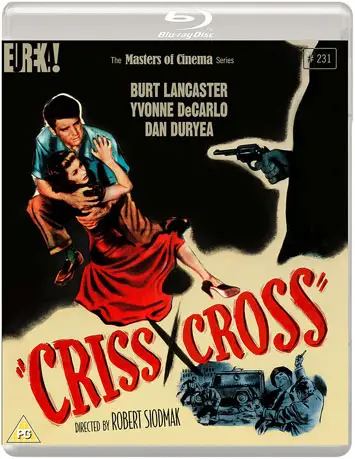 Lancaster exudes masculinity from every pore in this brilliant film noir from director Robert Siodmak, who had previously worked with Lancaster on the star's debut movie The Killers three years earlier.
That offering saw Siodmak mix the Expressionism of his native German cinema with hard boiled crime fiction to more or less create the film noir template followed by numerous other directors. Criss Cross, although less famous, uses the same trademarks to excellent effect.
"Enthralling"
This time Lancaster plays Steve Thompson, who left LA some time ago after the breakdown of his marriage to the seductive Anna Dundee. He returns to the city to help his ageing mother, and against his better judgement, becomes increasingly drawn to his old life – and to Anna.
Despite her marriage to local gangster Slim, they rekindle their love affair. In a bid to get her violent husband off their backs, Steve masterminds a plot to rob the armoured truck he drives while delivering payrolls to businesses across the state. Slim and his cohorts grab the opportunity with both hands, little realising that Steve is planning to double-cross them.
The robbery goes wrong, of course, with fate having something other than happiness in store for Steve and Anna.
Based on a novel by Don Tracy, Criss Cross never fails to keep an audience on the edge of its seat. Although we can guess from the start that the path of true love will not run smooth, watching the main protagonists throughout their journey is enthralling to say the least.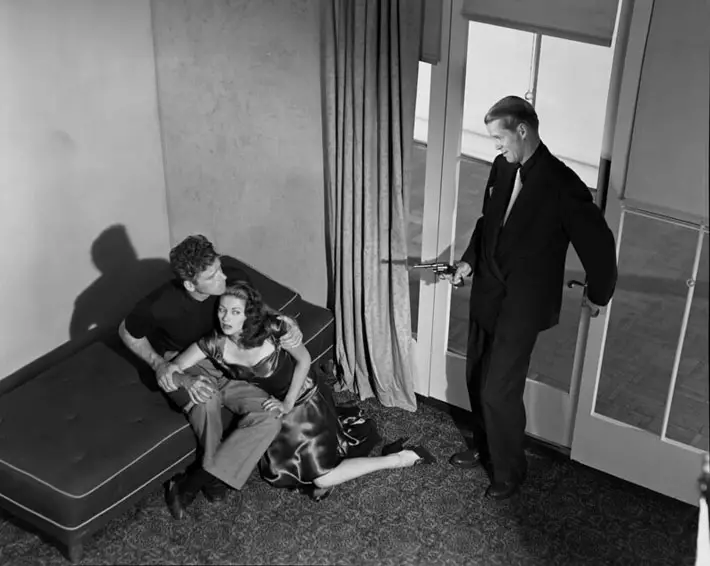 "Whips along breathlessly"
While Lancaster grabs the attention as a strong but sensitive guy, he's matched by Yvonne De Carlo (later to find TV fame as Lily, wife of Herman, in The Munsters) who smoulders as Anna – the woman who wants it all and will use her feminine wiles to get it.
Watch out too for genre regular Dan Duryea as Slim, while an uncredited Tony Curtis makes his film debut as the man dancing with De Carlo close to the start of the film.
At a brief 88 minutes, the plot whips along breathlessly, with more excitement packed into it than many movies twice the length.
I haven't seen the 1995 remake, entitled The Underneath and directed by Steven Soderbergh, but I can't imagine it being more impressive than Siodmak's original. Peter Gallagher, who plays the lead, could certainly never match Lancaster in vest-wearing prowess.
BLU-RAY SPECIAL FEATURES
1080p presentation on Blu-ray, from a new 4K scan of the original nitrate negative
Uncompressed LPCM 2.0 audio
New audio commentary by film author Lee Gambin, and actress Rutanya Alda
New video piece on the film by film scholar Adrian Martin
Theatrical trailer
A collector's booklet featuring new writing by film historian Kat Ellinger; an essay by Adam Batty; archival writing and imagery
Criss Cross is released on Blu-ray by Eureka, £19.99