Black Angel (1946) – Film Review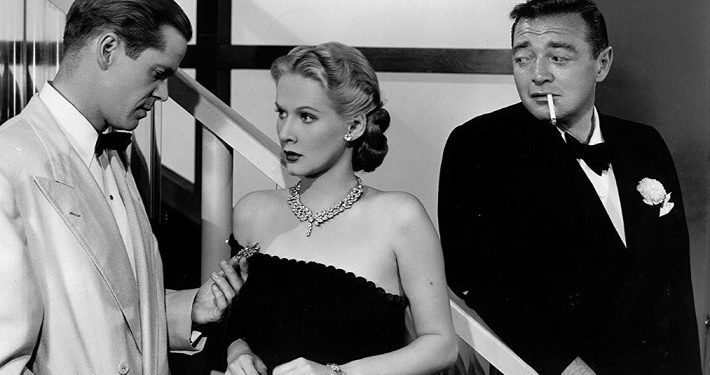 Director: Roy William Neill
Cast: Dan Duryea, June Vincent, Peter Lorre
Certificate: PG
by Sarah Morgan
Take a walk on the dark side with this largely forgotten film noir which deserves to be far better known.
Sometimes it can be quite baffling how certain films continue to be lauded, while others fall by the wayside. Certainly Black Angel should be considered in the same breath as the likes of Scarlet Street and The Woman in the Window, which are now regarded as genre classics.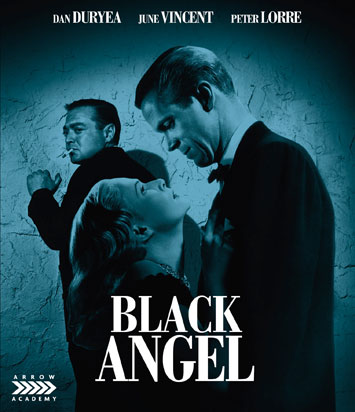 Incidentally, all three films feature Dan Duryea in a starring role – an actor who, despite his popularity in the 1940s, has not stood the test of time. But, as in the case of Richard Widmark, he was for a time the go-to performer for directors in need of an interesting, left-field leading man, one who didn't mind depicting the seedier side of life.
"Twist"
Here Duryea plays Marty Blair, a songwriter and pianist whose marriage to the manipulative femme fatale singer Mavis Marlowe has come to an abrupt end. Heartbroken, he's become reliant on alcohol, while she has launched a lucrative sideline in blackmail.
Mavis is strangled early on, and one of her blackmail victims, Kirk Bennett, discovers the body. He's later found guilty of her murder – mostly because, like so many fall guys before and since, he makes the mistake of leaving his fingerprints all over the apartment before doing a runner – but his virtuous wife Catherine (Constance Dowling) is determined to clear his name.
She and Marty join forces to investigate the crime; Broderick Crawford plays the cop who thinks he already has the right man, while Peter Lorre pops up as a nightclub owner the daring duo believe is the prime suspect. However, there's a twist in the tale…

"Nippy little time-passer"
At just an hour and 20 minutes long, Black Angel doesn't have the time to outstay its welcome. Instead, it's a nippy little time-passer that was arguably the highpoint in the career of its director, Roy William Neil, who is best known today for directing 11 entries in the Sherlock Holmes series featuring Basil Rathbone and Nigel Bruce.
Neil adds depth to the plot (which was based on a story by renowned thriller writer Cornell Woolrich) with some stunning camera work, in particular a shot that zooms from street level into an apartment several floors up, and an expressionist-inspired nightmare sequence, during which the denouement is revealed.
Special features include a video appreciation from film historian Neil Sinyard.
• Brand new restoration from original film elements by Arrow Films
• High Definition Blu-ray (1080p) presentation
• Uncompressed Mono 1.0 PCM audio soundtrack
• Optional English subtitles for the deaf and hard of hearing
• New audio commentary by the writer and film scholar Alan K. Rode
• A Fitting End, a new video appreciation of the film by the film historian Neil Sinyard
• Original trailer
• Gallery of original stills and promotional materials
• Reversible sleeve featuring two artwork options
Black Angel is released on Blu-ray by Arrow Academy, £24.99