The Woman in the Window (1944) – Film Review
Director: Fritz Lang
Cast: Edward G Robinosn, Joan Bennett, Dan Duryea
Certificate: PG
by Sarah Morgan
Mention film noir to any cineaste and chances are the name Fritz Lang will feature at some point.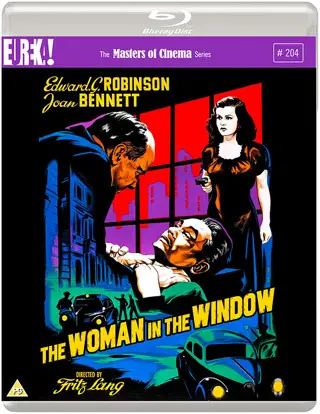 The Austrian-born director started out as one of the key exponents of German Expressionism and made the 1931 masterpiece M, which could be described as perhaps the first film noir, making Lang the grandaddy of the genre.
After Lang moved to the US in 1933, he excelled at making dark dramas and crime thrillers, and The Woman in the Window is considered to be one of his best.
"Bewitched"
Edward G Robinson takes the lead role of Richard Wanley, an assistant professor specialising in criminal cases. It's a rare departure for him to ditch his usual gangster parts to play such a gentle character who soon finds his life spiralling out of control.
Wanley becomes transfixed with a woman he sees depicted in a portrait hanging in a gallery window, so when she approaches him, he can't help but be bewitched by her.
They spend an evening together at her apartment – albeit in a platonic fashion – but her lover doesn't see their assignation as anything innocent when he finds them together. He attacks Wanley, who kills him in self defence. He then uses his knowledge as a crime expert to cover up what has happened – or so he thinks.
Wanley and the woman then spend the rest of the film looking over their shoulders, with him in particular struggling to maintain his facade of respectability.
"Great performance"
Joan Bennett delivers a great performance as the beautiful Alice, who captures Wanley's imagination. You're left wondering throughout if she's a villain or the angel he believes her to be.
There's a final twist in the tale that lets the rest of the film down somewhat, but it's still rather wonderful to see Robinson in gentle hero mode rather than playing a tough criminal.
Incidentally, Lang, Robinson, Bennett and co-star Dan Duryea (who plays a slimy blackmailer here) must have enjoyed working together because they teamed up again a year later for Scarlet Street, another classic of the genre.
Special features include a video essay by critic David Cairns, as well as an audio commentary from film history Imogen Sara Smith.
8/10
'The Woman in the Window' is released on Blu-ray by Eureka, £19.99