Father of the Bride by Vampire Weekend – Album Review
By David Schuster
I'm a fan of evolution, both philosophically (as opposed to creationism) and materially, in terms of changes to a band's sound over time. It's a difficult thing to get right: Ideally what you want is to retain the essence of what you were, thus keeping your loyal fan base, and introduce new elements, to prevent boredom and to bring in new listeners.
Vampire Weekend have always been very creative in their use of the studio. In a world where engineers can smooth the sound to the point of blandness, it's refreshing when it's used instead to make your ears sit up and take notice. On Father of the Bride, their latest release, it's exemplary, from the Bontempi organ sound of 'Spring Snow' to the 80's orchestral stab in 'Unbearably White'. However, it's on 'Hold You Now' that it finds its most triumphant use; a simple country influenced verse lulls you into a false sense of familiarity, until suddenly the 'audio fourth wall' is shattered by the heavy clunk of a tape machine being switched on to play a gospel choir singing nonsense. If Paul Simon had cut a track with Pink Floyd, this is what it might have sounded like.
"Nice experimental sound"
In the late 90's there was a remarkable TV series, This Life, featuring Andrew Lincoln in his first major role, long before Love Actually and The Walking Dead gave him worldwide fame. It was fantastically scripted and followed the lives of a group of trainee solicitors through their laughs, loves and losses. It was funny, poignant and above all, quirky. Coincidentally track four, 'This Life' would have made the ideal theme tune for it. "I know pain is as natural as the rain, I just thought it didn't rain in California", sings Ezra Koenig, wryly.
And, whilst we're on the subject of pain, the final track 'Jerusalem, New York, Berlin' has one of the most plaintive lines I've heard since The Smiths' 'Please, Please, Please Let Me Get What I Want'; "All I do is lose, but baby all I want's to win". Which of us hasn't thought that at one time or another? It's a beautifully melancholic end to the record.
Four tracks in I thought that this was the best album Vampire Weekend had ever made, but then sadly it loses its way. 'Big Blue', 'How Long?', 'Unbearably White' and 'Rich Man' all have the hallmarks of the band; piano, harpsichord and chorused vocals, along with some nice experimental sounds, such as the finger clicks and boing noise in 'How Long?', but all are uncharacteristically down beat.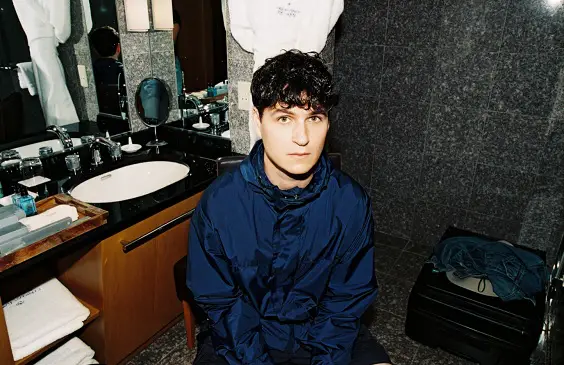 "Musical consumer trials"
This is a case where too many cooks have spoilt the broth. As well as guest vocalists Danielle Haim and Steve Lacy, I counted those involved: There are seven Producers credited, twelve lyricists and no less than thirteen composers across the eighteen tracks. And, whilst these include such illustrious names as Hans Zimmer, Mark Ronson, Haruomi Hosono and (strangely, given this is the first album since he left) former band member Rostam Batmanglij.
This might more accurately be marketed as the first release by Vampire Weekend and friends, and therein lies the issue; everyone appears to have focused their attention on individual tracks, with no one considering how they hang together as an album. I was genuinely conflicted about scoring this record, there are eight songs which I'd happily give a score of 9 to, if they had been released in isolation, but there's ten really quite average tracks accompanying them, and my overall score has to reflect this.
I'm all for growth and change in a band's sound but, if you just go for sounding completely different, then you are back to square one, and competing with every other band, and in that arena 'My Mistake', 'Sympathy', 'Sunflower' and 'Flower Moon' almost sound like musical consumer trials: What if we try this? What if we sound like this? None of these work particularly well, as they have lost their essential Vampire Weekend-ness. It's clear that they are trying to evolve, though into what I'm not quite sure, and I'm not convinced they do either. That's a dangerous business; the world isn't kind when evolution doesn't quite work.
6/10