Boiling Point (2021) – Film Review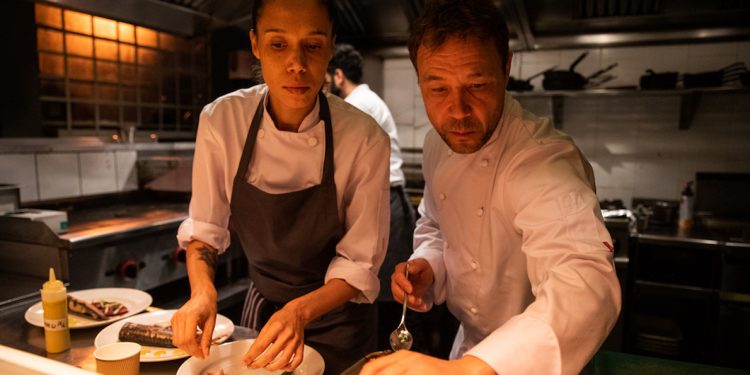 Director: Philip Barantini
Cast: Stephen Graham, Vinette Robinson, Jason Flemyng
Certificate: 15
By Sarah Morgan
Director Philip Barantini and writer James Cummings must be pinching themselves at the moment.
That's because what began as a simple idea to make a short film has since exploded into something much larger – and what's more, they've received plaudits from across the globe for it. It's the stuff that wannabe movie-makers everywhere dream about.
Barantini spent several years working his way up the hospitality industry to become a head chef before making the brave move to switch careers by becoming an actor. Although he's appeared in such projects as Band of Brothers, Chernobyl and The Responder, it could be that his future lies behind the camera.
"Step out of the shadow"
It was he who came up with the initial idea for Boiling Point, a short film inspired by the incidents he'd witnessed while working in various restaurants. He and co-writer Cummings devised a script that could be shot in one take, helping to recreate the tension often felt in professional kitchens across the world. It proved to be a big hit, leading the duo to turn it into a feature-length project.
The result was one of the most critically acclaimed British movies of 2021 – and it loses none of its grit and power on the small screen.
Many of the cast who appeared in the short reprised their roles in the film, including Stephen Graham, who delivers a typically compelling performance as Andy, who is attempting to step out of the shadow of his famous former boss, TV chef Alastair Skye, by setting up his own eatery, a trendy London restaurant.
The story follows 90 or so minutes in Andy's life, from the moment he turns up late one evening to be confronted by a Health and Safety inspector who isn't impressed with standards in the kitchen, to the aftermath of the boiling point of the title – but the less said about that the better, I don't want to give up any spoilers.
In between, the staff have to deal with warring colleagues, overbooking, racist and aggressive customers, and someone who has an allergic reaction. On top of all that, Andy's private life is falling apart, cash-strapped Skye is pressuring him for money, and he's struggling with addiction.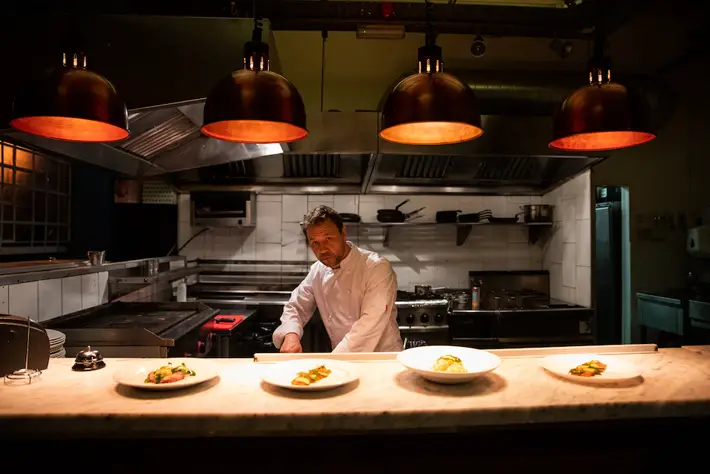 "Impressive"
As you can probably tell from all that, laughs are few and far between. In fact, anybody contemplating a career in hospitality would more than likely be put off by what they witness here – however, it might make customers behave a little more kindly towards staff.
Graham is the heart and soul of the story, and he receives brilliant support from his real-life wife Hannah Walters, as well as Vinette Robinson, Alice Feetham and Ray Panthaki as members of the restaurant team, while Jason Flemyng is suitably slimy as Andy's rival/mentor Skye.
Many of the above are set to reprise their roles in a forthcoming BBC drama series, a spin-off from the film which takes place six months after the events depicted here.
Barantini and Cummings are also involved. Whether that, too, will be a one-shot affair remains to be seen. It will be impressive if it is, because you imagine that getting such a production to work is like preparing a dance. Every moment has to be choreographed exactly, or the whole thing falls apart – a bit like Andy's hectic world.
Special Features:
● Audio commentary with producers Hester Ruoff, Bart Ruspoli and Writer James Cummings
● Audio commentary with actors Ray Panthaki and Jason Flemyng
● Boiling Over: an interview with Hester Ruoff
● Pot Boiler: an interview with Bart Ruspoli
● Simmering Steady: an interview with James Cummings
● The Making of Boiling Point
Limited Edition Contents:
● Rigid slipcase with new artwork by Andrew Bannister
● 70-page soft cover book with new essays by Howard Gorman, Clarisse Loughrey and Christina Newland plus exclusive interview with Cinematographer Matthew Lewis by Matthew Thrift
● 6 collectors' art cards
Boiling Point is released on Limited Edition Blu-ray by Second Sight, £24.99