10 of the World's Best Beaches
When you think of going on vacation, it's normal to focus on how to get there, where you'll stay, what you'll carry and how much it will cost. But one thing you should not forget to look at is the beaches on offer. This is especially so if you plan to spend a good chunk of your vacation relaxing outdoors.
With this in mind, we've found 10 of the best beaches – beautiful places to use for free with no need to even open an account. Enjoy.
Palm beach, Aruba
This beach is located on the northwest side of Aruba and it occupies a two-mile-long strip. When you are there, you can enjoy activities such as snorkeling and parasailing. Once you are done with your daytime fun, you can head over to a nearby restaurant, casino or nightclub to start your nighttime fun.
Banana beach, Thailand
The banana beach is known mainly for its banana boat rides. But there are other activities you can enjoy such as kayaking, parasailing, and snorkeling. You can access the beach by boat once you get to the Chalong Pier on Phuket and book a stay at the Nai Harn Phuket resort to easily access the beach.
Seagrass Bay, Fiji
Located in Laucala Island, seagrass bay prides itself in being one of the quietest resort beaches. Once there, you get to see spellbinding marine life and go on a guided tour of the nearby tropical forest. You also get to experience the luxury offered in one of the 25 villas in the Laucala island resort.
Blue beach (La Chiva), Puerto Rico
This beach is located in Vieques, Puerto Rico. Its clear waters and white sand make it a top Caribbean beach. But despite its appeal, you need to prepare for yourself for adventure in order to get there. This is because the only way to access it is by getting yourself to one of the 21 turn-offs on the unpaved road found in the national wildlife refuge. But once you get there, you have the choice to book a trip with an island operator or to snorkel on your own in search of its various underwater spots.
Keem Bay, Mayo, Ireland
Keem Bay is a sheltered beach on the Achill Island. It has gleaming white sand and is surrounded by cliffs to give it an air of privacy. If you are looking for a breathtaking rural beach to relax in, this is the beach for you.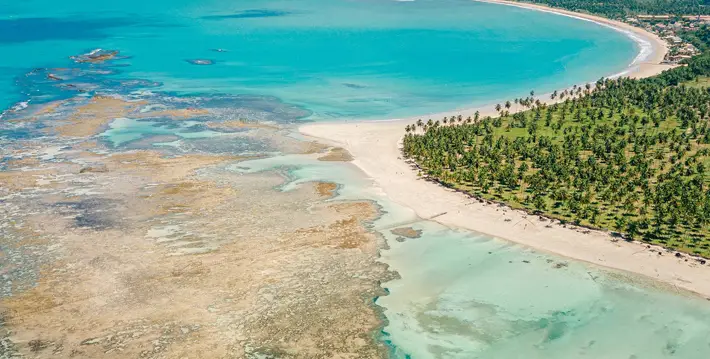 Rhossili Bay, Wales
Let's face it. The weather in the UK is not always ideal for sunbathing but this doesn't mean you can't find exquisite beaches in the area. Rhossili Bay is one such beach. It is located in the Gower Peninsula in Swansea, and one of the major attractions to it are the blooms that can be found near the beach.
Whitehaven beach, Australia
The Whitsunday islands are a top-of-the-list destination for people who love the sun, sand and water. Located on this dream destination is the swirling Whitehaven beach. But you can't just walk there. Instead, you have to use a seaplane, boat or helicopter to reach the beach and enjoy the various beach activities, including scuba diving.
Cala Goloritze, Italy
It is not often a landslide leads to something good. But Cala Goloritze, which came about due to a landslide is 1962, is an exception to that rule. This stunning beach can be found in Sardinia, and it is one of the main attractions of the island. Apart from swimming in the stunning waters, you get to enjoy other activities such as birdwatching and snorkeling.
Honopu beach, Hawaii
If you are not a swimmer, you should forget about going to Honopu beach. This is because the beach which is located on the Na Pali Coast and known for its strong spiritual history, does not allow boats or airplanes on it. A boat can take you as close to the beach as possible, but then you have to jump into the water and swim the rest of the way there to enjoy the unparalleled natural beauty.
Baia do Sancho, Brazil
When you hear the word beach, you often form a picture of sand and relaxation. But before you can enjoy the golden sands of the Baia do Sancho, you will need to put in some effort. This UNESCO world heritage can only be accessed via ladders, stairs, and walkways. Fortunately, the breathtaking views you will find will make the trip worth it.