Harrogate Gallery Hosts Reclusive Yorkshire Artist's Final Exhibition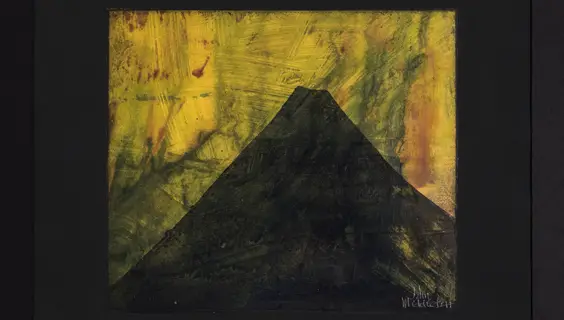 'Paint' is Yorkshire artist John Middleton's last major statement; the final chance for his enthralling body of work to be seen, appreciated and remembered. It's also the reclusive artist's first real statement for a very long time. Through 'Paint', John breaks the silence of his voluntary retreat from the world of the arts in 1982. It's an opportunity – his last opportunity – to embrace the outside world before stepping back into his studio and closing the shutters.
John first came to prominence in the 1960s, in an exhibition with the Nicholas Treadwell Gallery. He later removed himself from the world of contemporary art almost 40 years ago, to be a painter free of the 'tangled mess' of life, politics and religion. He holds no commercial ambition, and does not see himself as an artist – he is a painter, and paint is what he does.
"His native Yorkshire runs through his art"
Middleton, now in his 70s, draws on multiple experiences to inform his work. His native Yorkshire and the pragmatism it has imbued him with runs through his art like a strong current. Influences from the periods spent living in Holland and Portugal, as well as his journeys to Latin America, illuminate his paintings.
'Paint' is the essence of John's work; the importance of imagery such as the triangles which have been a recurring theme since he was in his early twenties, represented in the pyramids of Egypt and in the slagheaps of his Rotherham youth. We see mundane everyday objects; socks and envelopes, we encounter bright birds and fish and we observe pure abstraction – dark lingering shapes, where nothing is by accident and everything is by design.
In this exhibition, we also see new work, inspired by the exhibition itself and painted under pressure as the clock ticks unceasingly onward, like a reporter facing his deadline. It may be his last statement, but it is also his most revealing.
Below is a gallery of John Middleton's work
[Best_Wordpress_Gallery id="92″]