Weeds in the Heart by Nathaniel Hughes and Fiona Owen – Review
By Barney Bardsley
This is a book for the mystics and the dreamers among us. Written by a herbalist and healer, and illustrated – with quite exquisite precision – by Fiona Owen, it attempts to take us into the heart of nature, to find out what makes plants special, and to divine what special things those plants can offer to us.
It is not a "how to" book, but more a book of invitation. An invitation to look deeply at a few specially chosen plants – primrose, lady's mantle, lemon balm, rose and St John's wort among them – and notice the effect that they can have, on our senses, on our souls. Those of you with a scientific, rationalist bent, look away now. Weeds in the Heart, although written by a chemist, is about as far away from the white-tiled rigour of the laboratory as it could get.
"Call to attention"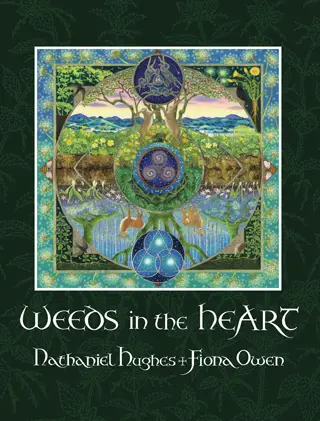 It is a lovely book. Strange. Unusual in its intensity, it is a clarion call to walk among nature, and, in short, to be healed by it. The chapter on lemon balm – a large clump of which grows in my garden, and which I routinely ignore – is revealing, in its examination of anxiety, and how to combat this debilitating state, using the sweet smelling leaves of the plant to help you on your way. The chapter on St John's wort, and its connection with depression – including a moving account of the author's own struggle with the condition – is especially compelling.
But you could open any page and find some kind of lyrical allusion to the plant world, an almost seductive – and definitely pagan – call to attention. What interests Hughes most, is the relationship we can form, plant to human. Rather than cutting and controlling our plants, maybe we could find some time, just to be alongside them. Let their presence act on us, instead of the other way round.
"Beautiful experience"
This is certainly a specialist kind of book. The cynics will not be persuaded. The converted were walking the path already. But for someone like me, somewhere between the two, it was a rather beautiful experience, stepping between the pages, and then vowing to step outside – into the garden, the woods, the great wild countryside – with a lot more frequency and delight.
Please don't be put off by the title, which I think was a terrible mistake. Weeds in the Heart is no dull opportunist, growing between the cracks in the pavement, and marauding through your carefully planted flowerbeds: it is a work of art – and, most of all – of love.
'Weeds in the Heart' by Nathaniel Hughes and Fiona Owen is published by AEON, £29.99