Jordan Allen – Live Review – Brudenell Social Club, Leeds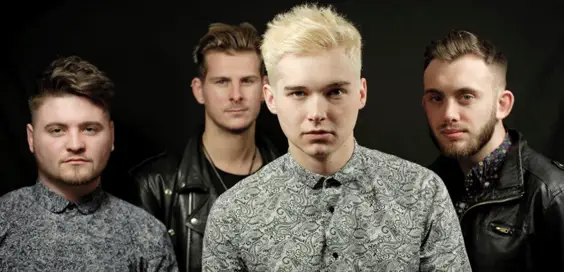 By Victoria Holdsworth, October 2018
I saw one of the most vibrant and talented up and coming bands that I have seen in a very long time tonight – and although the crowd seemed a little hesitant at first, they quickly warmed up to the young Lancastrian lad, who rocked up looking a little bit like a young James May.
Jordan Allen hale from Bolton, and have been building quite a reputation. The four friends have grabbed much attention in a very short period of time, and I was about to find out exactly why.
The band meant business straight from the off, and the frontman has charisma by the bucket load, ripping into their opening track, 'Helter Skelter'. You can instantly hear the influences and when I say they were loud, I mean they were LOUD! Their audience comes in many ages and styles, from the animated to the aloof, as the band put beaming smiles on the faces.
"Gutsy swagger"
The singer clearly loves to engage with his supporters, and tries getting the crowd on side even more with some attempted funny banter – and aalthough he did have a few nervous moments he ploughed on through. 'Half Life Lover' is a superb tune, and shows a level of mature song writing that has been sadly amiss on the scene for some time now. The rest of the band execute their roles well and deliver every song like they were top of the bill at Wembley.
'110 Ways To Make Things Better' is a real meaty anthem and dedicated to the singer's late father who passed from a brain tumour. I'm pretty sure he would have been immensely proud of his boy's performance tonight, and the more they played, the more the band's confidence grew. The song has a neat Libertines feel to it and the energy was bristling with a gutsy swagger. It's a nice package with some cutting guitars and flawless rolling percussion.
Jordan announces that their new single, 'Synchronised', will be next up. I will freely admit that I was not really expecting them to raise the bar any higher, but they somehow managed to win me over even further with this outstanding tune. It is big and ballsy, with some cheeky little blues riffs through it, all complemented well by a cushion of fuzz out and some deep bass lines.
"Go see them now"
'Too Much Too Soon' is refreshing and new whilst harping back to some old loved styles – and these lads really know how to create an atmosphere. The tunes are punchy, uncompromising, intense, but fun. Jordan even manages to jump into the crowd at one point, with his guitar, which did seem a little bit over the top, but you could see he was excited. When you can take a stage like that with the musical ammunition behind you, well, why not?
Tracks like 'Naked' and 'Set In Stone' will set your pulses racing and I would urge everyone to go see them now before they explode to gigantic proportions. I can certainly see them as a festival favourite for next summer.
Jordan Allen are, without question, the real deal and destined for great things. I cannot wait to hear what's next.