An Interview with Actor, Mike Holoway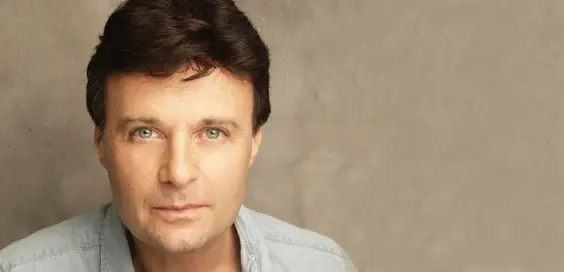 By Roger Crow
Actor and singer Mike Holoway rose to fame in the 1970s as part of the band Flintlock, and as one of The Tomorrow People. Here, he talks about that cult show, the price of fame and plans for the future…
What are your memories of working on the original The Tomorrow People?
Well, fond because when you look back you don't realise how good things were at the time until the bubble bursts.
Do you have a favourite episode?
My favourite episodes were the ones about Hitler. Not because of the subject matter, because of sensitive political reasons, but because I had a great part in it, and the writing was brilliant. 'Hitler's Last Stand'. There were four episodes. I was still finding my feet as young actor then.
You were a regular cover star on Look-In, but was fame the cash cow it appeared to be?
To have that kind of exposure! I was on every cover of every magazine. I was on telly every other day as you know. And I was exhausted, I have to tell you. If it was managed and done like it is in this day and age, then I'd be a millionaire. A lot of the performers – Bay City Rollers, the Glitter Band, Flintlock, me – we didn't make the money. It was the television companies and the managers and the agents that took the dosh, so that's the only bugbear.
"It had good messages"
Did you see any of the rebooted Tomorrow People, and what did you think of the American version?
The Australian version and the American one fell short for the same reason. You could throw money and special effects and computer graphic enhancements and CGI and all this malarkey, but for me and I think for the staunch following of the series, you rip out the heart of TIM (the computer) and the lab and the association of the Tomorrow People. That was the heart of The Tomorrow People, and I don't think they ever replaced that personally. It looks quite funny now but back in the day we were groundbreaking pioneers with the effects we were trying to achieve. But it had a good story; it had good heart; it had good messages.
Can we see you on tour at any point?
Well this is the thing. When you haven't been on telly, people think you've died. I've always been working, especially with big theatre tours like 'Joseph', Jesus Christ Superstar, Godspell, Pirates of Penzance, Grease, Tommy and all the big rock 'n' roll shows that I've done over the past 20 years. So I've always been out there, but TV is, let's be blunt, it tends to be dominated by, with great respect, reality TV people that just have an attitude and don't really have a lot of talent to back it up. It's very difficult to get on television because how do you fight that?
"I've been working on brand new material"
I think you'd be fantastic on I'm a Celebrity…
Absolutely, I've been working on it. But I've had the #Metoo… I've had experiences; it happens to men in showbusiness. It's not just the women. I'm not allowed to say anything prior to my book, but when the book comes out in the near future… obviously legals are being checked, but that was another reason for some major opportunities that didn't fall into place.
When can we expect the book?
Well it's gonna be within the next year. They take a phenomenal amount of time to do. We've attached a ghost writer to the project now, and it's a case of crossing the 'Ts' and dotting the 'Is' that goes into anyone's book, not just mine. Hopefully this time next year the autobiography will be available, which will be very exciting.
What's next for you?
My EP 'Tides of Love' is out now. I've been working on brand new material for the larger concept album. And I'm working on 'An Evening with Mike Holoway', which will be my story through showbusiness since the age of 12 to 55.
Mike Holoway's EP 'Tides of Lov'e is out now on iTunes and Amazon.
For more information: MikeHoloway.co.uk