Improvements to Make to Your Home Before You Sell It
Are you planning on selling your home soon? Average house prices have risen by over £40,000 in the last two years, making now a great time to get a substantial return on your investment.
If you're prepping your property ahead of putting it on the market, there are some things to consider in order to attract buyers and make the survey later down the line go nice and smoothly.
Here are some top tips to get things in order.
First impressions count
Potential buyers see the outside of your house before they see anything else, so it's important that you focus on tidying things up. If the paint needs refreshing, the garden needs tidying, or the lawn needs cutting, this is your chance to get everything in order. Something as basic as a neglected flower bed can be a turn off for buyers, so take some time to make things look attractive.
Jet wash paving slabs that might be in need of some TLC and paint any fences or gates, so they look pristine. Should space in the front be limited, a few potted plants and flowers can make all the difference. Lavender and herbs like rosemary are ideal as they need little upkeep and will make the front of your house smell lovely.
Outdoor space
Staying outside, think about your space at the back of the house. A private outdoor area is a key property trend for buyers this year and the bigger, the better.
This doesn't rule you out if you have a smaller space, though. Whether you have a spacious garden or a little 'yarden', as long as it's a peaceful, attractive area, you could have a sale. Wit some simple outdoor furniture and pretty solar lights, you can transform any space.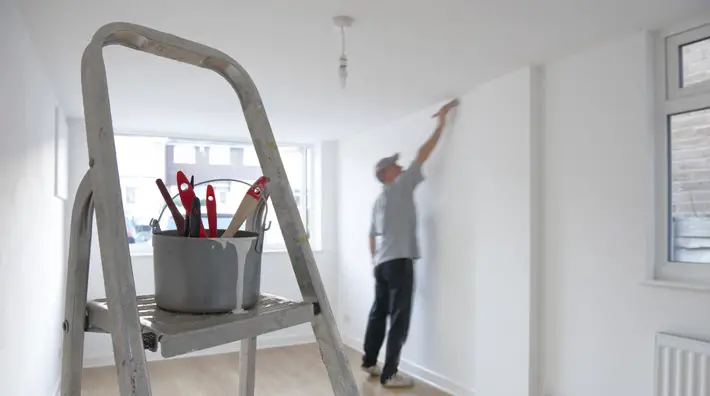 Add some paint
Does the kitchen need a refresh? Maybe it's been a while since you updated the bathroom.
You don't have to do a full renovation, however. A fresh colour in the living room or a brand new colour scheme in the kitchen can easily bring things up to date. And have you noticed signs of wear and tear in the bathroom? Paint can cover things up neatly.
If you think it might be worth investing in a new space, shop around to see what kitchens or bathroom suites are available. Plan this with a budget in mind as you want it to be attractive enough to sell without breaking the bank – after all, you won't be living there.
Fix it
Have you been living with a broken tap or wonky banister for a while? Where once these were just things you were used to, now these are things that will need addressing.
Check that everything is in working order and make sure that the essentials have been checked. The boiler and gas fire will need servicing and the gutters might need cleaning.
Finally, make sure it's tidy. You've put all that work in. Don't let dirty windows let you down!