Thornton Hall, Wirral – Spa Review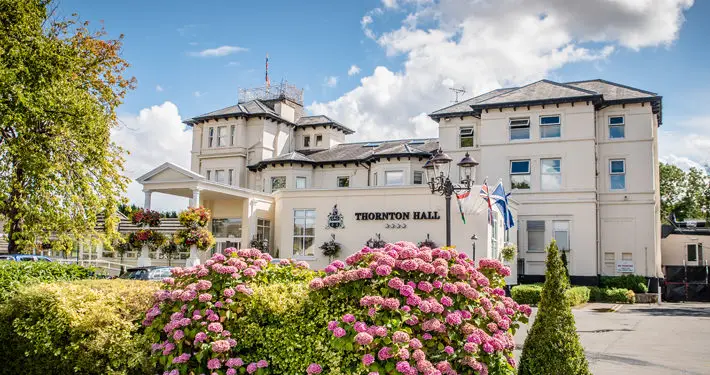 Thornton Hall, Wirral
Spa Review
by Helen Johnston
Sometimes, on a dark and rainy autumn day, there's nothing for it but to shut yourself off from the world by snuggling under a blanket and doing absolutely nothing. There's something wonderfully decadent about relaxing in the middle of the day. Preferably with the dim lighting, soft music and gorgeous scents of a spa tranquillity lounge.
Lying on a surprisingly comfortable S-shaped lounger wrapped in a robe and with a heavy blanket over me, I realised that this was the first time I'd switched off in months. With no clocks, time was meaningless, and with no windows, it mattered not that the rain was pouring down outside. Who cared?
We lead such hectic lives, almost wearing our busy-ness like a badge of honour, that we sometimes need an excuse just to stop the world so we can get off for an hour or two.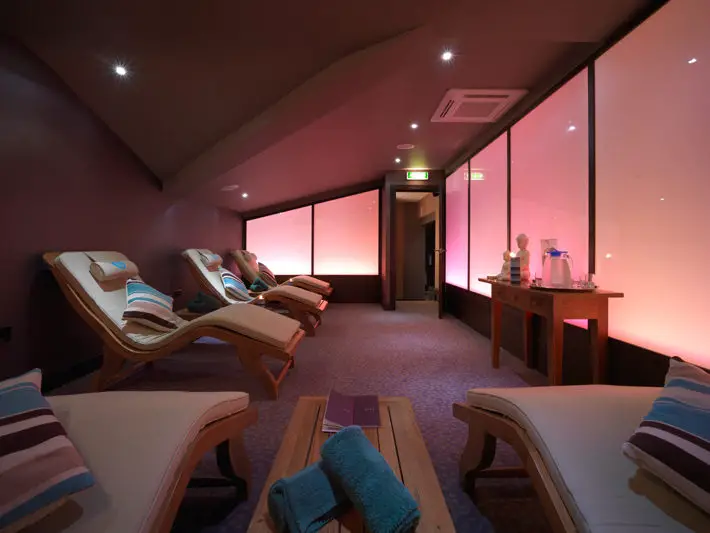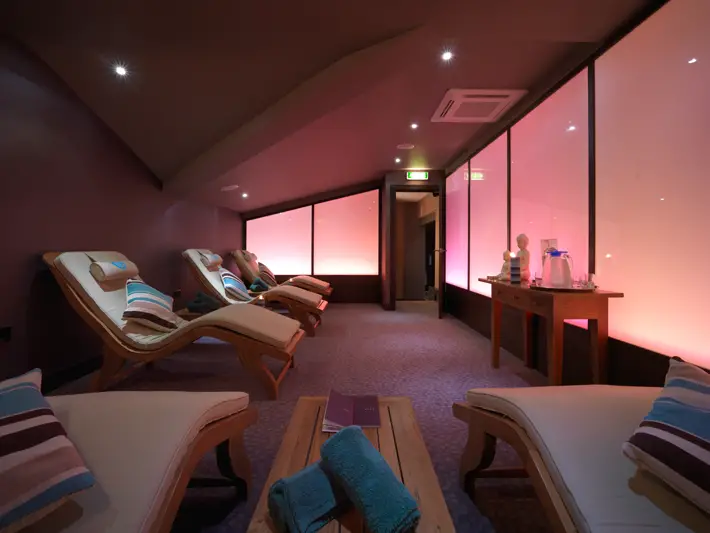 "Instantly comforting"
A visit to Thornton Hall spa, on the Wirral, was just such an excuse. I was recovering from a bad cough and cold which had laid me low the previous week so the chance to relax was heaven sent. Even better, this was a spa break with a night's stay in the four-star hotel in a luxury room with a TV in the bathroom. Fancy!
The spa facilities provide everything needed to wind down and the trick is to alternate hot and cold experiences on your 'thermal journey'. We started with a new experience for me, the infrared therapy wall. You sit on a wooden bench with your back against a heated grill, wooden slats preventing contact with the skin.
It was instantly comforting, and the heat was bearable because we were sitting in an open area rather than in the confines of a sauna, for instance. Fifteen minutes is the recommended maximum time and that was about right.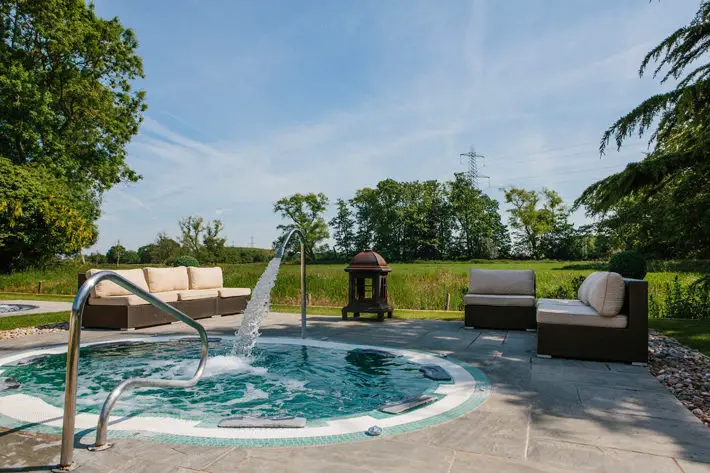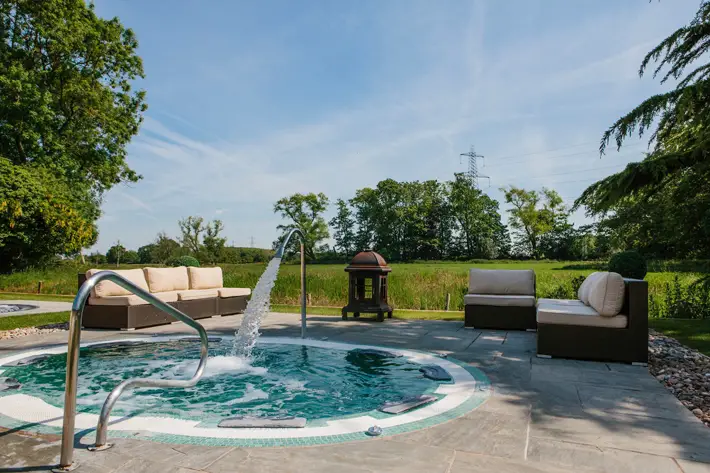 "Draw out toxins"
From the comforting warmth into the chilling snow cave, another first for me. The cave is based on the Scandinavian idea of rolling in the snow after a sauna, which seems a bit extreme to me. Standing in an icy room of man-made snow was bearable, but only for the recommended two minutes. The shock of the cold is supposed to stimulate your circulation and oxygen intake, which boosts your immune system. Just what the doctor ordered.
Next was the steam room, so humid that almost instantly our skin was soaking wet. The warm, wet heat is designed to draw out toxins and soothe weary muscles. I was feeling better already.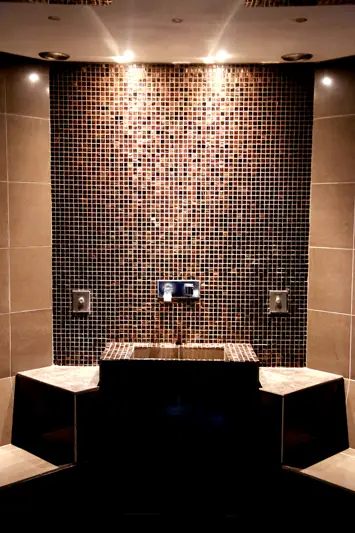 Then it was the monsoon experience shower which lulls you into a false sense of security with a warm, gentle shower before delivering a cold blast and then apologising with a lovely mix of warm and cold water accompanied by tropical scents and mood lighting. Lovely.
"Relieve aching muscles"
I'm not keen on the dry heat of saunas, but they seem like an obligatory part of a spa day so in I went and managed about five minutes before having to admit defeat and bolting for the door and the cooler, fresher air beyond. The intense heat does relax the muscles though.
The hydrotherapy pools – two outside and one inside – are also designed to relieve aching muscles and stress and are good fun, like stepping into a hot bath with the massaging bubbles controlled by a button so you can set them going when you please.
The spa has a water fountain to keep guests hydrated instead of the traditional water coolers with disposable plastic cups I've seen in other spas, which is to be commended. It would have been useful though to be advised to bring our own containers so that we could carry water round with us.
If all that relaxation makes you feel guilty (it didn't have that effect on me) then there's the 20-metre pool for a swim, a fitness suite and an aerobics studio. Instead we padded off to the treatment rooms where a lava shell back massage awaited. Yet another new experience for me.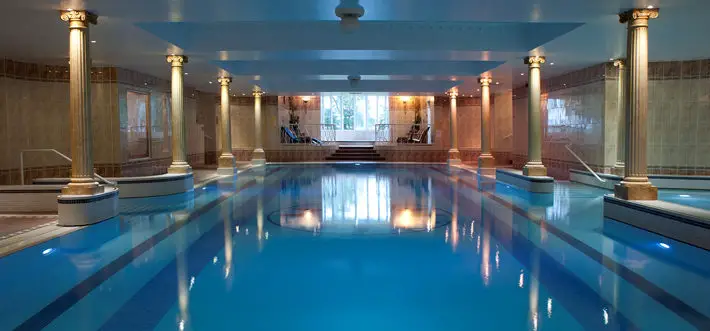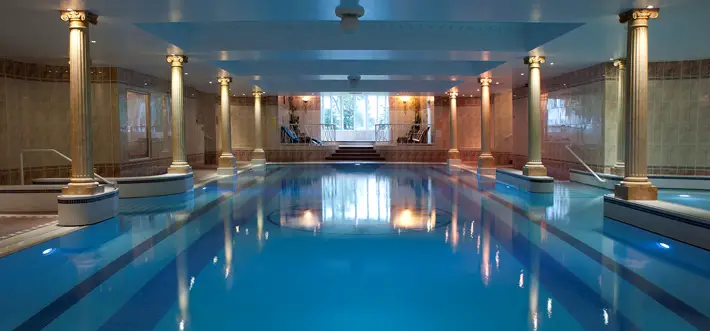 "Soothing and relaxing"
Billed as the world's first self-heating massage tool, the smooth shells allow for deeper penetration into the muscles to give a more effective massage. The shells are warmed up and then continue to emit heat for an hour and the effect was certainly soothing and relaxing with less pummelling than a regular massage.
When the therapist had finished, I was so relaxed I could barely muster up the energy to wander to the tranquillity lounge, where I reclined lazily for goodness knows how long (no clocks remember).
Being cocooned in that room, snug as a bug in a rug while the weather raged outside, made me realise there's only one sensible way to approach the cold, dark months ahead, other than going to Thornton Hall Spa. Hibernate.
Thornton Hall Hotel & Spa, Neston Road, Thornton Hough, Wirral, CH63 1JF
Thornton Hall Hotel & Spa is offering autumn spa packages from £155pp until November 30. Includes bed and breakfast, dinner in The Lawns restaurant with £49pp food allowance, choice of lava shell back massage or Mud Rasul experience, and full use of spa facilities with robe and slippers.
0151 336 393
thorntonhallhotel.com