The Dumb Waiter – Review – East Riding Theatre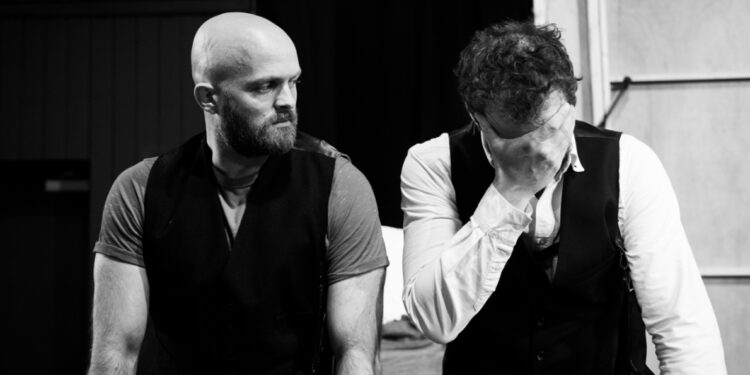 By Karl Hornsey, September 2021
The last 18 months have been a challenging time for everyone in the entertainment industry, so it was a great pleasure to head to Beverley's ERT to watch their production of The Dumb Waiter, which is running at the theatre until 25th September. Operating on a relatively low budget and largely reliant on volunteers to keep running, it's fantastic that ERT has not only survived the lockdown, but shows every sign that they can rebuild and go from strength to strength.
The Dumb Waiter is their first in-house production since 2019 and, in many ways, seems a very apt choice for these strange times. One of Harold Pinter's earliest works, first performed on stage in 1960, it is a one-act dark comic drama set in a basement room, where chalk-and-cheese hitmen Ben and Gus await orders for their next assignment.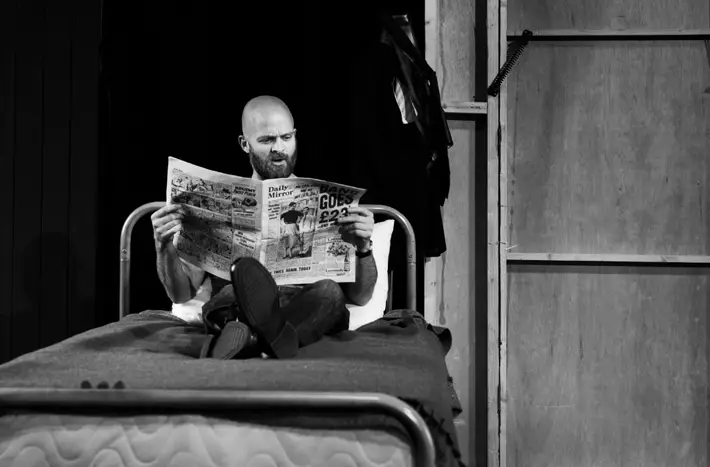 "Tension rising"
The claustrophobia of the setting, and the feelings of isolation, frustration, anxiety and being out of control will certainly resonate with many people today. I'm also delighted to say that the play has been brought to the ERT in the very safe hands of director Martin Hutson, who, along with a set that fits the description of 'basic' to a tee, helps to add to the tension felt by the two protagonists.
Hull-born Nick Figgis plays Gus, with Frazer Hammill as Ben and, as in any two-hander, the chemistry and relationship between the two actors is vital. In this case, the casting is excellent, with both Figgis and Hammill getting across the very different feelings that their characters are experiencing, with the tension rising for both as the story unfolds.
As the two actors enter the stage via separate doors, it's immediately clear that Ben is the senior character, and he sets about trying to read the paper while laid on one of the two beds, as Gus, a fidgety, nervous and questioning man, proceeds to wind him up with his actions and words. Despite the subject matter, there's a dark line of comedy running through the play, with the conversations between the two largely consisting of trivial and light affairs.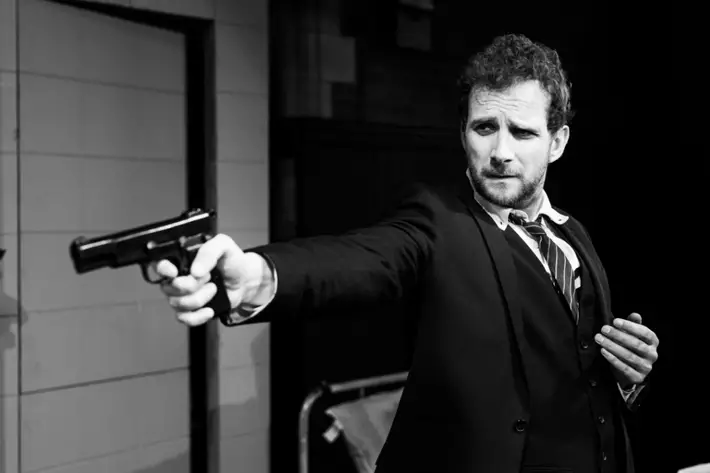 "Short, sharp shock"
Anyone hoping for an explanation of what The Dumb Waiter actually means will be in for a surprise, as Pinter left that open to interpretation, so those watching have to go away and think about what they've just seen, rather than have it handed to them on a plate. The Dumb Waiter of the title also provides comic relief from the middle of the play to the end, as it's used to send down a number of seemingly bizarre food orders down to the hitmen, but any levity is soon overtaken as Ben and Gus both become increasingly fraught with their situation, with Figgis and Hammill cranking up their tensions wonderfully towards the climax.
Fans of Pinter will already know the ending, but I wouldn't dream of spoiling it for anyone who doesn't; suffice it to say that while this play (at just under an hour) is a short, sharp shock to the system, it makes for a fascinating watch, and one that screams that ERT is back – with a bang.