School of Rock – Review – Sheffield Lyceum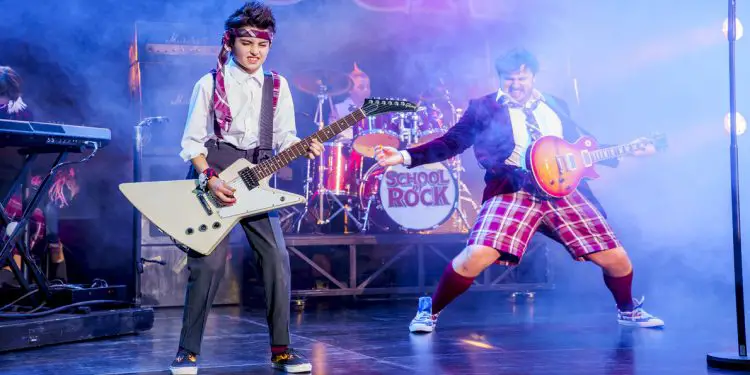 By Helen Johnston, July 2022
It was a loud night in Sheffield when the School of Rock opened at the Lyceum Theatre at the same time as the England Lionesses were busy thrashing Sweden 4-0 just down the road at Bramall Lane.
While fans at a sold-out Sheffield United stadium were raising the roof at the Women's Euros semi-final game, an equally enthusiastic crowd were lifting the roof off the Edwardian theatre as they sang, clapped and whooped along to the finale of a joyous show.
The final raucous rendition of 'Stick It To The Man' seemed a fitting song as well on a night when female footballers were showing their male counterparts exactly what they're capable of.
This is the first UK and Ireland tour of Andrew Lloyd Webber's School of Rock: The Musical with a script written by Julian Fellowes of Downton Abbey fame. It's based on the 2003 film starring Jack Black which grossed $131m worldwide on a budget of $34m, such was its popularity.
This is a feel-good story about down-at-heel rock guitarist Dewey Finn who masquerades as his friend Ned Schneebly to make some money as a substitute teacher.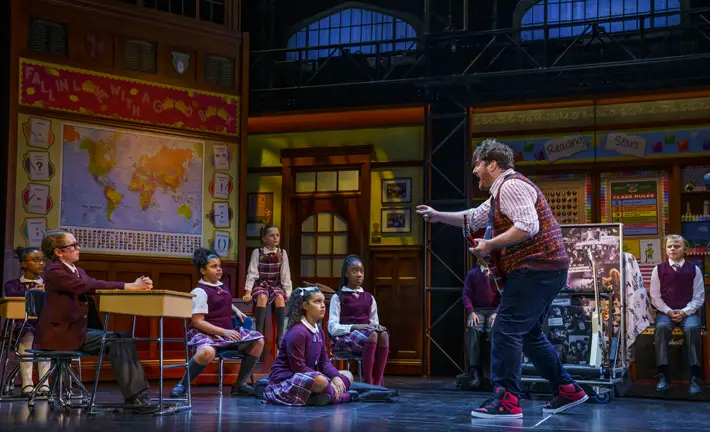 "Powerhouses of energy"
The fake Schneebly (Jake Sharp) is a maverick, ripping up the rules at the staid upper class Horace Green School where the pupils in their smart uniforms and carefully combed hair are more used to playing classical music and have never heard of Led Zeppelin.
Instead of settling down to maths and geography, he teaches them how to guitar riff and create sounds that their parents wouldn't approve of, bringing a new sense of freedom to their buttoned-up lives.
Sharp is magnificent as Finn/Schneebly, channelling his inner Jack Black to create a performance so full of energy I felt exhausted for him. He's centre stage for most of the show but never let his high-octane performance slip, bashing out those rock tunes, being funny, morose, or romantic as the role demanded. If he was a real teacher he'd have his pupils forming a band and storming up the rock charts in no time.
The children are superb and, as a recorded message from Lloyd Webber tells us at the start of the show, are really playing their instruments and not just faking it. Two of them were playing guitars bigger than themselves, small powerhouses of energy and surely rock stars in the making.
The child characters all have their own back stories which Fellowes has skilfully woven into the story. We see them all at home with their ambitious parents paying the school's fees in the hope of producing successful (in their eyes) offspring. That idea of success doesn't include playing in a rock band.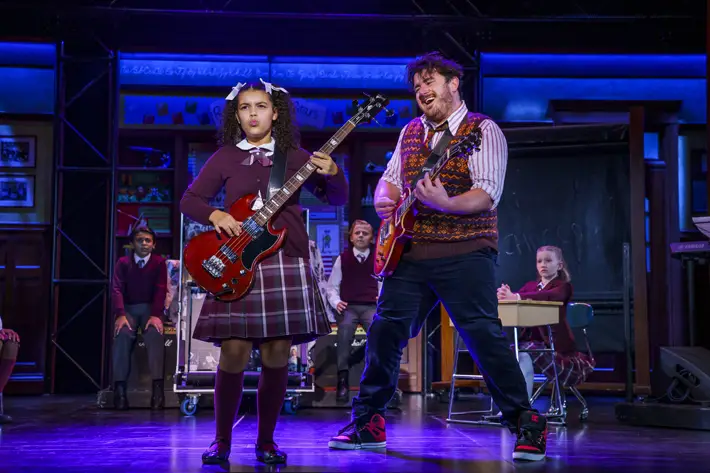 "Loud and happy"
There's the businessman dad who never stops long enough to talk to his son, the helicopter mum wanting to know exactly what her son is doing at school, and the parents who forced their daughter to change school, making her so shy she never speaks in class. Her transformation is marked when she decides she wants to be in the School of Rock band and sings a lovely rendition of Amazing Grace as her audition.
The children sneak off from school with 'Mr Schneebly' to take part in a battle of the bands contest, chased by their angry parents. When they take to the stage the parents joined us in the theatre auditorium to watch, their expressions changing slowly from annoyance to amazement as they eventually joined in the clapping and whooping. They were won over by their children's talent and joy for the music they were producing.
It's not just the kids who are transformed either. Finn also works his magic on the frigid headmistress Miss Mullins (Rebecca Lock in fine voice) who reveals her love of Stevie Nicks and ends up letting her hair down. While the real Ned Schneebly (Matthew Rowland) returns to his rock roots despite the disapproval of his bossy girlfriend.
All in all, it was a loud and happy show on a loud and happy night for Sheffield. Whether it was top class football or top class theatre you were after, the city delivered.
images: Paul Coltas