Joan Armatrading – Live Review – York Grand Opera House
By David Schuster, September 2018
"Normally, at this point, you'd expect to see a support act", says Joan Armatrading with a wry smile, "And they'd play a bunch of songs which you weren't that familiar with. So, instead I thought I'd play you my new album in full, because you might not be familiar with it."
Looking around I can tell that the audience agree that that's an excellent idea. It's illustrative of her quiet sense of humour and sets the intimate tone of the whole evening, almost as if she's performing at a private party, for us alone.
That's not the first indication that this is going to be a very different gig experience. The British singer songwriter strolls out without pomp, or indeed any form of introduction, onto a stage adorned only with two acoustic guitars and a keyboard. Prior to the arrival of the main act I'm used to seeing roadies and sound engineers running around, worriedly checking miles of cables, trying to identify the source of any irritating humming noises. Tonight, those preparations involved someone carefully placing a drink out for her.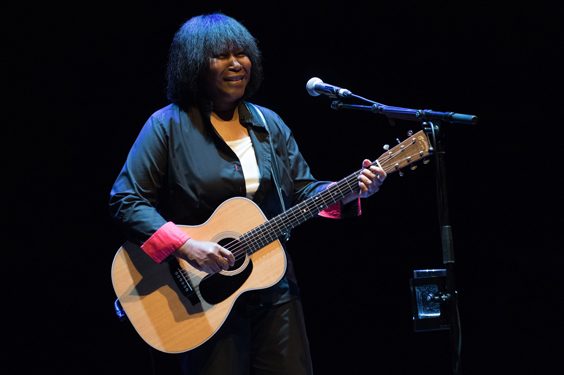 "Beautifully rich"
Introductions over, the celebrated musician kicks off with the first three tracks from Not Too Far Away, her most recent studio album, 'I Like It When We're Together', 'Still Waters' and 'No More Pain'. Contrary to what you might expect from such a minimal set up, the sound the sound is lush and full. In part, this is down to her clever use of technology; using foot pedals to trigger bass loops and drum beats. She clearly enjoys the freedom of expression this gives her, taking time to explain how the vocal chorus is provided by using a 'Harmony Singer' box, which provides harmonies above and below the pitch at which she is singing. However, it's also down to her beautifully rich singing voice, which shows no hint of ageing.
For 'No More Pain' Armatrading sits behind the keyboard for the first time. As she does so, she smilingly says, "Normally, when I do this there's a big round of applause." We happily oblige, pleased to be sharing the joke with her. The piano tone is exquisite, a big Nashville sound like that used by Bruce Hornsby. This is one of my favourite tracks from the latest record with poignant, positive and empowering lyrics: "You might be the author of my wounds, but I decide, I decide, I decide, just how this story will end." Powerful stuff, and the audience is enraptured, only breaking the spell with rapturous applause.
"Stomping rhythm"
She plays the rest of the ten tracks on Not Too Far Away in the order in which they appear on the disc. Highlights are 'Any Place With You' with its stomping rhythm and words which cut to the heart of love in a way that seems so obvious, you wonder why no one's written them before: "As longs as I'm with you, any place will do", similarly 'This Is Not That' is another toe tapper.
The songstress finishes the 'support set' with 'Loving What You Hate'. I like the fact that title-wise this sounds like two people in opposition, but in fact is an observation of the fact that the very things you love about someone, might be those which they themselves hate. "See you in a little while," she twinkles, leaving the stage with as little fuss as she arrived.
It's incredible to me (as I've said before in On: Yorkshire) that Armatrading has won three Grammys and an Ivor Novello award, and yet never gained a Brit Award. I think it's high time that oversight was righted, and that she should receive a special Lifetime Achievement award at next year's Brits. When you have been writing and performing since the 1960s and have released 21 studio albums, there's no shortage of material to fill a set with, it's more about how many hits you can fit in. We get an indication of this early in the second half of the evening, when Joan introduces 'Kind Words (And A Real Good Heart)', which she says she hasn't played live since 1986!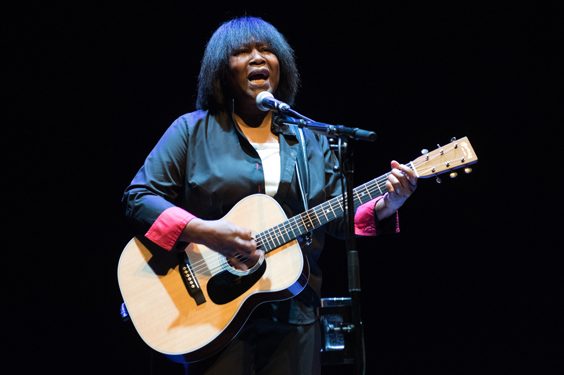 "Joyful"
Clad in black enlivened with red detailing, and with trademark bobbed hair, the multi-talented musician has an easy familiarity with the audience, dropping in little anecdotes and snippets of information. We find out for instance that she studied with the Open University, undertaking the necessary personal attendance sessions at York. This is between big hits such as 'All The Way From America' and 'Rosie', which are both crowd pleasers. She finishes with my personal favourite, 'Drop The Pilot' to rapturous applause and a standing ovation, before once again temporarily leaving the stage.
The concert finishes as it began; with the audience being taken into the star's confidence, "So, you've had the support act," she indicates herself with a smile, "and you've had the main act," again indicating herself. "Now, of course, it's the encore." She then plays two more numbers, 'The Weakness In Me' and finishing with a joyful rendition of the classic 'Love & Affection'. The standing ovation continued until the house lights came up.
2015 marked the end of Armatrading's mammoth world tours, since when this has been her first set of live performances. This wasn't a nostalgia-fest, the songs on the new album are as skilfully composed and executed as her vintage material, and I for one am very glad that I got the opportunity to see a musical legend, still at her peak.