Night of the Creeps (1986) – Film Review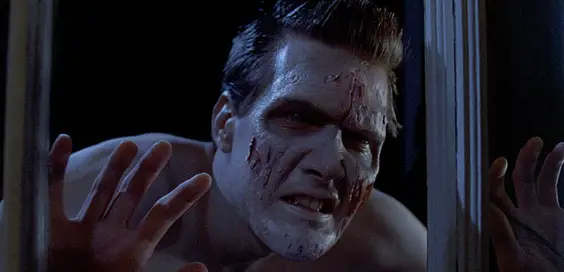 Director: Fred Dekker
Cast: Jason Lively, Tom Atkins, Jill Whitlow
Certificate 18
by Sarah Morgan
Horror as a genre never seems to die away. It has had its golden periods and more fallow spells, but it always seems that another great chiller is waiting in the wings.
While the 1930s and 1940s had the Universal horror cycle, the 1950s and 1960s had Hammer and Roger Corman's low-budget epics. The 1970s spawned directors such as David Cronenberg and John Carpenter, while the 1990s gave rise to found footage and psychological terrors as well as body horror – trends that continue today.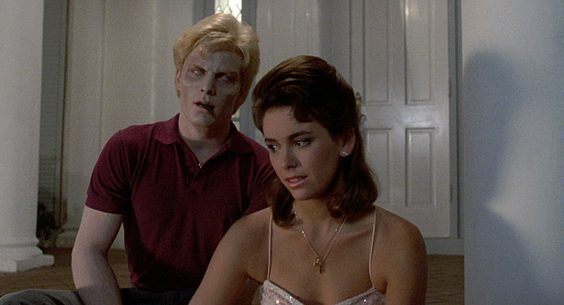 "Tongue placed firmly in cheek"
In the 1980s, however, the slasher movie was king, and the joy of Night of the Creeps, which had its cinematic release in 1986, embraces that aspect of horror movies while managing to pay homage to some of the tropes that preceded it.
One thing is for sure, writer-director Fred Dekker didn't expect audiences to take the project seriously; his tongue is placed firmly in his cheek throughout, and rather than featuring genuine scary moments, there are merely a few stomach-churning ones, with most of the film played for laughs.
He even manages to include tributes to various leading directors of the time by giving his characters their surnames – the aforementioned Carpenter and Cronenberg are included, alongside those named after George A Romero, Sam Raimi, John Landis, James Cameron and Steve Miner.
"Wreaks havoc"
The tale begins in outer space as aliens chase a rebellious member of their race. They fail to prevent him launching something mysterious into space – it eventually lands on Earth in the 1950s, just as a psychiatric patient wreaks havoc near a college campus.
The plot then jumps to 1986, where students are starting the new school year. In a bizarre chain of events, two nerds defrost a cryogenically frozen human who was at the scene of the crime 30 years earlier – and that's when the trouble begins.
Cue brain-burrowing slugs, a cop haunted by the past and a love story interrupted by flame-throwing and zombies.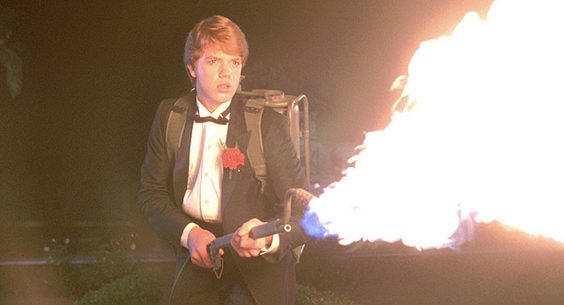 Night of the Creeps has no subtlety whatsoever, but who cares when it's so much fun? Okay, so it's never going to push anybody intellectually, but that's not its purpose – it's here to entertain.
The new release has an alternate ending involving the aliens and setting the scene for a possible sequel, which sadly never arose. There are heaps of special features to enjoy too, including a making-of documentary that is so detailed, it's almost as long as the film itself.
7/10
'Night of the Creeps' is released by Eureka on Dual Format (Blu-ray & DVD), £17.99