The Ivy in the Lanes, Brighton – Restaurant Review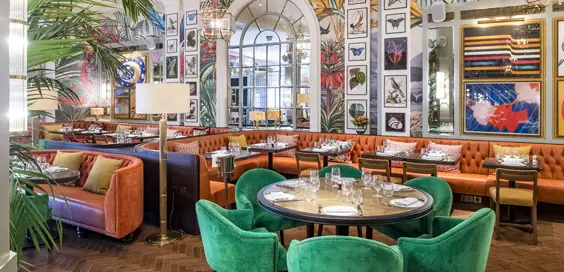 By Lisa Byrne
For the ten years that I was Editor-in-Chief of OK! Magazine, I would spend at least three days a week at the original Ivy in London's West Street, lunching with agents, celebs and PRs. On my regular journeys to this sacred, celebrity haunt, I'd obsess over what I'd fancy eating. Would it be the healthy but scrumptious sea bass or perhaps a portion of heartening fish and chips? However, every single time the waiter turned to take my order three words would automatically fly out of my mouth. Shepherd's Pie please. Because when Kate Moss stated, 'Nothing tastes as good as skinny feels', she'd obviously never feasted on The Ivy's iconic Shepherd's Pie.
So as I ascended the steps to The Ivy Collection's first coastal location in The Lanes, Brighton, I was determined to ignore the nagging urge to order my habitual comfort food, and try something different.
"So divine"
My Brighton-based friend Cressida and I were greeted by an uber glamorous and very welcoming team at the reception desk, who led us through the spectacular grade II listed building, once an old Post Office, to our cosy, corner banquette table. After a few minutes gazing at the colourful array of images portraying local scenery that hung across the ornate walls, we set to work dissecting the menu.
First we ordered drinks, I requested a Pavilion Passion coupe – a blend of fresh passion fruit shaken with vanilla-infused Wyborowa vodka, finished with a flaming overproof rum in a passion fruit shell (£10.25) whilst Cressida opted for a Strawberries and Cream Soda, a mix of strawberry, fruits, vanilla and soda (£5.95). We watched in awe as the mixologist created our cocktails at the stunning central bar before our charming waitress brought them to our table. Mine was rather potent and possessed a variety of delicious flavours and I will definitely re-order Pavilion Passion on my next visit. My friend's Strawberries and Cream Soda was so divine it disappeared within seconds.
"Impressive"
For a starter I tucked into the Duck Liver Parfait (£6.95) with caramelised hazelnuts, truffle and tamarind glaze with pear and ginger compote served with toasted brioche. Oh my goodness, it was so melt in the mouth that I felt rather cross when Cressida's fork hovered over my plate to grab a portion. My friend devoured the succulent Roasted Scallops (£11.95) with grilled chorizo and ras el hanout roasted butternut squash, stating they were the best scallops she's ever tasted.
After savouring a few sips of the divine French wine Granache Blanc from Languedoc (£19.75), we decided to explore the magnificent baroque-style building before our main course arrived. The Ivy Collection's designers and architects have really surpassed themselves in Brighton as this impressive restaurant manages to be both ornate as well as cosy and warm. The interior also possesses the most beautiful 1950s style loos, with individual cubicles and a central powder room area complete with a velvet pink circular sofa, a great place to relax and gossip.
"Beyond delicious"
Back to the mains, Cressida opted for Chicken Milanese (£15.95), a brioche-crumbed chicken breast with fried egg, Parmesan and truffle cream sauce. We all know that chicken can occasionally be on the dry-side, but this little beauty was succulent and beyond delicious, which – complemented by the egg, Parmesan and truffle cream sauce – made for a glorious main. Side orders of Creamed spinach, toasted pine nuts with grated Parmesan (£3.95) and Tenderstem broccoli, lemon oil and sea salt (£3.75) were exquisite.
Honest to God, I had been on the verge of ordering Blackened Cod Fillet (£16.95), baked in banana leaf with fennel, grilled broccoli, chilli and yuzu mayonnaise, but when I spied that the Ivy Shepherd's Pie (£13.75) had Wookey Hole Cheddar mashed into potato on top of the slow-braised lamb shoulder with beef, I just gave up and surrendered. My goodness, it was just as delicious as Shepherd's Pie in both the original West Street and the York Ivy. The mixture of flavours created by the fusion of lamb and beef moulded into onion, garlic, thyme, tomato and red wine was heavenly. Add a dash of Worcestershire sauce and you can see why this classic dish has become the stuff of legends.
"Extraordinary supper"
After a lull in proceedings and being fit to bust, Cressida and I decided to share the Chocolate Bombe (£8.50). This was a piece of theatre, fitting for a restaurant renowned for its theatrical association. The bombe was delivered to our table where it was smothered in hot salted caramel sauce, melting the chocolate to reveal a honeycomb centre with vanilla ice cream. Truly, a very special end to an extraordinary supper.
As we departed The Ivy in the Lanes, Cressida turned to me saying the last few hours felt like being Alice in Wonderland, floating through an enchanted kingdom, such was the magical affect of the blissful surroundings and beautiful food.
The Ivy in the Lanes, 51a Ship Street, Brighton, BN1 1AF
Opening Times:
Monday – Thursday: 8am-12:30am
Friday & Saturday: 8am-12:30am
Sunday: 9am-11.30pm
01273 082200
theivybrighton.com