The Lawns, Thornton Hall Hotel, Wirral – Restaurant Review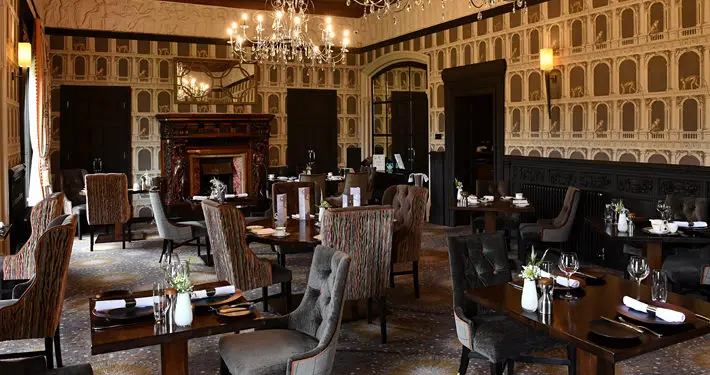 The Lawns, Thornton Hall Hotel, Wirral
Restaurant Review
by Helen Johnston
Going out for a meal has become a fairly standard thing for many people these days and we're spoilt for choice with any number of eateries on offer in most towns and cities. But eating at somewhere properly posh is still a rare treat, at least for me. Somewhere where you need to dress up and there's more than one knife and fork by your plate.
So, it was a delight to put a frock on and head to The Lawns, listed in the 2019 Michelin Guide and holder of three prestigious AA Rosettes.The restaurant is situated within the four-star Thornton Hall Hotel and provides a fine dining experience.
We were invited to try the tasting menu which is a fabulous idea, allowing diners to taste a variety of carefully chosen dishes designed to excite the taste buds.
Alongside this is the wine flight which complements the food perfectly. If you're wondering what a wine flight is then you're not alone, I had to Google it. How could I not be refined enough to know it's a selection of wines being offered for sampling and comparison, designed to complement the food being served?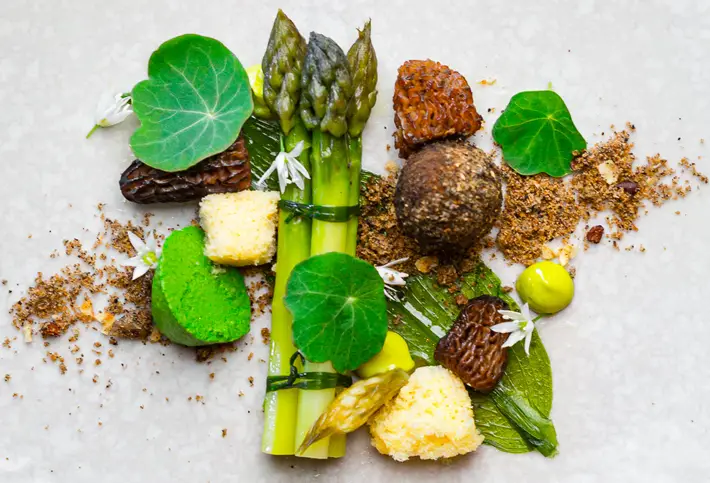 "Wonderful arrangement"
As we were guided to our table and the waiter pulled the chairs out for us to sit down – always a good sign – I was struck first by how dark the room was. There was dim lighting and with dark wallpaper and furnishings, it took a while for my eyes to adjust. A combination of the poor lighting and the fact that I'd forgotten my glasses, meant I couldn't read the menu. I could see the monkeys on the black wallpaper though, which were a bit disturbing.
Luckily the lovely waiting staff explained what was on each plate when they delivered them to our table, starting with melt-in-the-mouth rosemary brioche laminated with lamb fat and Abernethy butter. We were treated to a glass of champagne to start us off before the wine flight landed.
Next was the amuse bouche, a wonderful arrangement of truffle custard, veal tongue, beer vinegar jelly, Tumworth mousse and cep biscuit. Then came agnoletti of Limousin veal sweetbread with shiitake broth, pickled trompette mushroom and barbecued leek, a host of tastes to set the tongue tingling. This was followed by smoked eel with salt baked celeriac, Granny Smith apple and lovage.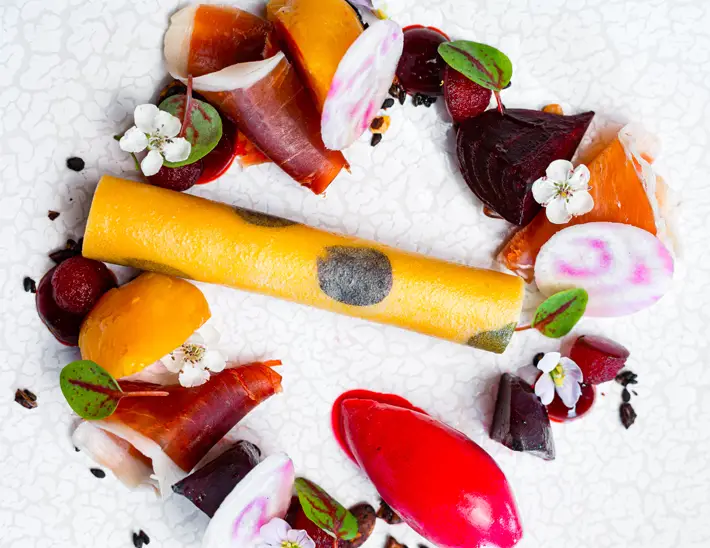 "Cooked to perfection"
The beauty of a tasting menu is that you get to try things you've never eaten before and might never order normally. Eel is a case in point. I've never chosen it on a menu because I don't like the sound of it, but having it placed before me to try I found I enjoyed it.
Gigha halibut followed, accompanied by smoked yoghurt (who knew that was a thing?), ham hock and haricot blanc beans. The fish was cooked to perfection, something else I could have eaten more of.
Next was Yorkshire grouse with beetroot, hen of the woods mushroom, and elderberries. Grouse was new to me and not something I would order, and in this case, as tender as it was, I found it wasn't to my taste. I've never eaten game so I was glad I tried it. A chariot of fromage followed served with lavoche, fruit bread, quince paste and preserves. Each plate of food was presented beautifully with clean cutlery delivered by white-gloved waiting staff for each course.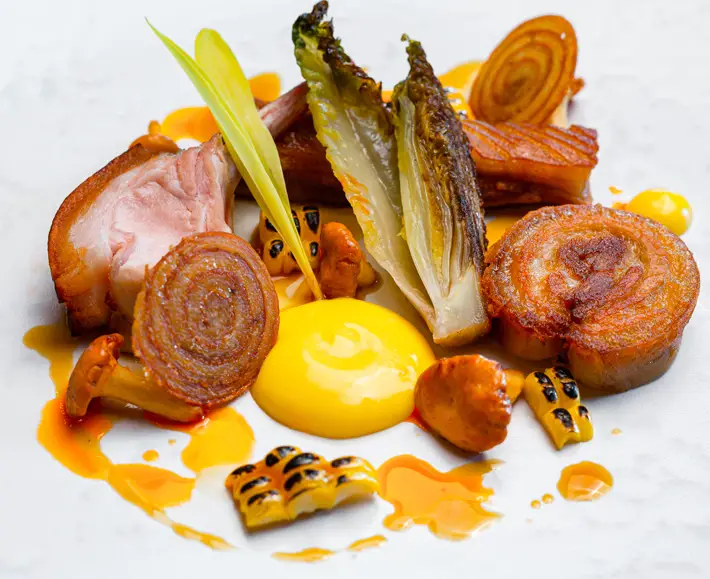 "Delicious"
There was a touch of humour in the first dessert which looked just like an ice lolly and was indeed called Twister. It was blackberry, Douglas fir (I had no idea parts of this conifer are edible) and sorrel. Much tastier and healthier than a lolly. Finally, we finished off with pear cèpe mousse, walnut and candied barley. A delicious ending.
The wine flight got under way alongside the food with a knowledgeable sommelier giving the details of each bottle before pouring a generous glass for each of us. I have to confess I'm not a wine connoisseur and I struggle to distinguish between wines, but my favourite was the red and the prosecco.
Here is the full list for those who do know their Reisling from their Chardonnay: Los Coches Viognier, Central Valley, Chile 2018; Goldschild Riesling Trocken, Mosel-Soar, Germany 2017; Lyrebird Chardonnay, Victoria, Australia 2018; Pato Torrente, Cabernet Sauvignon, Central Valley, Chile 2017; Prosseco Romeo, Italy; and Coteaux du Layon, St Aubin, Domain des Forges, Loire Valley France 2017.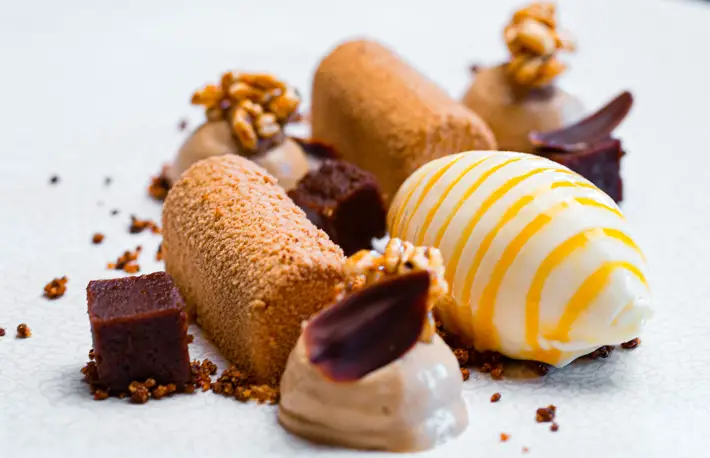 "Knowledgeable staff"
You'd think by reading that list of food and wine that we would have felt stuffed to the gills but, because each course was just a few mouthfuls, we felt pleasantly full rather than bloated.
The Lawns' head chef Richard Collingwood is clearly a star in the kitchen, selecting the best in seasonal foodstuffs to prepare a menu fit for VIPs. We spent three hours savouring his exquisite creations and washing them down with top quality wines, attended by friendly and knowledgeable staff.
By the time we rose, somewhat unsteadily, to our feet we had enjoyed one of the finest dining experiences imaginable. Even the monkeys on the wallpaper were looking a little less gloomy.
The Lawns Restaurant, Thornton Hall, The Wirral
Tasting menu £85pp, with wine flight £130pp
thorntonhallhotel.com