The Taco Tuesday Cookbook by Laura Fuentes – Review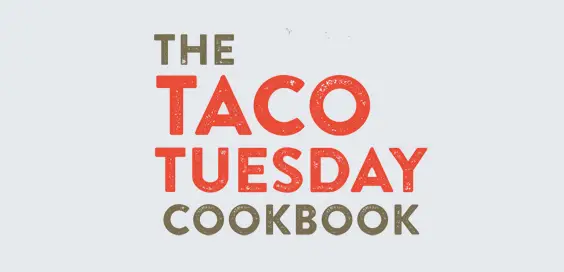 By Kirsty Reid
I'm not very adventurous when it comes to food, but I am a big fan of Mexican cuisine. Ever since I tried tacos in Florida 14 years ago I've been hooked. For me, there's nothing better than winding down at the weekend with a G&T and some tasty tacos.
You can imagine my delight, then, when I discovered The Taco Tuesday Cookbook by Laura Fuentes. Offering everything you need to "make Tuesday to the best night of the week", Fuentes has put together a taco Bible, packed with 52 delicious recipes.
Fuentes, who was born in Spain, moved to America in her teens and first experienced tacos in a school canteen in California. After biting into a barely seasoned taco with wilted lettuce, Fuentes decided tacos were not for her. Fortunately for us, though, a later trip to Sea World changed her perception of the tortilla dish. After ordering the mixed taco platter, Fuentes' taste buds were tantalised and a love of Mexican food was born.
"Healthy mix of options"
In her mission to compile the best selection of tacos, Fuentes spent almost two years eating the tortilla dish weekly, if not two or three times a week. Even meals out involved tucking into tacos and making notes in her phone so she could the recreate dish at home. Flicking through the pages you'll find an abundance of mouthwatering images leaving you spoilt for choice.
While fish is a no-go for me, there are plenty of other delicious dishes to choice from – favourites for me include the barbecue pork with honey-mustard slaw; Philly cheese steak; chorizo and butternut squash; and orange-glazed mushroom tacos with veggie slaw.
Split into three sections – The Essentials; Tacos, Tacos, Tacos! and Más! Refreshing Beverages – the book offers a healthy mix of vegetarian, gluten-free, and paleo options.
"Relatively easy"
The Essentials section boasts a range of salsas, sauces, tortillas and seasonings, without which, Fuentes says, "you'd have just the filling – and that's just no Bueno". The taco section itself is organised by type of filling – breakfast-inspired, vegetarian, chicken, beef, pork and seafood. Drink and dessert recipes in the Más! Refreshing Beverages section are designed to make your taco night complete.
The best thing about The Taco Tuesday Cookbook is that it not only provides 52 irresistible recipes but they're all relatively easy, too – ideal for entertaining family and friends.
Packed with helpful hints to make prep and cooking a breeze, this has to be the best assortment of tacos you will ever find.
'The Taco Tuesday Cookbook – 52 Tasty Taco Recipes to Make Every Week the Best Ever' by Laura Fuentes is published by Fair Winds Press, £12.99 paperback