L'Entente Le British Brasserie, Paris – Restaurant Review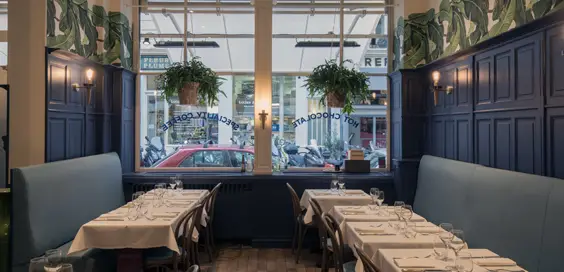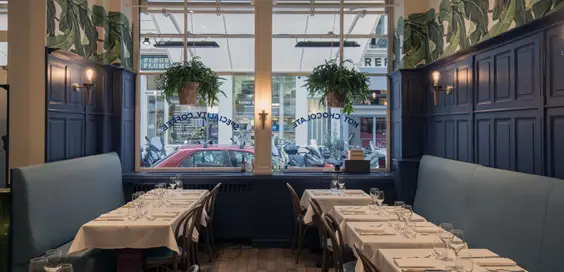 L'Entente Le British Brasserie, Paris
Restaurant Review
by Lisa Byrne
French cuisine is heralded across the globe as being among the very best. I mean, what could possibly beat a succulent steak, delicious pâté or gooey Camembert, all washed down with a fine Bordeaux. Well, sacré bleu, it appears one British restaurant is giving our French cousins a run for their money in the culinary department. The cheeky blighters, from, er, Old Blighty, are the talk of Paris by serving good old-fashioned English comfort food – think shepherd's pie and sticky toffee pudding – in the heart of the French capital.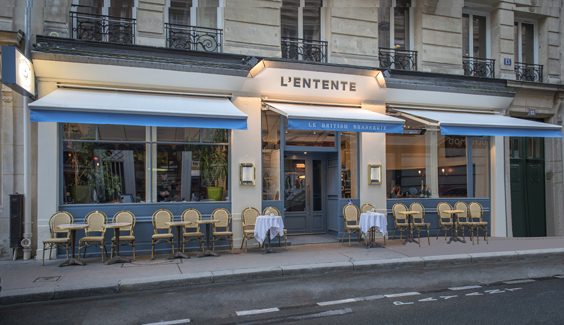 "Taste of home"
It may be just a year old but L'Entente Le British Brasserie has already attracted a host of VIPs from the world of fashion, politics and celebrity. Former French president François Hollande is a regular and world famous designers Karl Lagerfeld and Marc Jacobs adore relaxing in the restaurant over a menu of fish and chips with tartare sauce and sausage, mash served with divine onion gravy. And word has spread across the city with Parisians and tourists flocking to try this new 'nursery' cuisine.
Charismatic Englishman, Oliver Woodhead, is the brains behind the concept to serve classic British dishes to the French, and his risky punt has proved to be a surprise success. To keep the locals happy he sources all his ingredients in France, apart from the smoked salmon and cheese which are both British. So when On: Magazine visited Paris it seemed only right that we should sample a taste of home from home.
"Heaven on a plate"
The restaurant is beautifully designed with gorgeous panelled walls in a mood lifting deep blue. We are immediately welcomed by Brandon, our handsome waiter for the evening who offers us a delicious chilled glass of Rosé Champagne as we peruse the menu. Thank goodness it isn't cluttered with too many dishes but offers a simple selection of six starters and six mains created by genius head chef Mathew Ong. I opt for devilled kidneys on toast followed by Shepherd's Pie while my husband goes for game terrine with sausage and mash as a main with an array of sides including kale and mustard dressing, garden salad and triple cooked chips.
It is difficult to write about the devilled kidneys because I feel totally bereft that they are not placed in front of me right now! Let's just say the taste is the closest I've ever got to heaven on a plate, absolutely melt in the mouth gorgeousness. The game terrine is full of flavours and perfectly matched to a host of pickles. As for the shepherd's pie it is delicious and reminiscent of the perfectly home cooked dish. The sausage and mash is very filling and the onion gravy really adds to the flavour – it's the perfect nursery supper, if your nursery was at Downtown Abbey!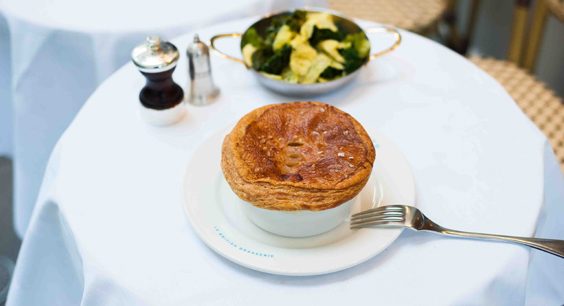 "Extremely comforting"
For pudding I devour the double baked chocolate cake and will only share a thimble full with my husband. He kindly lets me attack his sticky toffee pudding in butterscotch sauce which is extremely comforting and utterly delicious.
You can understand why L'Entente, where a three course dinner costs approximately €40, has become the toast of Paris. The dining area has an air of exclusivity but is very chilled out and relaxing. Unusually for the capital the restaurant is open on Sunday and Monday, serving from breakfast (their Welsh rarebit is as good as Bettys) through to supper. It must be keeping homesick expats and Parisians very happy indeed.
L'Entente Le British Brasserie, 13, rue Monsigny 75002 Paris
+33 (0) 147 42 92 35